IMHX 2019 is the talk of the materials handling industry at the moment, and as the UK's premier event in this sector; there is every reason for it to be on everybody's minds. This is the perfect opportunity for visitors to see the latest and greatest that forklift manufacturers have to offer.
The theme for IMHX 2019 is technology and innovation, so you'll be sure to see some new products to the market whilst you're there; and here at Doosan we're no exception. So, without further ado – here are three new products you'll see from Doosan at IMHX.
1. Compact, powerful electric forklifts
The new Doosan B13R-7 range of electric forklift trucks boast reliable performance, powerful drive and clean handling. These trucks are available in capacities from 1.25 – 1.6 tonnes and are built on a compact chassis; making them ideal for use in areas with narrow aisles.
Despite their small size, they boast powerful brushless AC motors and an IP65 rated controller unit. Not only does this deliver high power levels, these reliable components provide maximum resilience to water and dust; increasing the reliability of the truck.
This compact and versatile range of trucks are well suited to use in many different work environments including food and drink manufacture, ecommerce and most small businesses.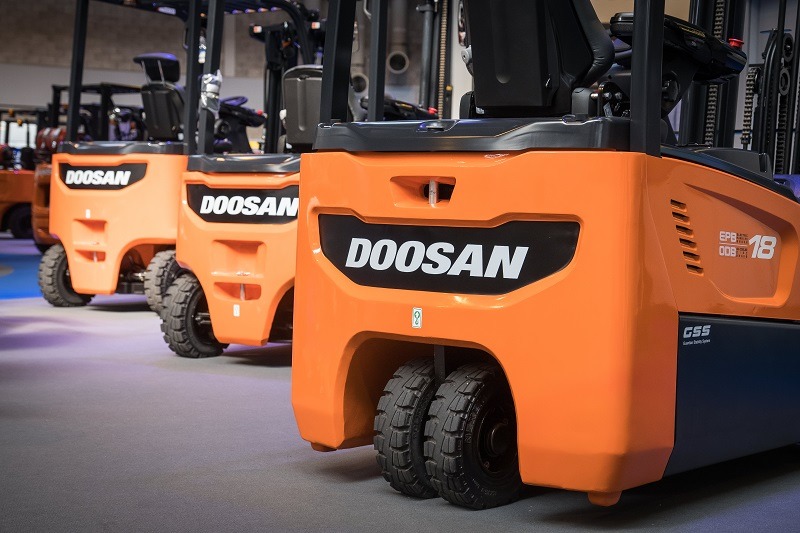 2. Robust, high capacity electric forklifts
At the opposite end of the scale (literally) – we will also be showcasing our new B45X-7 range of rugged, high capacity 4-wheel electric forklifts. These trucks are available in lift capacities from 4.0 to 5.0 tonnes and have been designed to have increased manoeuvrability, smoother acceleration and increased stability than its predecessor.
Featuring a high capacity 80V battery, these trucks have been designed to provide the high lift capacities and drive performance expected to transport heavy loads. The improved capabilities of these forklifts will make them a viable alternative to engine powered forklifts in a number of industries including builder's merchants, brick and block, wholesale distribution, manufacturing and engineering.
3. Lightweight powered pallet trucks
Last but by no means least, we will also be debuting our new lightweight 1.5 tonne electric pallet truck; the BPSC15E-7. This powered pallet truck has a capacity of 1500kg; but with a service weight of only 190kg including its battery – it makes this truck suitable for use on tail-lifts. This truck is the entry level model of a new range of warehouse equipment we have coming very soon… so keep your eyes peeled!
So there you are, three things you will see from us at IMHX 2019. We'd love to see you at the event and show you the features of these innovative new trucks. If you'd like to find out more about IMHX or register, visit our web page.
If you'd like to know more about these trucks, you can contact us or call 01604 825600 today.