IMHX 2019 is drawing ever closer, making this a very exciting time for forklift truck manufacturers like us! Our plans are well and truly taking shape now and we hope that you will be as excited to see us as we are to see you!
IMHX is the premier event for the Materials Handling Industry in the UK, making it kind of like our Olympics in a way! It only happens every three years and provides manufacturers of forklift trucks, attachments and ancillary products with an opportunity to showcase their latest and greatest innovations.
In our previous blog post – we revealed three things that you would see on our stand at IMHX. In today's blog post, we want to tell you why SIX, is the magic number for Doosan at IMHX.
Six Industry Zones
On our 658 square metre stand, we will be featuring six individual zones focussing on separate industrial applications. These zones feature the following industries: Manufacturing, Agriculture, Plant & Builders Merchants, Transport & Logistics, Aviation and Warehousing.
In each of these zones, we will be featuring a range of forklift trucks, ground handling equipment and pallet trucks using a range of attachments which you would typically see in each respective application. This will provide you with an opportunity to visualise the best solution available to increase productivity, safety and efficiency in each of these applications.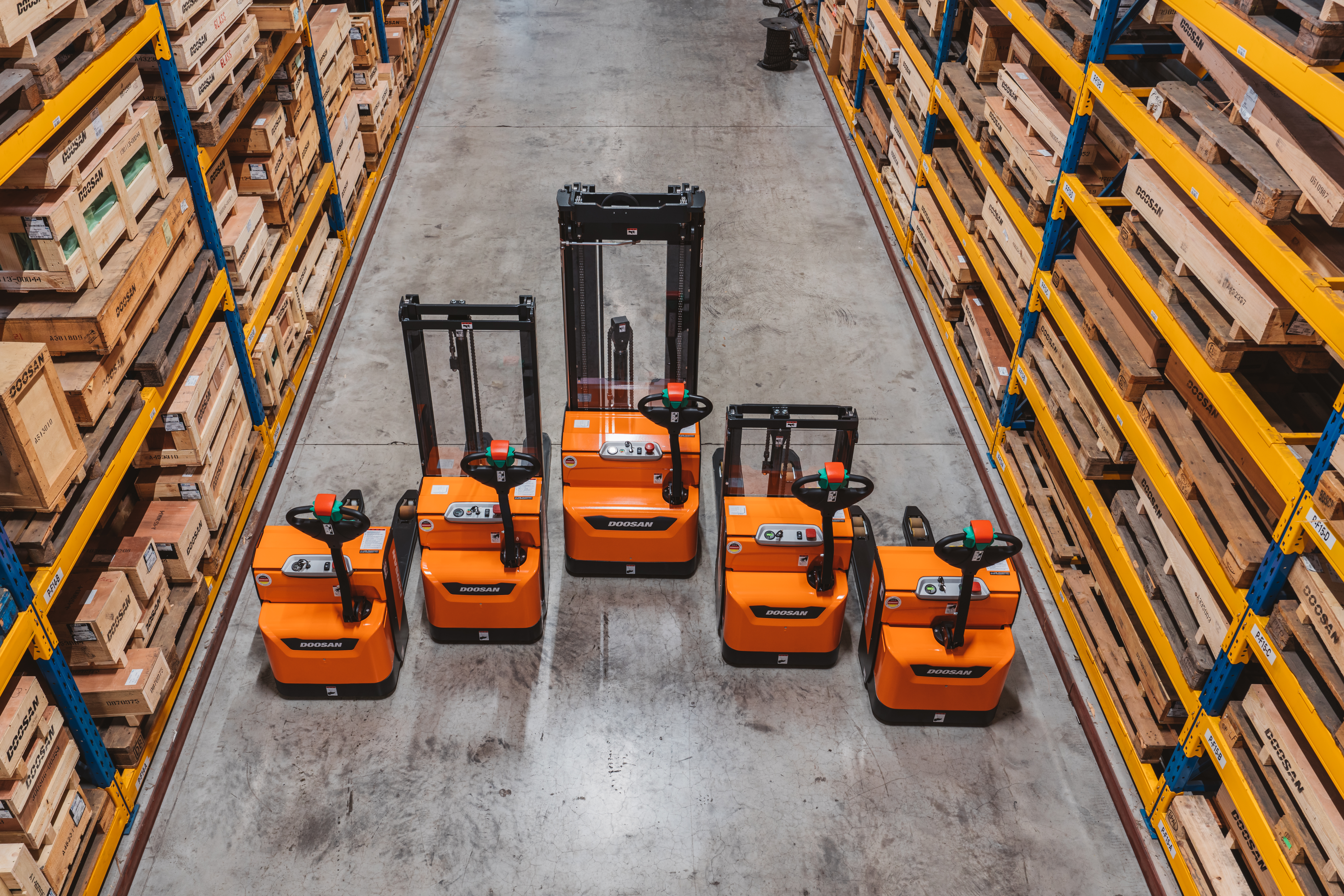 A selection of trucks from the new Doosan Warehouse Equipment range.
All Forklifts Great and Small!
On our stand (which is stand 19G80 by the way), we will have a selection of forklifts ranging from our smallest model; the Doosan B16R-7 24 volt electric counterbalance truck, which is a recent addition to our product range – right up to the Doosan DV250S-7 25 tonne lift capacity diesel forklift (which we guarantee you won't be able to miss!) But that's not all you'll see…
New Warehouse Trucks
If you come to visit us at IMHX, you'll be one of the first to see our new range of warehouse trucks! Getting their grand reveal at the exhibition, we will be debuting a new walk behind powered pallet truck, walk behind stacker truck and a powered pallet truck with an operator platform.
The BPL18/20S-7 with lateral drive, the BPM20S-7 with middle drive, and the BDL13S-7(H) double stacker. All three pedestrian operated trucks reflect our renowned design characteristics of compact functional form, high manoeuvrability, durability and rugged, reliable performance.
Look to the Future
On our stand, we will be having a dedicated Future Zone which will be giving you a glimpse into our latest innovations and developments in materials handling which will improve safety, productivity and efficiency in your operation.
Included in our future zone will be features on Automation, Telematics and Lithium-Ion power to name just a few things! We will also have a Lithium-Ion powered forklift on display for you to take a look at.
So, there you are – another glimpse of what we have in store for IMHX 2019!
If you'd like to know more about IMHX, you can contact us today or visit our web page.
If you're visiting IMHX, you can see us on stand 19G80, on the corners of halls 19 and 20. If you haven't yet registered, you can register for free here.