Reap the rewards with Doosan – an introduction to crop farming
Here at Doosan, we have a strong history of supporting the agricultural sector and in particular, potato and root crop farming. This is thanks to our large range of solutions that can support farming operations of all sizes. In this blog post we'd like to talk about some of these things.
Powerful, reliable trucks
At Doosan, we pride ourselves on providing forklift trucks which are tough and reliable to guarantee high performance even in the toughest of environments. All of our forklifts are built on a strong steel chassis which is rigorously tested to withstand high levels of stress, giving them the durability to transport loads across rough and uneven surfaces.
Traditionally, particularly in crop farming the average weight of a load is around 2.4 tonnes – which requires a powerful engine to transport. The Doosan G2 diesel engine delivers high torque at low RPM, meaning that heavy loads can be moved with relative ease and without putting the engine under unnecessary strain. Not only that, the Doosan G2 engine is incredibly fuel efficient, meaning that your truck will operate for longer periods between refuelling.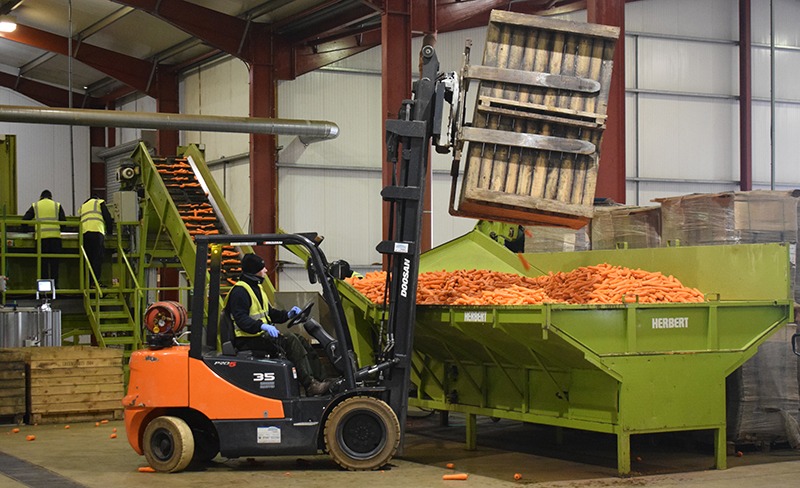 Compact trucks with high lift heights
In root crop farming, the product is harvested and placed into wooden pallet boxes that are then stacked on top of one another in order to be stored. This method is known as block stacking. As we mentioned earlier, loads (particularly in potato farming) can weigh up to 2.4 tonnes, however because these boxes are stacked up to 6m high – the truck lifting them has to have a higher lift capacity in order to maintain stability when lifting the loads to this height.
Due to the height that these loads are being lifted and their weight, it can lead to a difficult decision between a 3.0 tonne or 3.5 tonne diesel truck. Typically, these trucks are on different sized chassis and the 3.5 tonne machine requires a larger aisle space to operate in – which can potentially reduce available storage space.
We know that space is at a premium and as a result we introduced the Doosan 3.3 tonne diesel powered counterbalance forklift into our product range. This truck is on a more compact chassis than that of a 3.5 tonne truck and will comfortably lift loads of 2.4 tonnes to 6 metres high, making it ideal for use in farming applications.
Flexible short-term hire
Here at Doosan, we understand that crop harvest periods can get very busy (very, very busy in fact). This is why we offer flexible short-term hire on a number of 3.3 tonne diesel counterbalance forklifts with 6000mm masts that are ideal for farming. These trucks are available to hire from as little as one week for however long you would need it to support your harvest.
If you'd like to know more about how we can support your harvest, visit our web page or call us on 01604 825 600 today.
Want new articles before they get published?
Subscribe to our Awesome Newsletter.