Dark mornings, dark evenings and a crisp chill in the air; it's clear to see that we are now deep into the throws of winter. When anyone mentions preparing for winter, you immediately think of how to ensure that your forklift operators are warm and comfortable when working through the winter months.
However, it is equally as important to make sure that your forklift trucks are adequately prepared for the winter months too. Here are some tips for preparing your forklift trucks for winter:
Check your Battery
Cold weather can be especially testing on batteries; effecting how quickly they discharge. This is why checking your battery regularly during winter is incredibly important; and even more important in electric forklifts and warehouse equipment.
If your battery is as close to maximum strength as possible; you will be in a better position to proactively manage battery efficiency and performance to make sure it is in tip top condition throughout the cold winter months.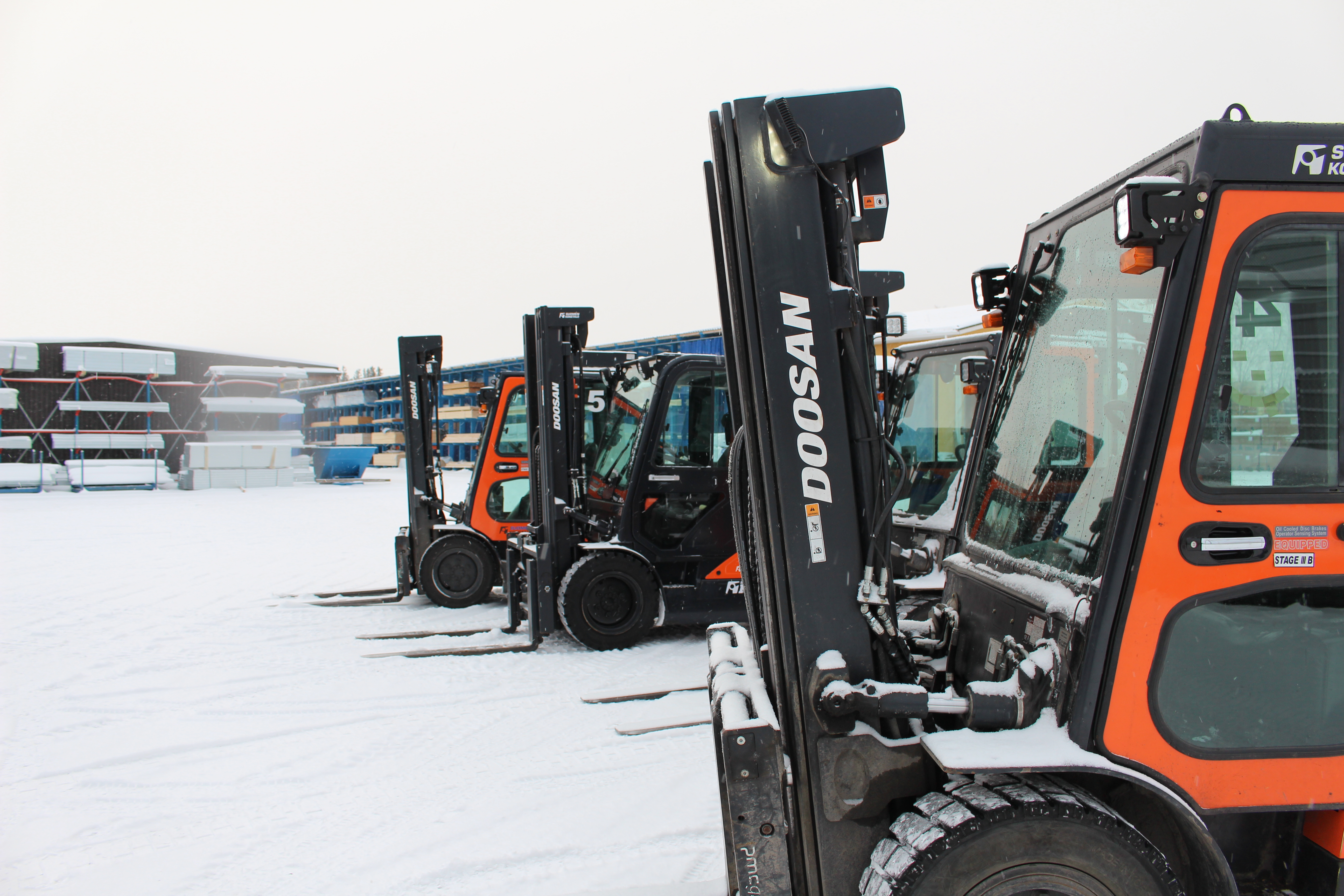 By making sure your forklift trucks are prepared for the harsh conditions during the winter months, you will keep your trucks uptime maximised.
Manage your Tyres
You wouldn't go to work in cold, icy conditions with slippers on would you? And it shouldn't be any different for your forklift truck either. In wet and icy conditions, your forklifts tyres will benefit from having large tread depth remaining; providing high levels of grip on potentially slippery floors.
Along with checking your tread depth, checking air pressure in pneumatic tyres is also important; an over inflated tyre reduces the amount of contact your forklift has with the floor; reducing the amount of grip. Having an under inflated tyre can also have negative effects on the productivity if your forklift as it will increase the amount of rolling resistance the truck experiences; affecting performance.
Let There be Light
During the winter months, the amount of daylight hours available to work in is dramatically reduced; which is why making sure that your lights are in good working order is increasingly important. This doesn't just apply to your forklift truck, it also applies to your warehouse, yard or workshop. By making sure your working environment is well lit, you will experience minimal disruption in your operation due to low light conditions.
If you are currently using halogen lights, it may be worth considering upgrading to LED lights. LED lights shine brighter and last longer than halogen bulbs; they're more energy efficient and aren't affected by cold weather conditions.
 It's all in the Service
By keeping your forklift trucks regularly serviced and maintained, you can proactively manage all of these three areas to make sure that your equipment is in peak operating condition before winter. Here at Doosan, our range of multi-skilled engineers can service and maintain all makes of forklift truck, articulated equipment, side loaders and even lorry mounted cranes.
If you'd like to know more about service and maintenance from Doosan, visit our webpage or contact us on 01604 825 600 today.