In most operations, your forklift truck fleet is an investment that needs to last many years; whether your trucks are purchased outright or hired. This is why making sure you have the right truck for your application is vital. Here at Doosan, we'd like to give you some advice on a subject that can cause confusion in even the most seasoned materials handling experts; lift capacities.
The Rating Plate
Regulations state that a trucks rating plate must be visible to your forklift operators; meaning it shouldn't be that difficult to find on any truck. This is full of useful information about each individual truck and they vary in layout depending on the manufacturer; but they all have to meet certain criteria. On the rating plate will be the forklifts rated capacity and this will help you to understand if your truck is right for the job.
As an example, the rating plate may say that it has a 3,500kg lift capacity – pretty straight forward right? You'd think so, but something that many people don't pay much attention to is the load centre – and this is crucial.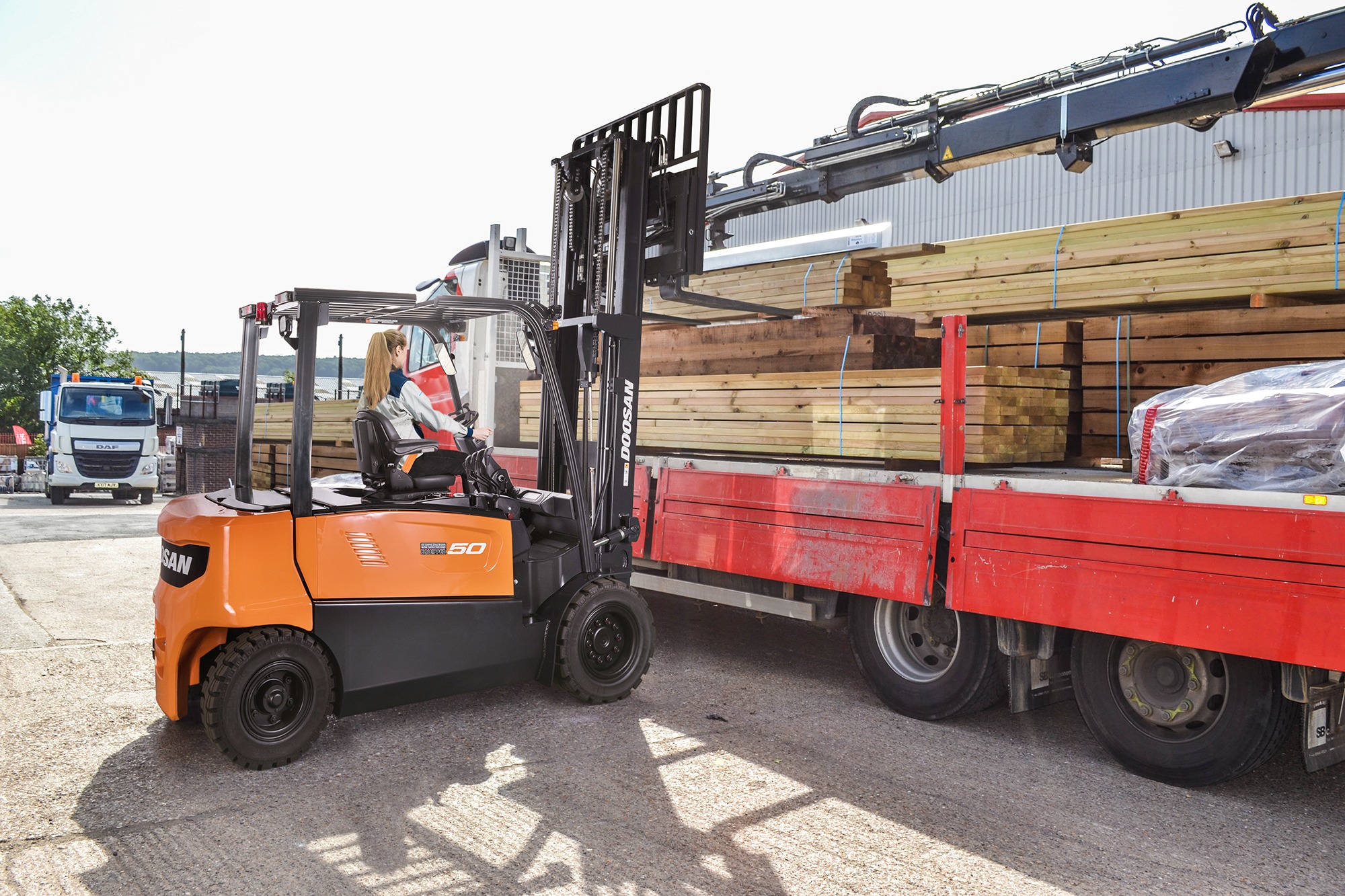 Loads which overhang a pallet or forks could potentially affect a trucks rated capacity.
Load Centres
The load centre is the distance to the loads centre of gravity, if your load is a 1000mm cube and the weight of the package is spread evenly, the load centre would be 500mm. However, if the size of your load changes; to a 1200mm cube – it may still even weigh the same but your load centre has changed to 600mm. This would then reduce the weight that your truck can lift because the load centre has been moved further away from the trucks mast.
The rating plate of the truck may already provide you with the information required for a trucks capacity at a 600mm load centre. If it doesn't, you will have to consult the trucks manufacturer to find out this information. The manufacturer will also be able to supply a new rating plate; but this must be fitted by an authorised person on the manufacturers' behalf.
Something else that you need to consider is if any part of your load overhangs the edge of the load carrier. You could be handling loads on a 1200mm x 800mm Euro Pallet, but your product may overhang the pallet by 100mm on all sides; in effect this means that the dimensions of your load have changed and it may also affect a trucks rated capacity. This is something that is often overlooked and isn't considered until problems are experienced on site.
Expert Advice
Here at Doosan, we know how important it is for you to choose the right forklift, lifting the right weight to the correct height, is for all businesses. This is why we have a team of highly skilled materials handling professionals on hand to provide you with advice on your application and they will also conduct a full site survey to understand your operating environment from the ground upwards.
If you'd like to speak to an expert regarding choosing the right forklift for your business, contact us or call 01604 825 600 today.
Want new articles before they get published? Subscribe to our Awesome Newsletter.
Add me to the Doosan Newsletter Mailing List