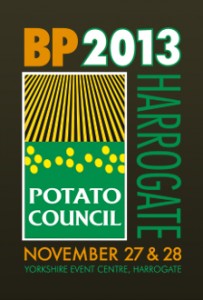 Doosan will be attending the British Potato Show BP2013 in Harrogate on 27th and 28th November 2013.
As the potato industry's first choice for forklifts we are delighted to be supporting this event for the fifth consecutive show.
The potato industry requires durable machines capable of safely handling heavy loads at considerable heights, which explains why the Doosan Pro-5 and GX Series trucks are proving so popular.
With superb lateral stability and high build quality, the Doosan range brings confidence and productivity to your materials handling. It also has the option of dual drive wheels and 6 metre mast to give performance in the most intensive of applications. With operator sensing, oil cooled disc brakes, and the lowest parts and maintenance costs around, Doosan offers the best value forklift for your operation.
Why not come along as visit the show www.potato2013.org.uk/bp2013