5-Series 1.5 – 2.0 Tonne Diesel Forklifts
Compact yet robust diesel forklifts with capacities from 1.5 – 2.0 tonnes.
The Doosan range of 1-5 – 2.0 tonne diesel powered forklifts have been designed to offer powerful performance on a compact chassis; making them the perfect choice for use in space limited applications.
These trucks feature powerful diesel engines which provide high power at low engine speeds, making them suitable for loading and unloading on ramps, where fast lift speeds are required or repetitive use is needed.
Improving productivity and lowering operation costs, these trucks increase operator comfort, feature advanced servicing features and increased performance efficiencies.
These trucks are part of our wider range of Doosan Diesel Powered Forklifts available with lift capacities up to 25.0 tonnes. You can find out more about these trucks here.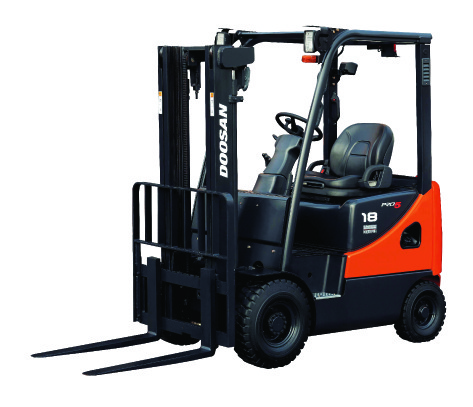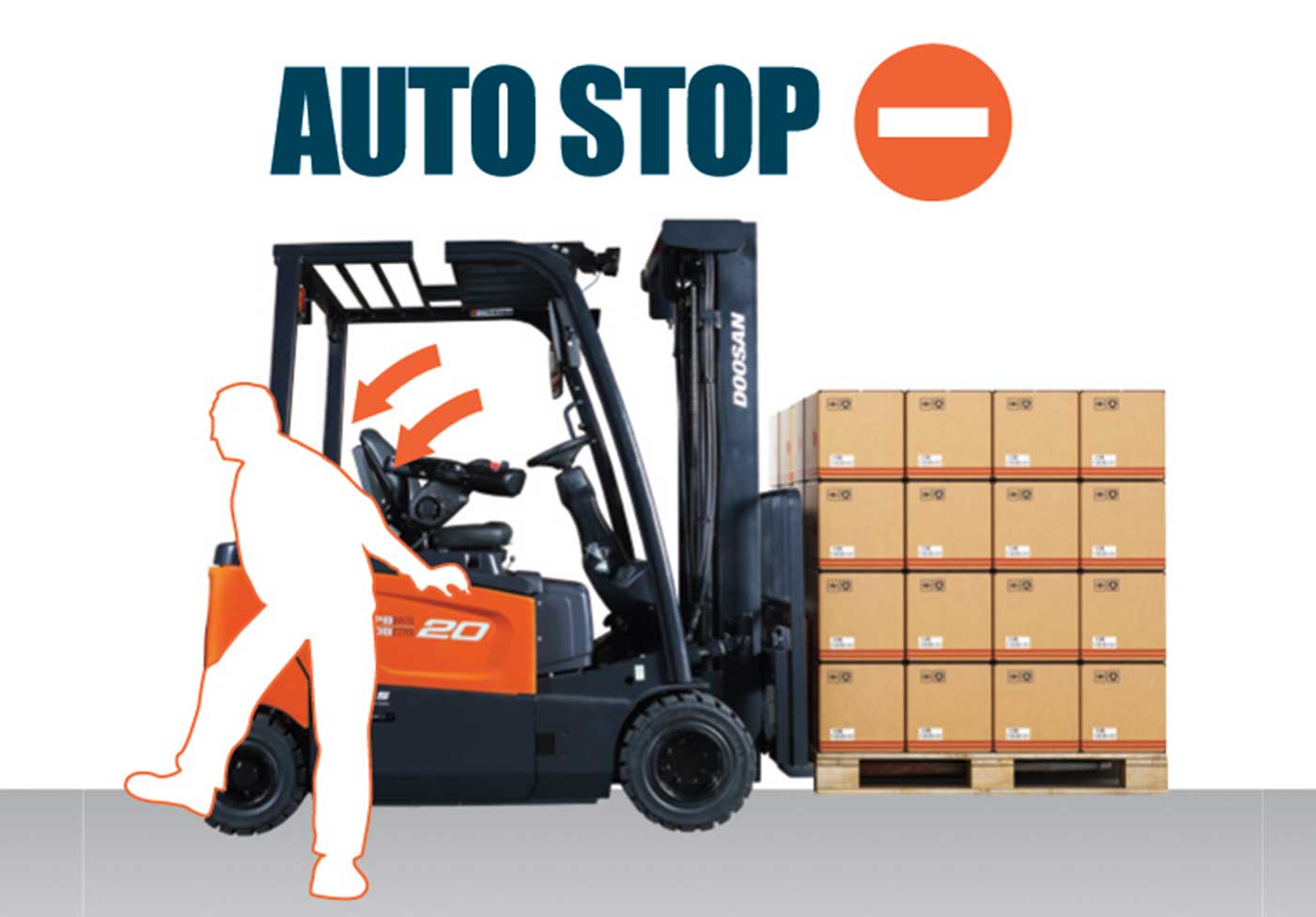 Operator Sensing System
Whenever the operator leaves the seat, the truck travel and mast lifting functions will stop.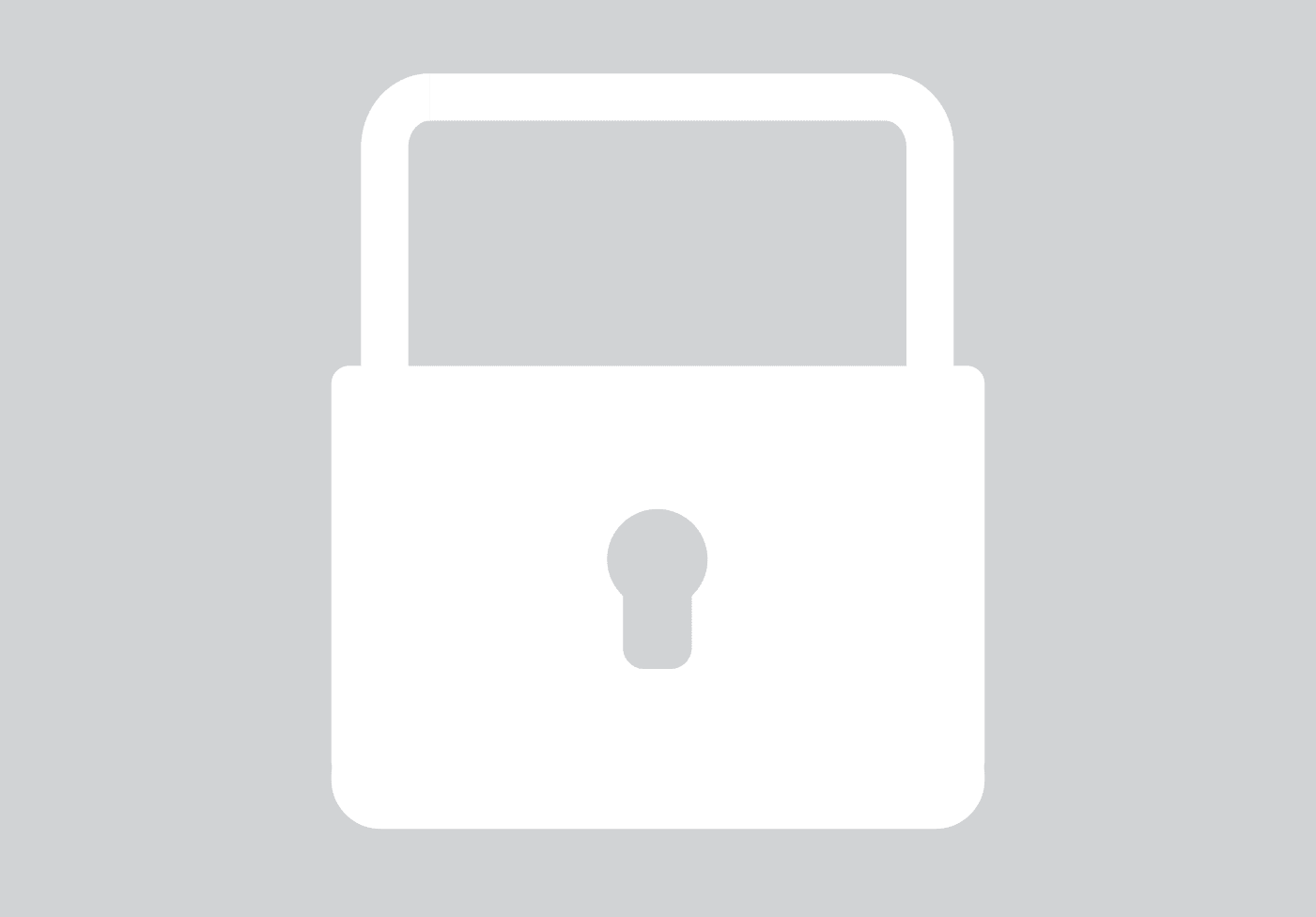 Lift & Tilt Locking Hydraulic Valve
The hydraulic locking system prevents natural lowering and tilting of the mast, even when the operator leaves the truck unattended.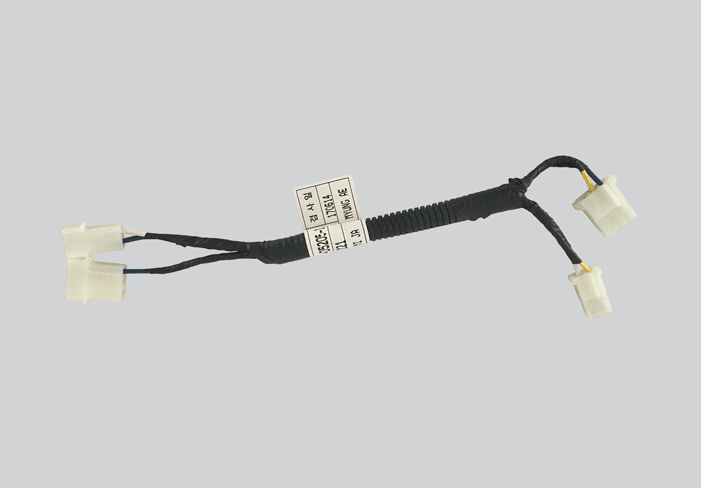 Seat Belt Interlock
When the operator does not wear his seat belt, the truck will not start. This helps preventing accidents.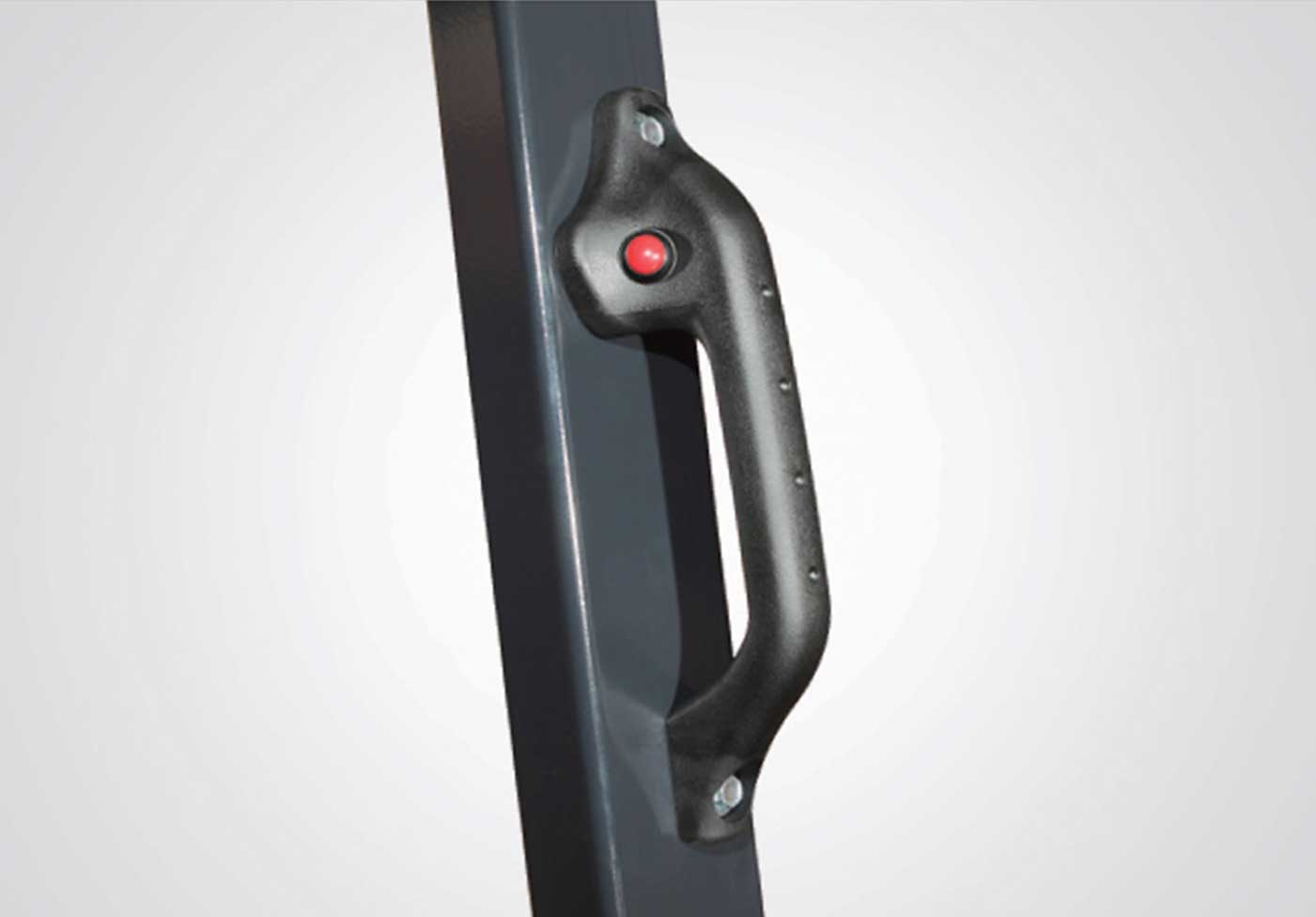 Rear Grab Handle with Horn
It enables the operator to sound the horn while maintaining full control. This enhances the comfort and safety.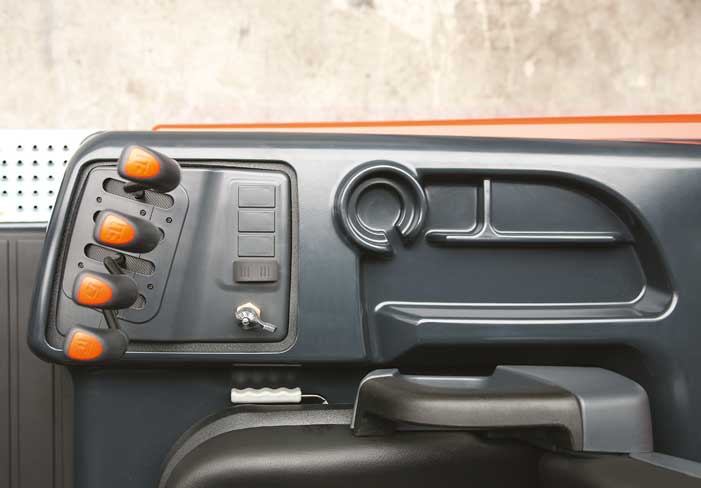 Convenience Tray
The convenience tray provides excellent storage for paperwork, refreshments, small tools, etc. It was conceived by adopting combinations of new and old favourites.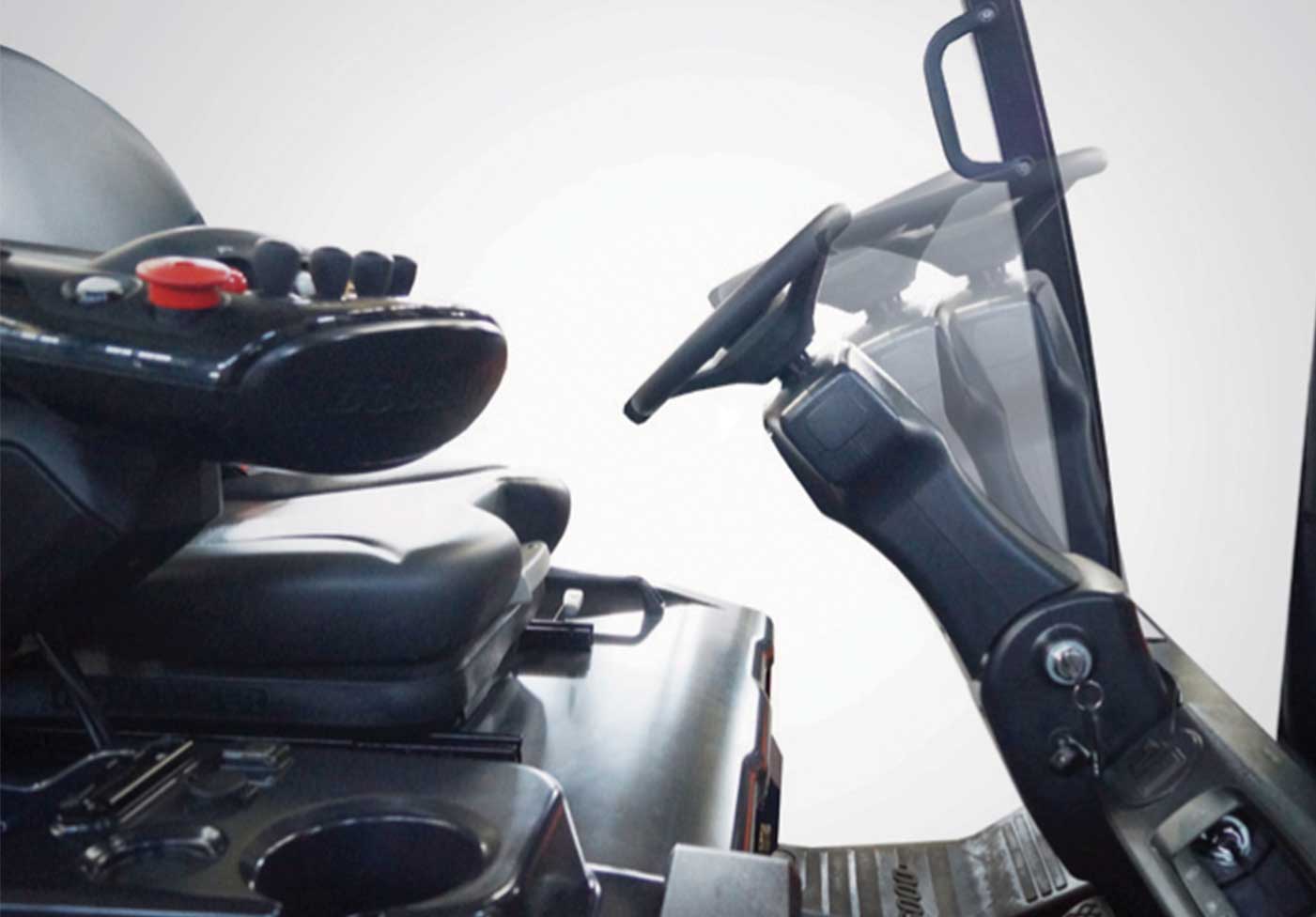 Tiltable Steering Column
The operator can change the stepless adjustable column and seat to the best position that provides convenience and comfort to fit the individual preferences.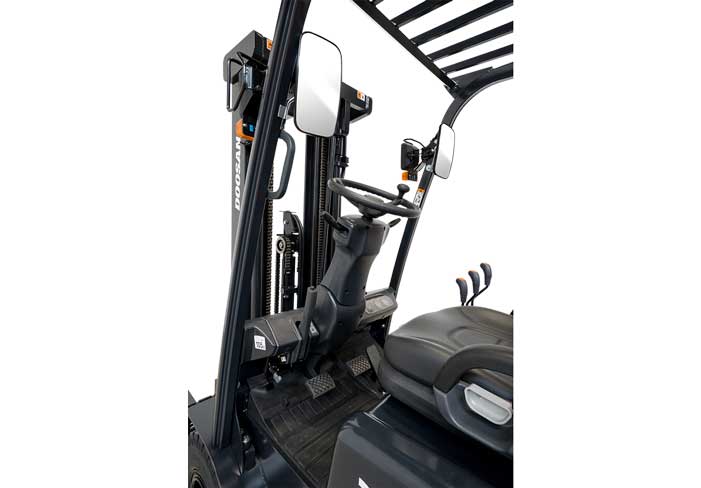 Operator Compartment
The operator compartment creates ample leg room, and has ergonomically positioned operator pedals combined with a low cowl height facilitate ease of operation.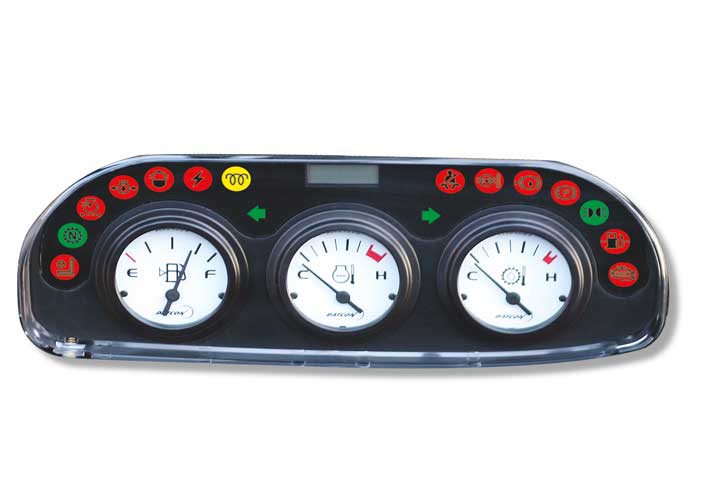 Easily Readable Display
The easily readable, integrated instrument panel provides operators with a clear overview of the truck's status during operation, simply by navigating the instrument panel.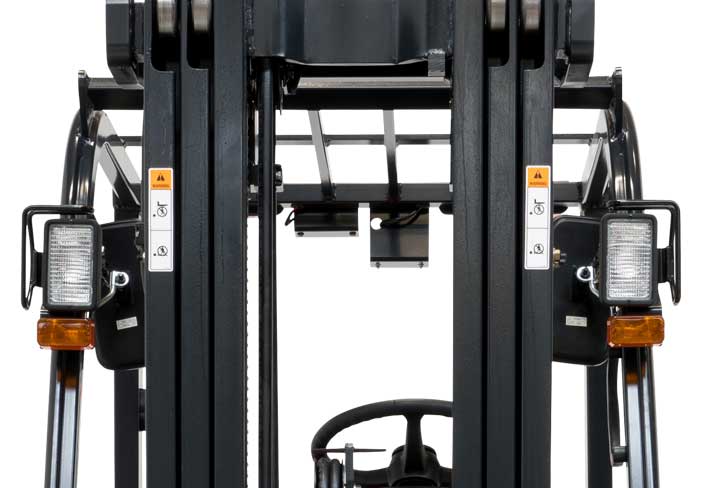 LED Combination Lights
Brighter and longer lasting than traditional sealed beams or halogen lights.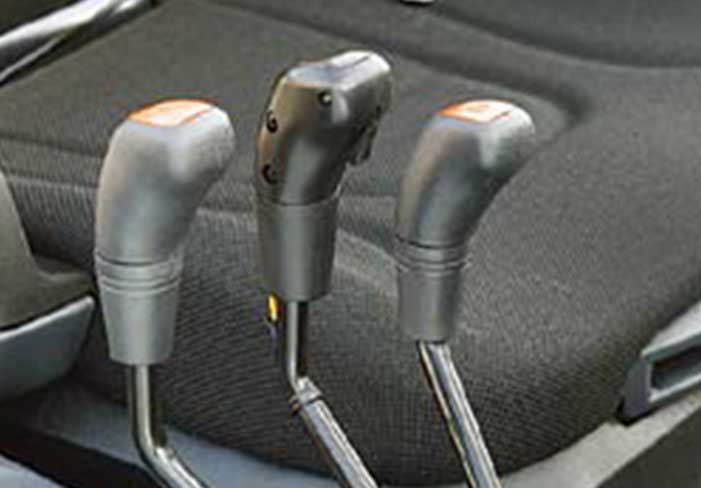 Auto Tilt Levelling
Returns the mast to the upright vertical position at the push of a button.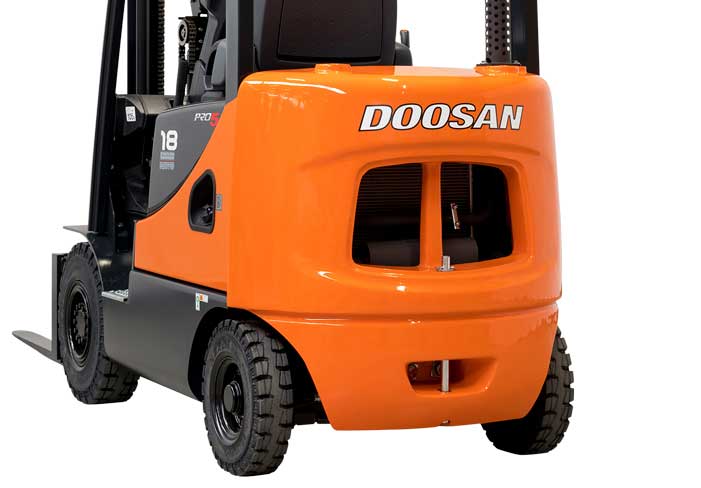 Rounded Design Counterweight
The rounded counterweight makes it easy to manoeuvre in tight spaces, which enhances the productivity.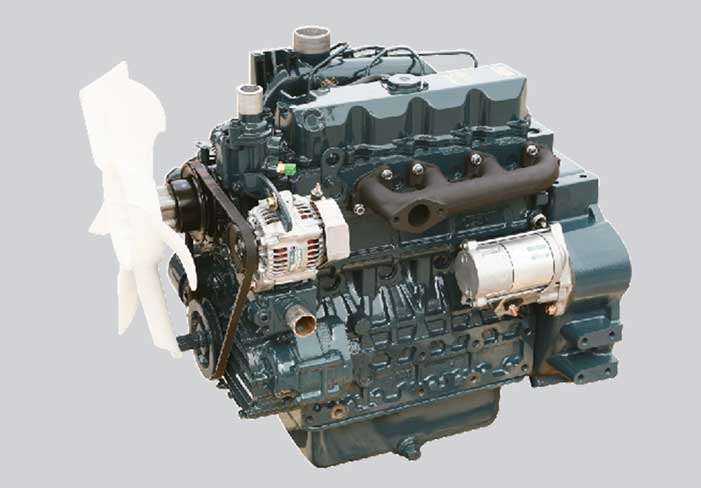 Fuel Efficient Engines
The V2403 2.4 Litre diesel engine is well tuned and recognised for industrial applications, having high fuel efficiency, low emission and low noise.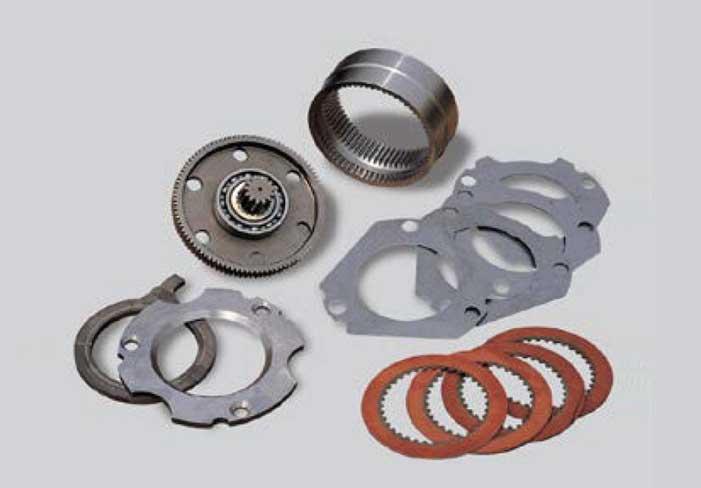 Oil-Cooled Disc Brakes
The oil-cooled disc brake system is totally enclosed, for maximum protection against contamination. This maintenance free system ensures maximum uptime, less damage, and zero cost for you.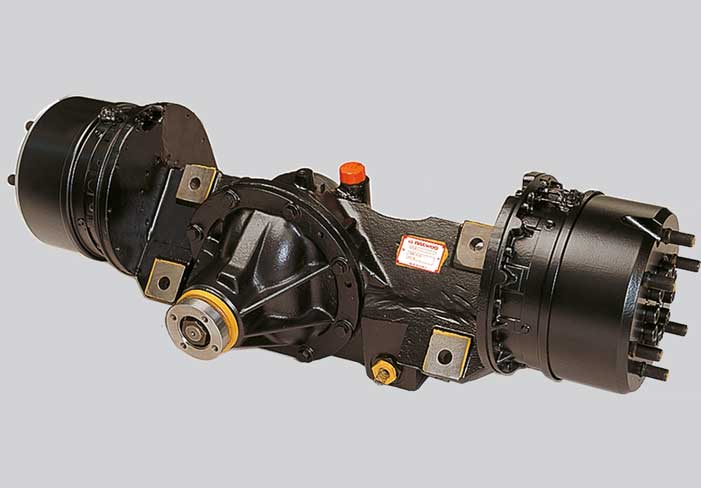 Full Floating Drive Axle
A solid one-piece cast iron housing ensures axle components are closely aligned, whilst the high tensile alloy steel shaft extends axle life and allows high torque to be transmitted to the drive wheels.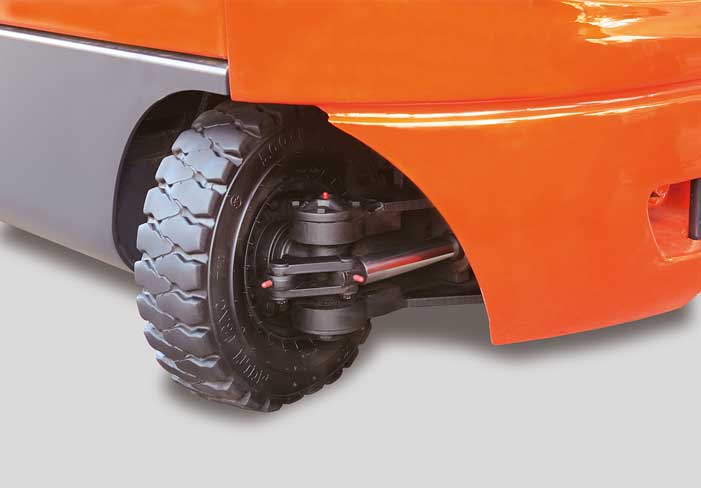 Hydrostatic Steering System
The fully hydrostatic steering is designed to operate in contaminated  environments and high impact applications. Low effort steering and faster response. Self-aligning taper roller bearings.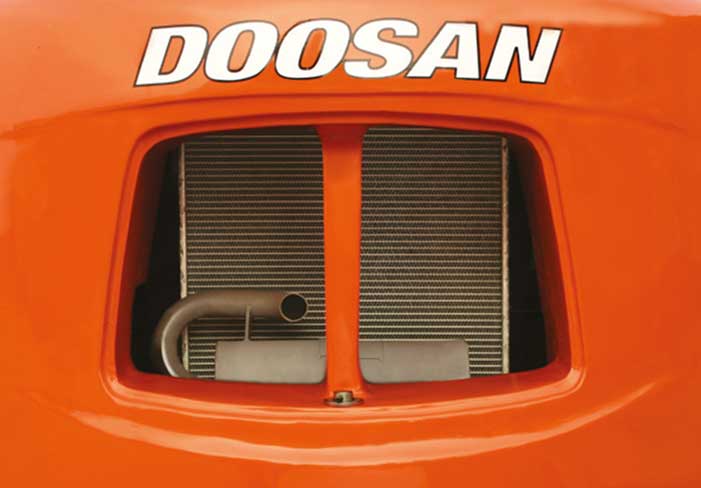 Increased Cooling Capacity
The counterweight leaves room for an aluminium radiator. This radiator provides excellent cooling capacity with an improved air flow. This reduces the chance of the engine overheating significantly.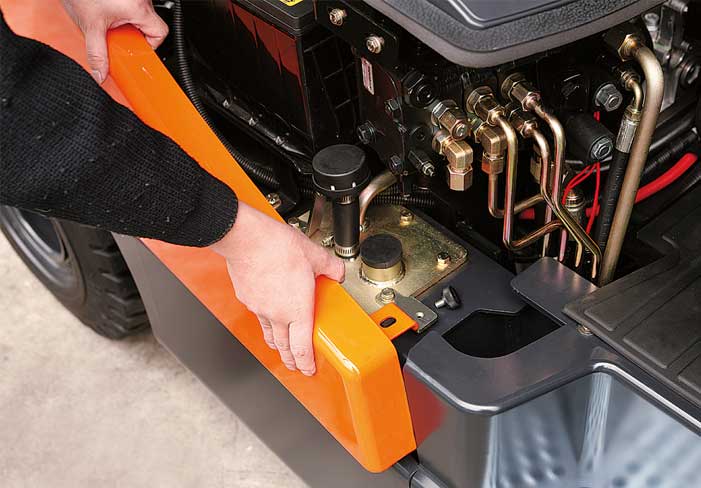 Tool-Less Side Cover
The side cover and footplate can be easily removed, without the need for any tools. This makes servicing easy and fast.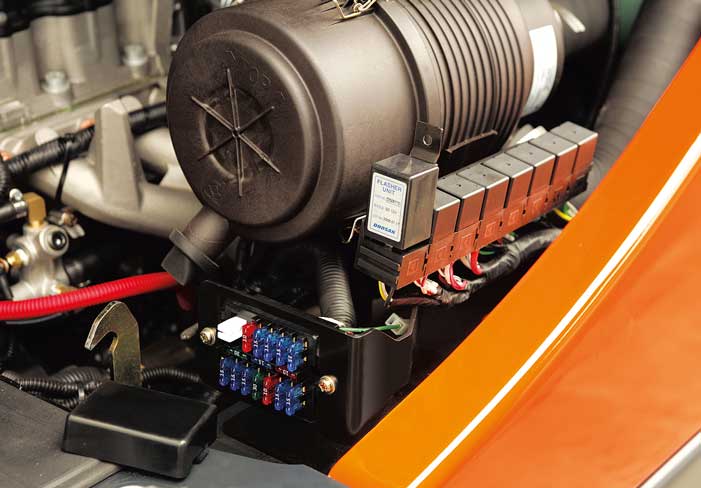 Integrated Electric Components
The electric components are integrated. Both the fuse and relay boxes are located in front of the engine to facilitate easy maintenance.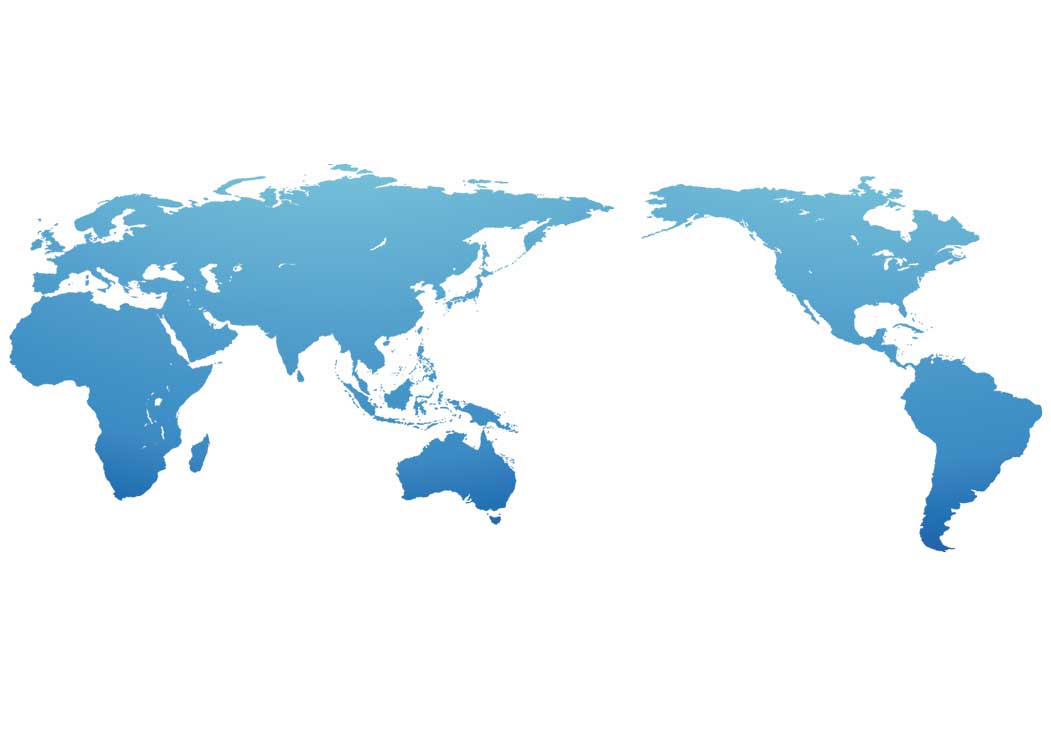 Worldwide Service Network
Doosan provides high-quality support, relying on our extensive dealer network. Highly-skilled professionals are always ready to help you.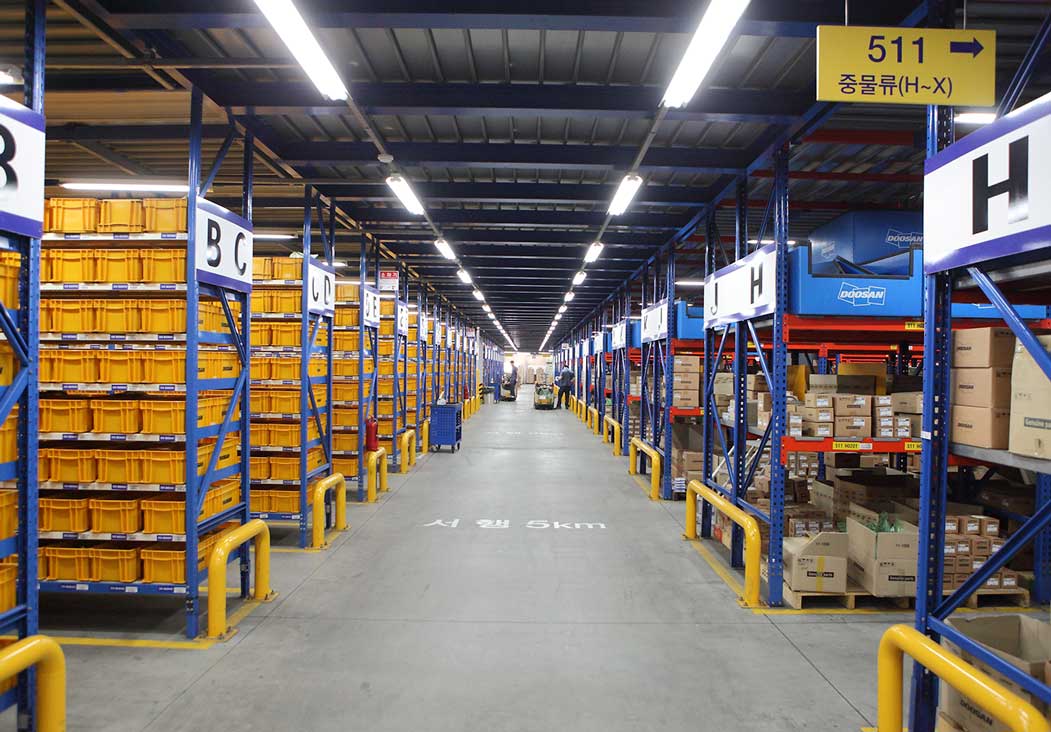 Doosan Genuine Parts
The parts warehouse, supplies high quality Doosan parts to your local dealer. Doosan Genuine Parts perfectly fit your truck.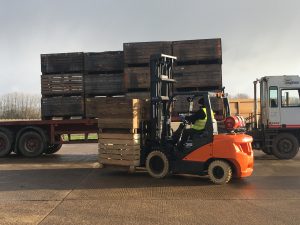 2.0 – 3.5 Tonne Diesel Forklifts
Robust and reliable diesel powered forklifts with capacities from 2.0 – 3.5 tonnes.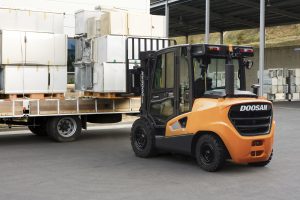 3.5 – 5.5 Tonne Diesel Forklifts
Powerful, efficient Diesel forklifts with capacities from 3.5 – 5.5 tonnes.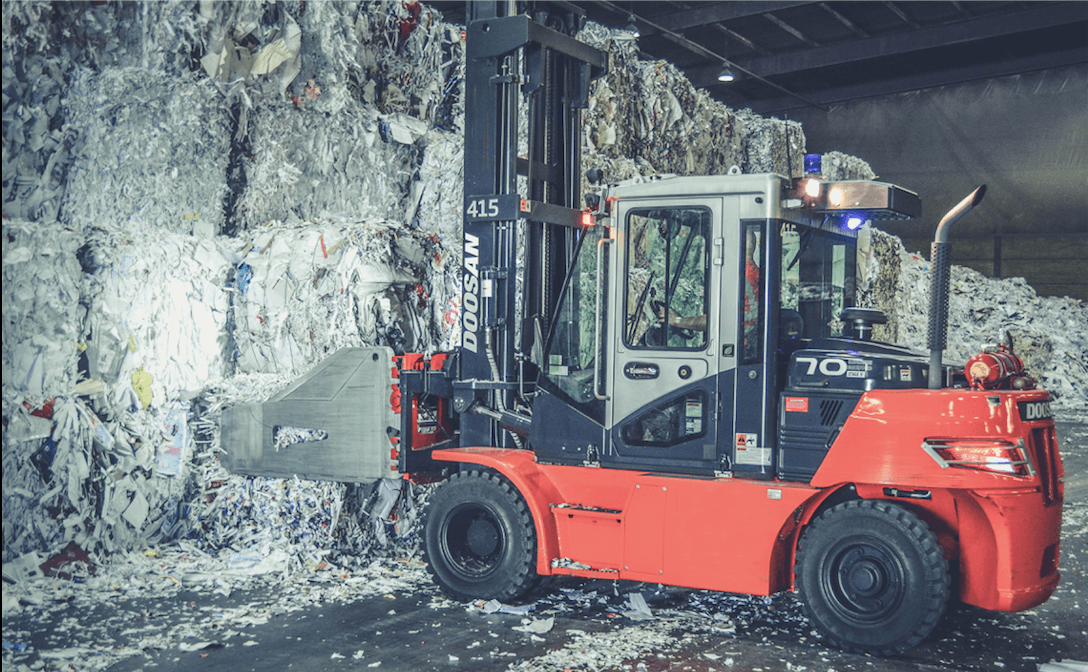 6.0 – 9.0 Tonne Diesel Forklifts
High quality diesel powered forklifts with capacities from 6.0 – 9.0 tonnes.