http://doosanflt.com/pw1/wp-content/uploads/2017/05/CEO_Sangchul-Kwak-min.jpg">
My name is Sangchul Kwak, CEO of Doosan's Forklifts Division. I would like to extend a warm welcome to you and thank you for visiting our Forklifts website.
Since the production of the first forklift in Korea in 1968, the Forklifts Division has been determined to meet customers' needs for quality material handling supplies and services.
As a result of our dedication and hard work, we are the number one supplier in our domestic market, with an accumulated production volume in excess of 300,000 units in 2006.
We design all our machines to offer simple, powerful and performance as well as operator comfort and environmental friendliness, that help you to get the most from your investment. As a result, we have won many awards:
The World Best Awards given to the most distinguished product in 2000, the Human Engineering Design Awards conferred to superior products in terms of the driver's convenience in 2005, and the Safety Awards given to the product that provides superior safety for the operation from the United Kingdom's Forklift Truck Association Awards for 2006 through 2008.
Our products have become a preferred product with consumers and have helped us secure a place amongst other high ranking material handling brands in the world's market.
We now supply our forklifts to over 90 countries and have become a preferred supplier to many of the world's leading fleet users. For that, I must thank the hard work and dedication of our support staff, and our distributors and customers.
I hope that you find our site informative and helpful, and look forward to working with you in the future.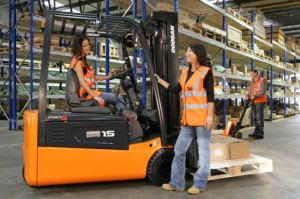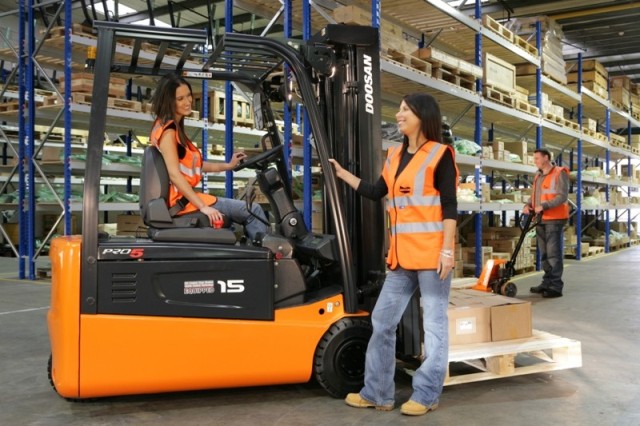 Doosan, the name behind one of the UK's leading forklift brands – is a major new force in materials handling. Established following the acqusition of Daewoo Heavy Industries in 2005 by the Doosan Group, the company is now part of a $12bn organisation that stretches across the globe.
Our journey began with the Chosen Machine Works company, established in 1937.
The Chosen factory specialised in shipbuilding and machinery, becoming a major conglomerate in 1976 when the absorbsion of the Hankoo Machine Industrial Company led to the name change – Daewoo Heavy Industries Ltd.
Daewoo (meaning 'big world' or 'great universe') became synonymous with Korean manufacturing and by the time the Korean economy ran into difficulty, DHI was a truly global player.
The restructuring that followed meant that the profitable sections of the business – construction equipment, industrial vehicles, diesel engines, power supply equipment, machine tools, factory automation equipment, and defense products (armored vehicles and air defense weapons systems) became Daewoo Heavy Industries.
Daewoo began making forklifts in the 1960s, and less than a decade later over 1,000 had been sold.
Daewoo reached an historic 10-year agreement in 1983 to build trucks under the Caterpillar brand.
The first factory to be built specifically to produce forklifts for export markets was completed a year later.
By 1998, DHI had established a name for product quality, with extensive R&D facilities and the completion of the renowned Reliability Center and in 2000, celebrated the sale of their 200,000th unit.
In The UK
Our UK presence was established in 1994, firstly in Hinckley, before we moved, via Crick, to Northampton. Initially Daewoo forklifts were sold in the UK through Lex Harvey, the lift truck distributor.
After Finning bought Lex Harvey, we parted company with them and started our own operation (Euro Daewoo UK Ltd), making Daewoo trucks for sale here through our own dealer network.
We are perhaps best known for are our 2.5 tonne gas and diesel range in the UK (which account for around half of our UK truck sales).
Our UK range covers over 100 models in total, spanning 1.3-16 tonnes, electric, gas and diesel.
The UK is not only one of our largest export market outside of the US, it is also strategically important for sales in Europe (where we also have a base in Frameries, Belgium).
We have 58% of the domestic forklifts market in Korea, but 65% of our total forklift production is exported, to over 90 countries, and 40% comes to Europe.
In May 2005, the Korean Government announced the agreed sale of a controlling share in the forklift manufacturer to Doosan.
South Korea's sole manufacturer of power-generating equipment purchased the shares from the government-owned Korea Asset Management Corporation and Korea Development Bank, after a protracted bidding process involving a dozen of the world's leading equipment manufacturers.
The successful bid from the Doosan Group, means Doosan Heavy Industry's field of business now ranges from casting and forging, to nuclear and hydro & thermal power plant construction.
The group is also heavily involved in the desalination plant, environmental and material handling sectors.
In one year alone, Doosan won US$800 million in orders from the United Arab Emirates for a contract to construct the Fujairah Power & Desalination Plant, and has previously built two of the 2002 World Cup stadiums and Taiwan's high-speed rail links.
Tim Waples, CEO of Doosan Industrial Vehicles UK, said: "This is a very exciting time for our organisation. This deal will give us even more opportunities to grow and develop as a business and provide our customers with a real alternative in the forklift market."
In 2007 the business acquired the Bobcat Utility Vehicle business for $5bn, the single largest overseas acquisition ever made by a Korean company. This was swiftly followed by Moxy in 2008 and Skoda Power in 2009, now part of Doosan Power Systems.
All our European forklift trucks are currently made in Korea (Counter-Balance Trucks) and Germany (Warehouse Range and Air Cargo). We recently announced plans for a massive new manufacturing plant in Korea which will increase our capacity to 55,000 forklifts a year.