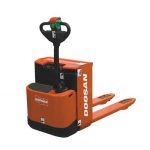 Doosan's latest range of pedestrian and ride-on pallet trucks, the LEDH series, are being shown for the first time in the UK at IMHX.
Designed and built at the company's bespoke warehouse equipment factory in Germany, the LEDH series is available in four different models – pedestrian, flip-down platform, built in back or side protection.
With a heavy duty construction made from thick gauge steel, the pallet trucks are intended for use in intensive applications where plastic or thin metal covers are likely to be damaged, thus reducing customer costs.
DIVUK's Paul Watson said: "Our new ride-on trucks are ideal for cross docking, load shuttling and transporting over longer distances. Providing operator safety and comfort are key, with ease of use is also crucial, but owners do not want to be continually replacing parts from minor damage, and that's why these are built to last."
Side safety bars come as standard on the MP flip-down platform model and the BP and SP models come with fixed back protection and fixed side protection, respectively. Lateral battery change with the battery located on steel rollers, coupled with the auto-speed reduction in cornering, makes this an attractive offering.
"We feel we've got the specification right for the UK market and we hope the IMHX crowd will confirm our expectations. The German manufacturing centre is adept at producing high quality equipment, with up to 90 percent of components manufactured on site," said Paul.
Recently, the UK has focused on extending its warehouse offering which it sees as vital for continued growth in its counterbalance and reach truck sales.
Concludes Paul: "The UK has been heavily involved in getting our warehouse range right. We believe the market here is more discerning than most and expects high levels of quality and value for money. We see these models, with compact and stable chassis designs, clear instrumentation and ergonomic controls, as well of course as the robust construction, as being strong factors that will win over IMHX visitors and the wider warehousing sector. It's certainly a well specified, strong offering."
Over 200 Doosan models are now available, from the simple hand pallet truck to the giant 16, 18 and 25 tonne diesel trucks. A host of warehouse models are also destined for IMHX, where the theme is demonstrating the Doosan ethos of high quality, affordable machines.
Doosan is also the name behind the world renowned Bobcat brand of tele-handlers, skid steers and compact excavators, plus the heavy Doosan construction equipment such as large excavators, wheeled loaders, dump trucks and high capacity tele-handlers.
For more information visit see Doosan at IMHX on stand 19H120