Guardian Stability System
A Standard Feature on Doosan Electric Forklifts
The Doosan Guardian Stability System (GSS) is a standard feature on our electric forklifts between 1.5 and 3.5 tonnes. It dynamically protects the truck, operator and load to avoid accidents; increasing operator safety and truck stability in all applications.
Guardian Stability System Features
Unlimited Ramp Hold
Our 1.5 – 3.5 tonne electric forklifts feature an Electro-Magnetic Automatic Parking Brake (EPB) which will hold your forklift on a slope and prevent it from rolling back. An operator can then dismount the truck, because the application of the foot brake is not required.
Low Battery Alarm
On most electric forklifts, the trucks performance will be dramatically reduced if its battery is too low; the forklift could even come to a sudden stop and then be nonoperational. To prevent this, Doosan electric forklifts have a low battery alarm which will alert the operator when the battery is almost fully discharged, along with limiting lift speeds to conserve battery power. This then enables the operator to take the truck to its nearest battery charging or exchange point.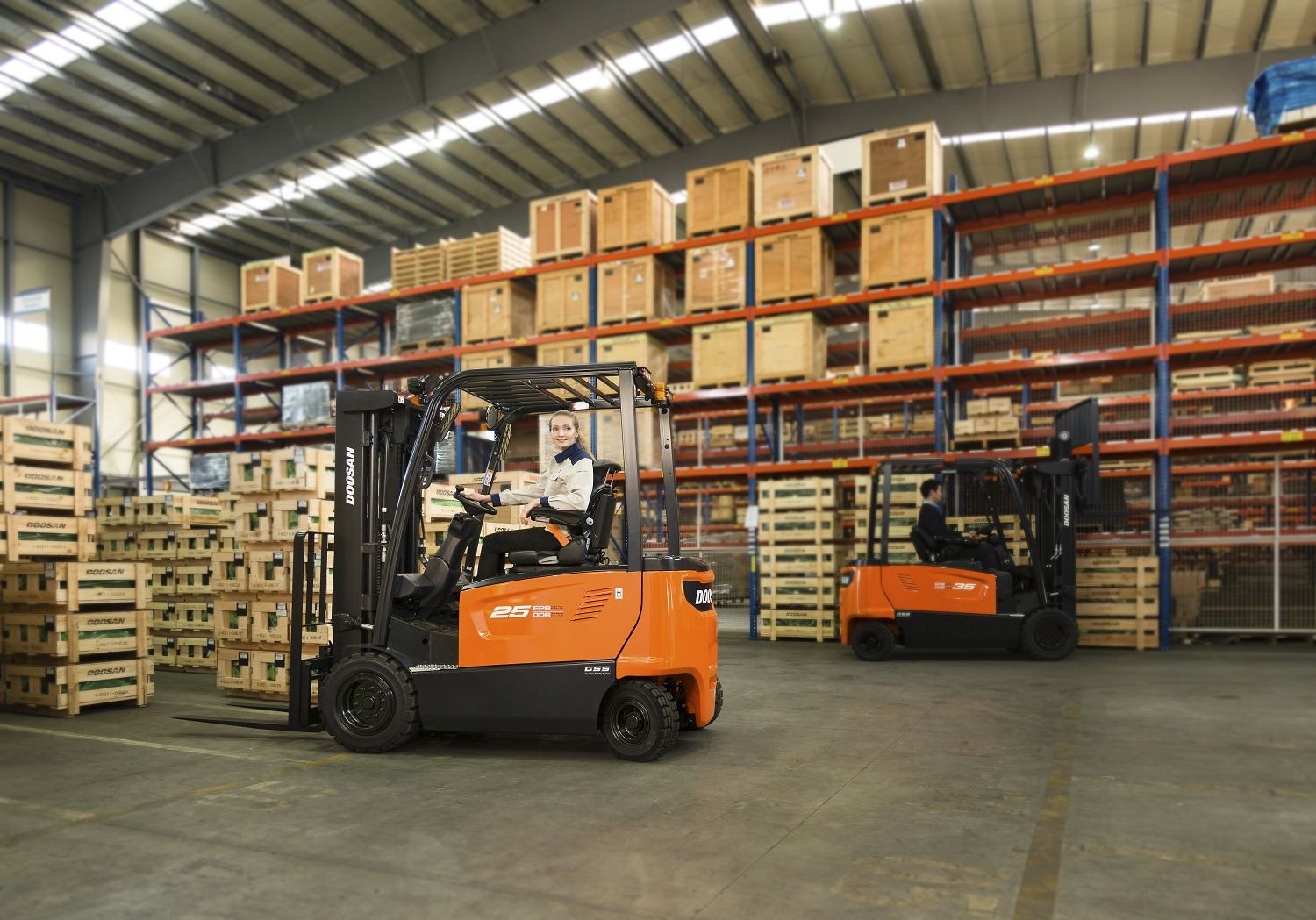 Turtle Mode
If you operate your forklift truck in confined spaces, it is important to have high levels of control over your truck at all times. By pressing the Turtle Mode button on your Doosan electric forklift, you will be able to reduce the trucks travel speed; allowing you to have the high levels of steering you require in smaller working areas.
Neutral Position to Start
To ensure that your forklift doesn't jump forwards or backwards upon starting; all Doosan electric forklifts are required to be in neutral gear. If your forklift is in the forward or reverse travel mode; the trucks startup will be interrupted and an alarm will sound. Once the trucks direction switch is returned to neutral; your forklift will start up fully.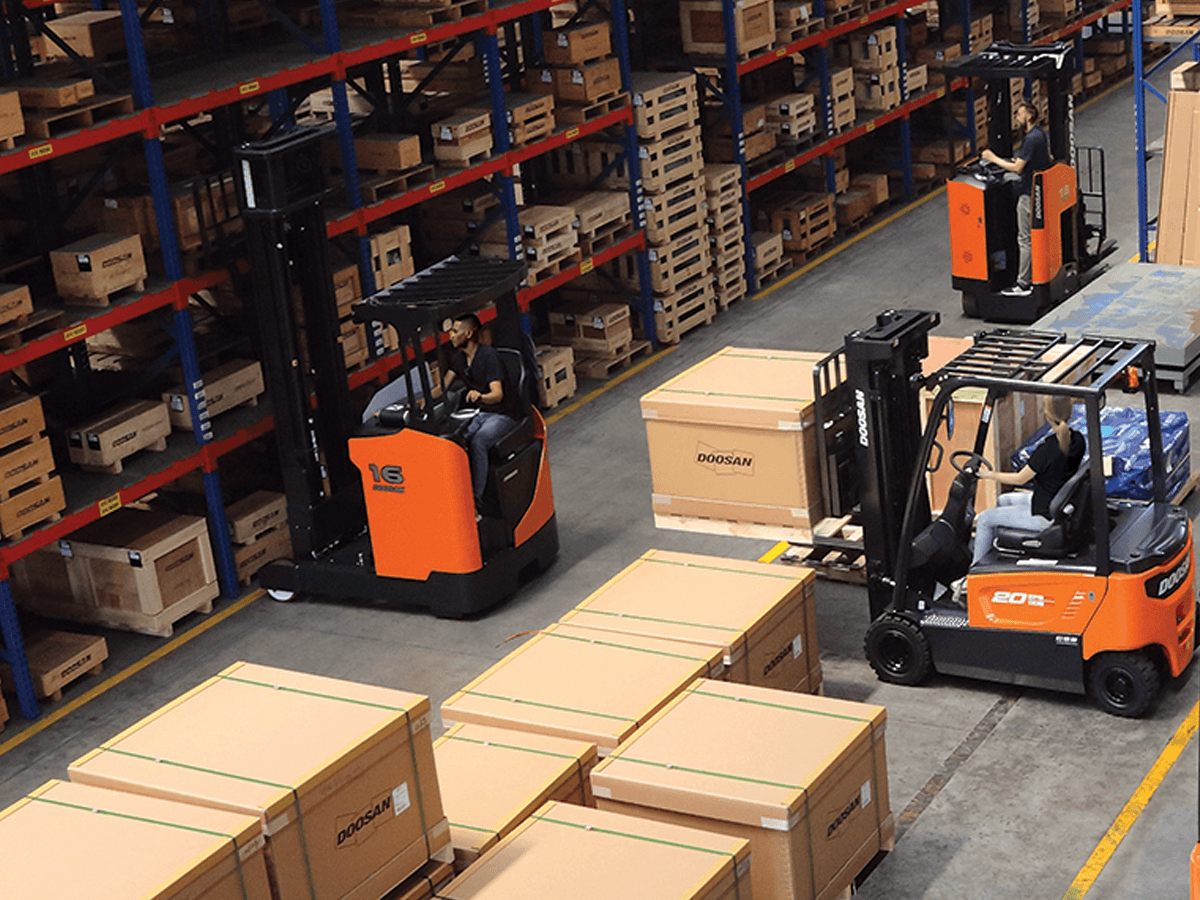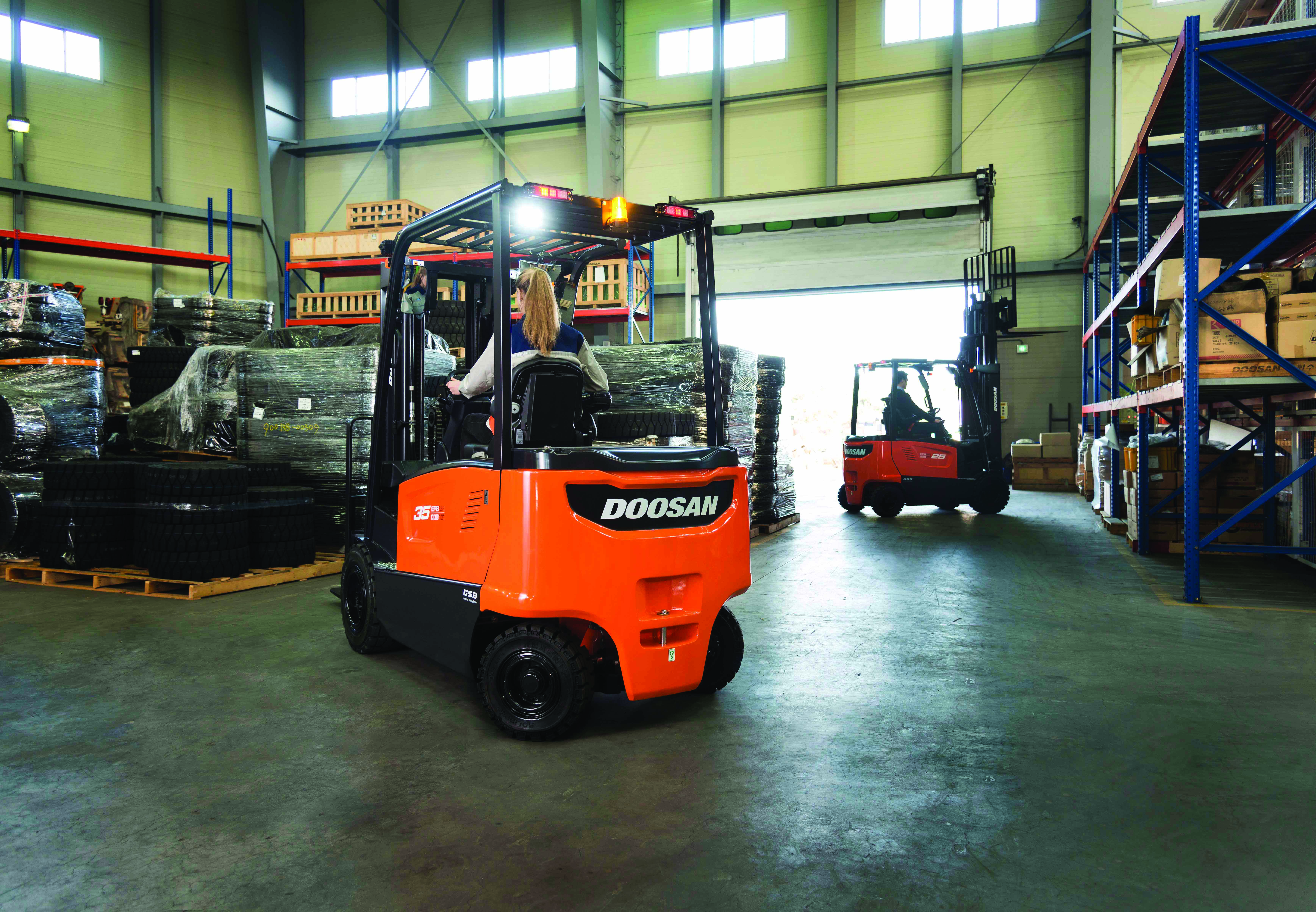 Automatic Speed Control
Each of our electric forklifts in the 1.5 – 3.5 tonne lift range is fitted with steering angle sensors; these monitor the trucks speed and steering angle when cornering. This technology will automatically reduce the travel speed of the forklift when turning to ensure that the truck maintains its stability at all times; reducing the risk of accidents or damage.
Mast Lowering and Tilt Interlock
ISO3961 compliant, the hydraulic locking system prevents the trucks mast from being lowered or tilted when the truck isn't in operation. This provides protection to your operational environment, the truck and the load; even when the truck is unattended.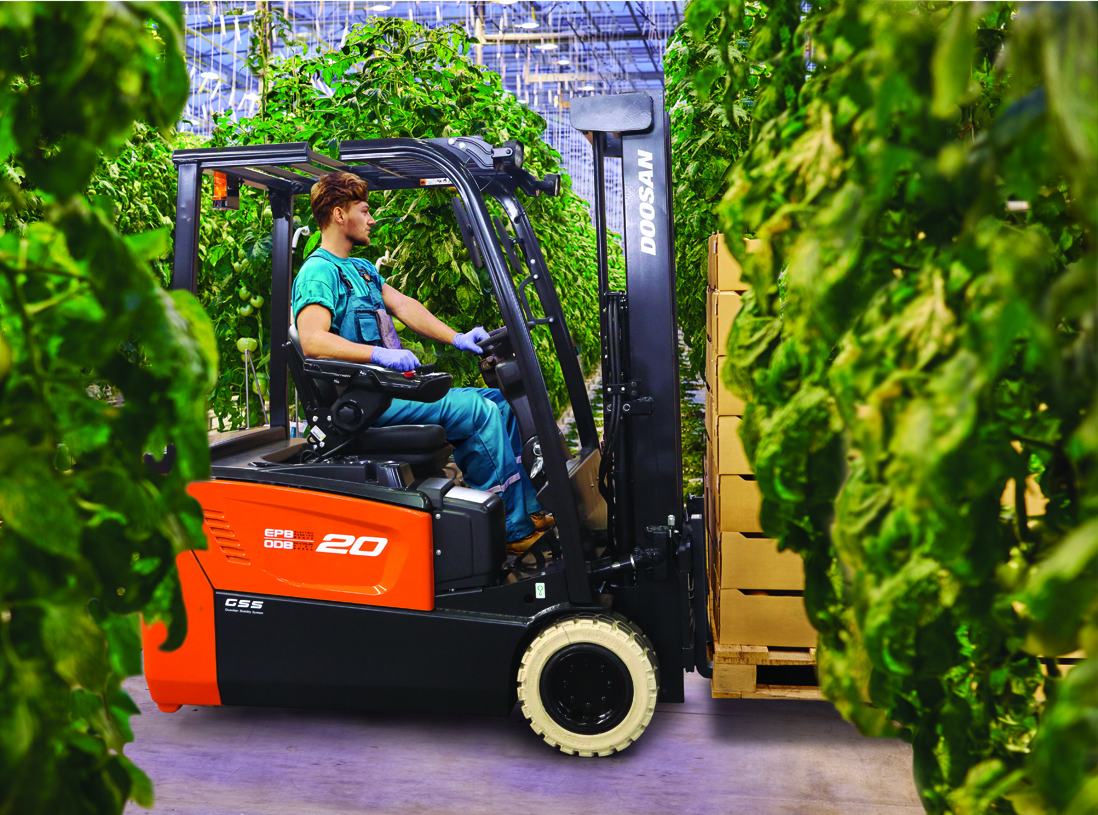 Brake Oil Indicator
All Doosan forklifts use the innovative Oil-Cooled Disc Brake System (ODB). Our electric forklifts are equipped with a series of sensors which monitor brake oil levels and will raise an alarm when the oil reservoir requires a top up.
Seatbelt Indicator
When an operator starts up a Doosan forklift, a warning indicator on the trucks instrument panel will flash if the operators seatbelt isn't fastened properly.
Operator Sensing System
Another innovation from Doosan, our Operator Sensing System (OSS) will prevent the forklift from being used if an operator isn't sat on the trucks seat. If an operator leaves the truck, all travel and lifting functions will be disengaged; preventing any accidental movements of the truck.
Guardian Stability System Features
Unlimited Ramp Hold
Low Battery Alarm
Automatic Speed Control
Mast Lowering and Tilt Interlock
Turtle Mode
Neutral Position on Startup
Brake Oil Level Indicator
Seatbelt Indicator
Operator Sensing System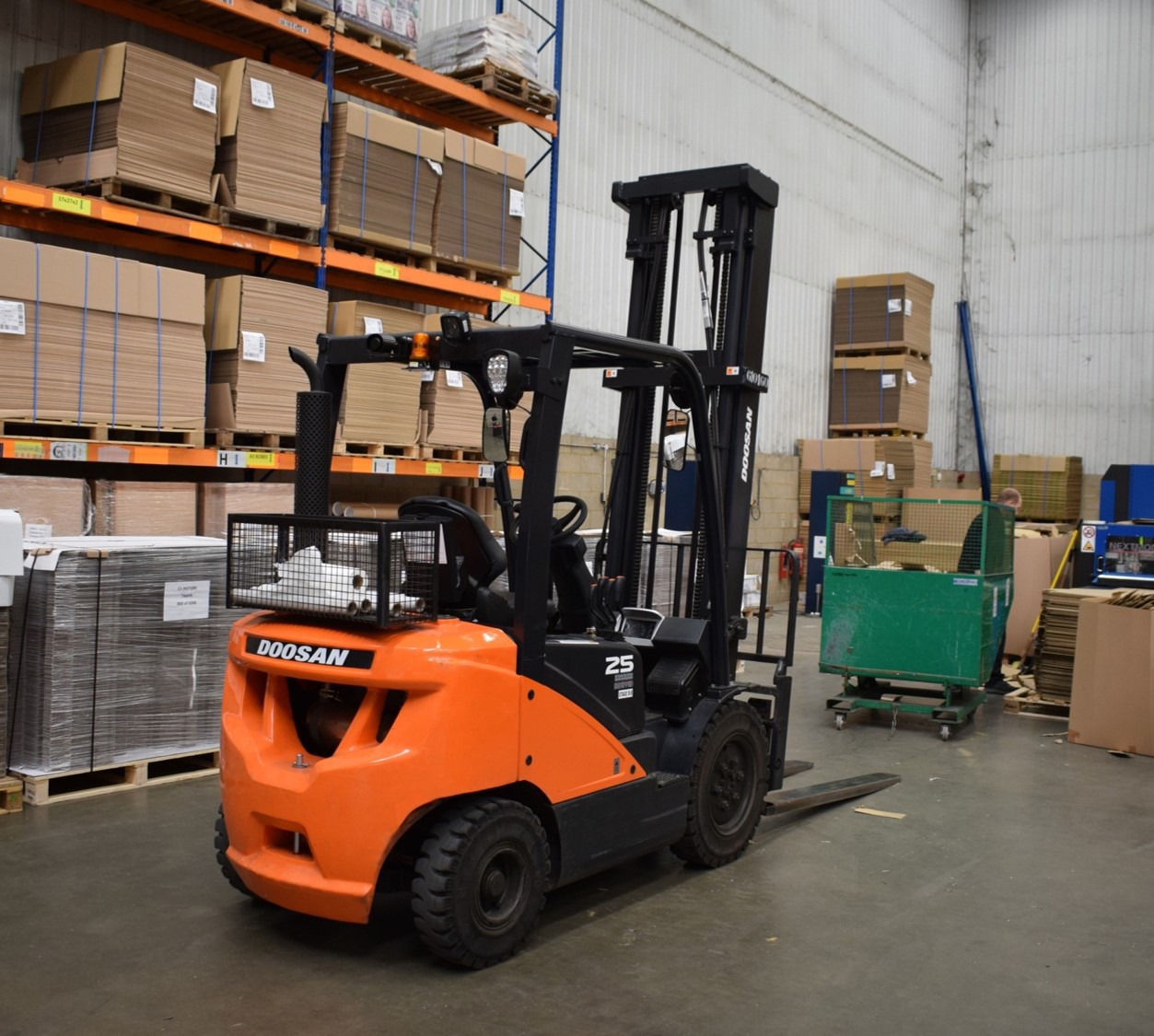 Diesel & LPG Forklifts
Our Diesel and Gas Forklifts are one of our best sellers. See why we're taking over the market with our Award Winning forklifts.
Electric Forklifts
Electric Forklift trucks are becoming more and more of a viable option for all areas of industry in the UK. See our range of trucks from 1.5 – 5.0 tonnes.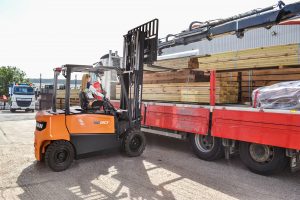 Warehouse Equipment
With an extensive range of Warehouse equipment built with German precision engineering, the Doosan Warehouse Range can assist any lifting needs.