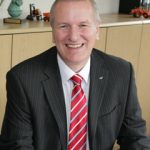 IMHX2013 has proved to be the most successful materials handling exhibition yet, according to Korean forklift manufacturer, Doosan.
Doosan hosted one of the largest stands at the Intralogistics show and flew in visitors from around the world to celebrate their most successful year ever.
"We must congratulate the organisers who put in a lot of hard work to deliver an excellent show," says UK director, Tim Waples. "We had fantastic feedback from our dealers, customers and special guests and it has showed how far we have come in a short space of time. I am certain we will build on our successful appearance and make even greater strides forward."
Traditionally Doosan has used the IMHX show as a launch pad for new initiatives, including in 2007 the introduction of its Pro-5 counterbalance range. This year was no exception with a new reach truck, warehouse equipment range and low emission diesel engines on display.
Doosan introduced its new diesel 4.0t to 9.0t capacity trucks with the new Stage3B engine, exceeding all requirements of the new European emissions directive for vehicles in the 37 to 56-kW power range. The latest range of pedestrian and ride-on pallet trucks, the LEDH series, and the LEKF Low Level Order Picker, were also shown for the first time in the UK at IMHX.
"We received several quality enquiries from potential customers, plus valuable enquiries for larger fleets, all of which makes the effort well worthwhile." concluded Tim.
Dealers from South Africa, Russia and mainland Europe were also invited for a gala dinner hosted by Tim Waples, with the guest of honour the Doosan Corporation Business Operations CEO, Jim Bemowski. Jim oversaw the restructure of the Doosan business and the Californian is the most prominent foreign CEO leading a Korean conglomerate.
Said Jim: "This is a great show. I'm impressed with the dedication, work and commitment of our UK teams in delivering a great experience for our dealers and visitors. It's rare for me to get the opportunity to see equipment like this close up and the passion of our teams is fantastically infectious."
Bemowski has responsibility for nine business groups at Doosan Corporation and points to successes in Industrial Vehicles as a good indication of the company's new focus.
Said Jim: "We are broadening people's image of what we do. Our origins are in IC trucks but we have Bobcat and 16 tonners here also, it subtly enhances our credibility. We are filling the gap with the reach truck, developed in just two years. We can go a lot further with reach trucks and man up machines – I can certainly foresee this in the future."
Meeting with dealers and assessing market trends forms an important part of Doosan's overall IMHX strategy, with Jim on hand to present awards to the best performers.
"Our brand isn't small," add Jim. "We need to give dealers confidence in us. They need to know we will provide and develop the machines they need. We can see distribution is getting stronger and ready to make further strides in emerging markets. "
As for technological developments, Doosan remains pragmatic about the future application of new technologies.
Concludes Jim: "Certainly environmental measures, driven by new legislation are a key focus. The Doosan Group generally is more concerned with emissions and energy efficiency. In forklifts this translates as energy and fuel efficiency, plus innovation technology that promotes the lowest lifetime costs. But the key to our success is keeping things simple, low cost and durable. It's important we do not lose sight of this winning approach."