Lithium-Ion Lightweight Powered Pallet Truck
The Doosan LPM15N-7 and LPM20N-7 lightweight, compact powered pallet trucks with Lithium-Ion power.
Introducing the new Doosan range of lightweight pallet trucks with Lithium-Ion power.
The Doosan LPM range of Lithium-Ion powered pallet trucks are a new feature in the Doosan product range.
 Available in both 1500kg and 2000kg lift capacities, these trucks offer high performance on a compact chassis similar to a standard hand pallet truck; making them ideal for use in retail and ecommerce environments.
These trucks feature an ergonomically designed handle for operator comfort with conveniently placed lift, lower and an emergency safety switch. This truck also features a control override button, which allows you to move the truck whilst its tiller arm is upright.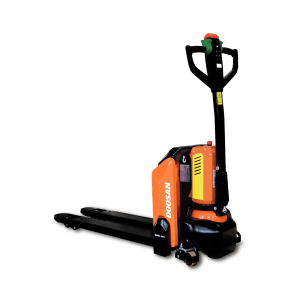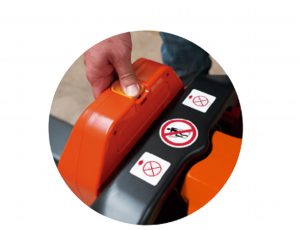 These trucks feature a plug-and-play Lithium-Ion cartridge battery which provides up to 3 hours operating time on a full charge and quick and easy replacement for use in longer operational cycles.
Available in 540mm and 685mm fork widths, these trucks are suitable for use with both Euro Pallets and UK Standard Pallets; making them a versatile choice for most applications.
These trucks are available to hire and purchase – request a price today.
1.5 and 2.0 Tonne Lift Capacities Available
Max. Weight: 153kgs
Cartridge Type Lithium-Ion Battery
Automatic Braking Function
Electric Lift and Lower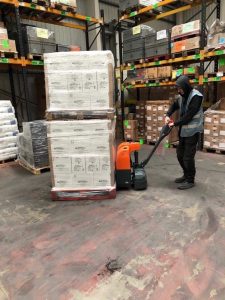 Doosan 1.5 Tonne Powered Pallet Truck
A compact, powerful powered pallet truck with a 1.5 tonne lift capacity.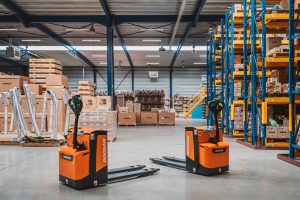 1.8 – 5.0 Tonne Powered Pallet Trucks
Robust, German-Made powered pallet trucks which can transport loads between 1.8 and 5.0 tonnes.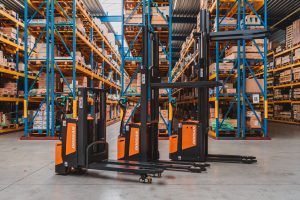 Doosan Stacker Trucks 1.0 – 2.0 Tonnes
The Doosan range of compact, heavy-duty and double stacker trucks provide you with a flexible, high quality warehouse solution.