From Simple Access Control Systems to Wireless Fleet Management.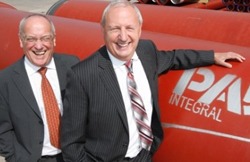 Managing your fleet with a vehicle management system creates many significant, proven benefits.
Doosan Fleet Management options will help you increase productivity and create visibility of vehicles and their operators, improve safety and reduce operating costs.

Restricting and monitoring who is allowed to drive your machines, especially if the general public is allowed near your forklifts can be managed with simple, cost effective Access Control System like Keypad Pin Codes or Swipe Card systems. Accountability is key and these entry level systems have been proven to dramatically reduce anonymous damage costs not just to the forklifts but also your products, racking and other vehicles.
For fleet managers, we understand that you can't keep an eye of every piece of materials handling equipment across your depot or sites every minute of every day, so we can offer you solutions to make your department more cost efficient. Utilisation and performance data, maintenance schedules, daily checks and tracking of vehicles can all be done remotely and accessed from your computer screen.
For more information on any of these systems, please contact your local Doosan representative who will be happy to help.