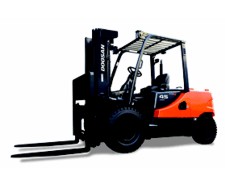 D35S / D40S / D45S-5 & D50C / D55C-5
D40SC / D45SC /D50SC-5 / D55SC-5
G35S /G40S / G45S-5 & G50C / G55C-5
G40SC / G45SC /G50SC-5 / G55SC-5
GC35S / GC40S / GC45S-5 & GC50C / GC55C-5
Doosan forklifts are designed to keep your operation and operators running at peak efficiency. Enhanced comfort features ensures operators do not experience fatigue or strain during everyday operation. Designed to be simple, and easily adjusted, this operator
compartment will make your driver feel right at home.
Download Latest Brochure: [download id="4″ format="1″ autop="false"]
Auto Tilt Levelling
Easy Maintenance
High Visibility Overhead Guard
Operator Sensing
Low emissions
Minimal Vibration
2 Speed Autoshift Transmission
Enhanced Maintenance and Serviceability
Virtually Maintenance-free Oil cooled Disc Brakes
Optimized Operator Comfort & Safety
Integrated Instrument Panel
[download_page]