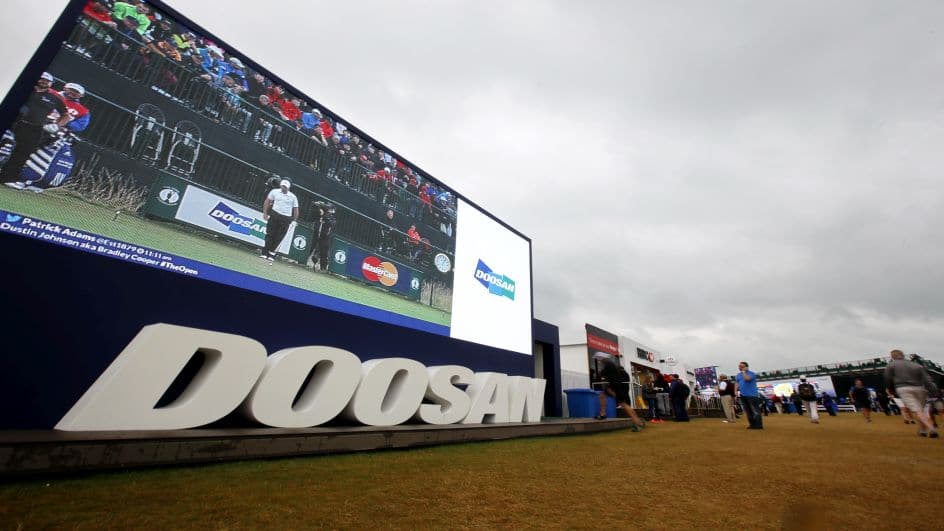 This year's Open, from the 10th-17th July, is being held at the Royal Troon, Scotland. It will be the ninth Open Championship played at the Old Course of Troon, and the fifth since gaining royal status — now in its 145th year.
Doosan has sponsored The Open since 2010, and there are strong synergies between the sport and the company. For example, both are long established: Doosan is one of the oldest companies in Korea and golf has been played for many hundred years — at St Andrews for well over half a millennium.
The "simple powerful performance" of Doosan forklifts is an attribute clearly demonstrated by the world's top golfers. And we'd certainly like to think that our trucks lift with as much passion as the 2015 winner hefting the Claret Jug trophy high above their shoulders… but that may be stretching it a little!
Alas 2014 champion Rory McIlroy can't compete this year due to his unfortunate football injury but to all other participants everyone at Doosan sends their best wishes for an excellent 2016 competition.
Open Golf facts:
The Open is the oldest of four major championships in professional golf, and remains the only "major" held outside the USA.
The Open Championship was first played on 17 October 1860 at Prestwick Golf Club, in Ayrshire, Scotland.
The championship is administered by The R&A, who are the governing body of golf outside of the USA and Mexico.
The Open is played in July and is the third major to take place each year, following The Masters and the U.S. Open, but preceding the PGA Championship.
The event takes place every year on one of nine links courses in Scotland or England (the event has been held once in Northern Ireland, but Royal Portrush is no longer on the rotation).
The event is a 72-hole stroke play tournament with a cut after the first 36 holes limited to the top 70 players and ties.
Click here for the official Open website.
And finally… here are some Doosan excavators playing golf in a recent US TV commercial!