Maximise Efficiency, Reduce Costs, Increase Safety
The LIN-Q Smart Telematics system from Doosan allows you to effectively manage your fleet with real time information straight to your mobile phone, tablet or PC. 
Doosan Telematics System can aid fleet management by providing a centralised service for collecting truck or driver status, based upon local information provided by a secure, wireless network. LIN-Q is compatible with 3G, Wifi and GPS systems. 
Optimised Operational Efficiency
Manage individual vehicle efficiency by checking the real working time during operating hours and monitoring working/non working hours within operating time.
Calculate the optimal forklift units for your operation. Maximise forklift efficiency based on the same workload and deduct unnecessary forklifts or review replacements
Minimise Equipment Downtime
Increased management efficiency through timely replacement of consumables, based on equipment actual hours in operation.
Improve service responsiveness through vehicle error code and action history enquiries. Minimise vehicle downtime due to failures.
Analyse speed and impact history to identify potential safety issues and operators who may require additional training or improvement.
Review driving patterns to improve productivity and increase safety. Reduce costs due to forklift or asset damages.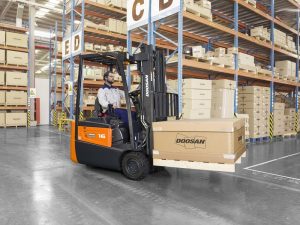 Electric Forklifts
The 7-Series of 3 and 4 wheel electric counterbalance forklift trucks are available in load capacities of 1.25 – 5.0 tonne.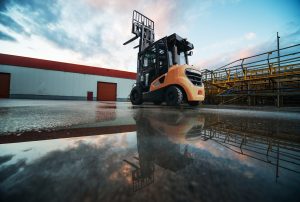 Diesel Forklifts
Our extensive range of Diesel engine counterbalance forklift trucks are available in capacities from 1.5 to 25.0-tonnes.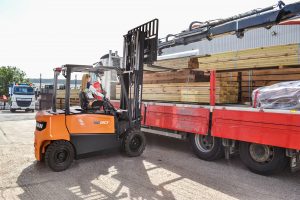 Warehouse Equipment
Our new range of warehouse equipment continues to follow the core Doosan tradition of delivering simple, powerful performance, whilst most of all, delivering the best possible value for our customers.