In recent years, electric forklift trucks have gained a lot greater importance in the marketplace, this can be put down to key changes in regulations concerning emissions and noise levels. Electric forklifts have also become a lot more advanced and are fast becoming as reliable and efficient as that of their diesel and gas counterparts.
Switching from diesel or gas to electric is definitely something that a lot of businesses are currently considering, but what are the benefits of going electric?
Environmentally Friendly
One of the main benefits of choosing electric forklifts is that they are pollution free, by running off electricity they don't give off any nasty emissions and use less energy. The environment is a huge topic of conversation and is something that we are increasingly becoming a lot of more conscious of, by going electric with your materials handling equipment you can be sure that you are choosing a truck that is kind to the environment.
Low Noise and Vibration Levels
Electric forklifts create very little noise and a lot fewer vibrations than that of IC forklifts. This makes driving the trucks a lot more comfortable for the drivers, some operators may spend their whole working day in the truck, so ensuring they are comfortable is extremely important.
Low Cost of Ownership
As these trucks are fuelled by electricity, once purchased they cost very little to run unlike diesel or gas trucks. They are also a lot easier and cheaper to repair and maintain as they have less components.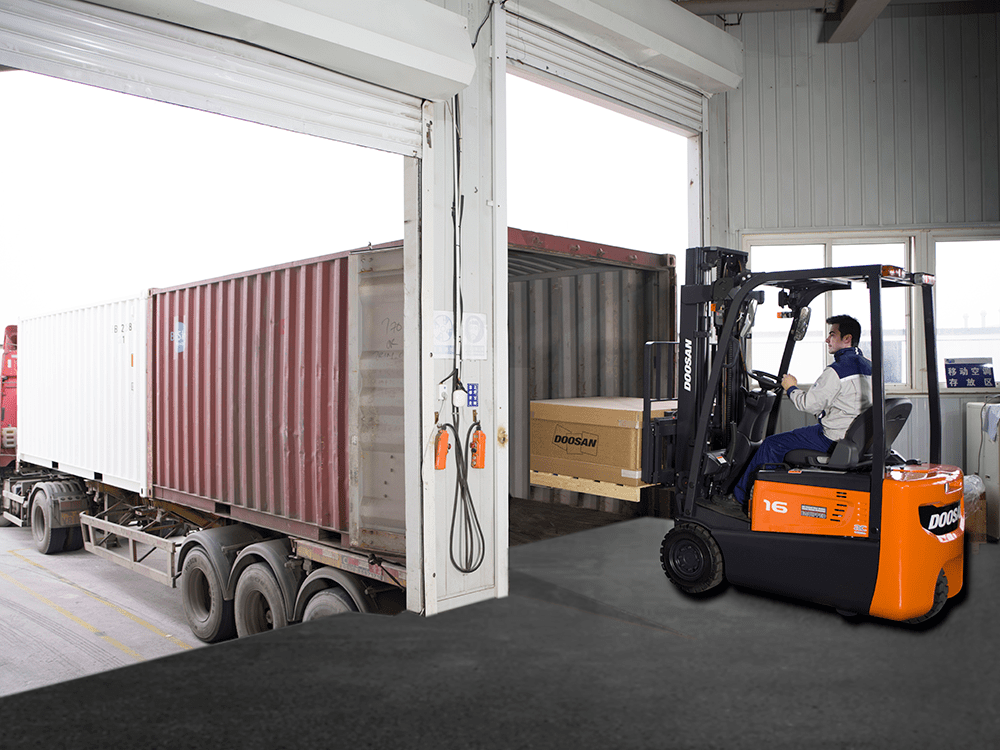 Better Manoeuvrability
Electric forklifts generally have a smaller chassis which means they have a lot better manoeuvrability in smaller spaces. As the electric battery is quite weighty, this generally acts as part of the counterweight of the truck which means they can operate with a smaller counterweight. These trucks often have a smaller turning radius making it easier for operators to navigate down narrow aisles
The growing popularity of electric forklift trucks is hard to ignore, and here at Doosan we want to make sure we are here to help you with a full range of electric counterbalance trucks.
Our 7-Series range of electric forklifts are available in 1.25 – 5.0 tonne load capacities with a choice of 3 and 4 wheeled models and a whole range of features that deliver simple, powerful performance. Find out more about our 7-Series Electric trucks here
We have also just launched our brand new entry level range of electric counterbalance forklifts, the NXE range. This range is available in load capacities of 1.5 – 3.5 tonne and provides an economy alternative to the 7-Series, but manufactured with the same high standards. Find out more about our brand new NXE range of electric forklifts here.
If you're not sure if moving to an electric forklift is for you, check out our blog post on IC Engine vs Electric Forklifts to see the pros and cons of each to help you to decide which is best for your operation.
If you're still not sure and would like some advice, contact us here or call us on 01604 825600.