Pallet stackers are now becoming a more commonplace sight in warehouses across the UK; and it's no wonder thanks to the high levels of versatility they offer in many different applications. Today, we're going to discuss what a stacker truck is and three of the key benefits which stackers can provide your business:
What is a stacker?
If you saw a stacker truck in operation, you'd see a machine which has a very similar chassis (if not the same) as a powered pallet truck, with the addition of a mast. This means that a stacker can provide a double function within your operation, the transportation of goods and the lifting and lowering onto racking or shelves for storage and retrieval.
The Benefits of Stackers:
Increased storage capacity
As you can probably guess from their name, stackers will allow you to stack goods vertically onto racking, or also on top of one and other (known as block stacking). By implementing block stacking, you can quickly increase the storage capacity of your warehouse without installing racking or shelves; keeping your infrastructural costs low.
High Versatility
As we mentioned previously; these trucks can be used to transport goods across long distances similar to powered pallet trucks; but they can also lift items onto racking, mezzanine floors and platforms that aren't high enough to require a reach truck.
The Doosan range of stackers feature masts with lift heights up to 5.4 metres, providing you with enough lift height to reach first and even second rack levels. This enables these trucks to perform multiple functions within a warehouse; offering high levels of versatility.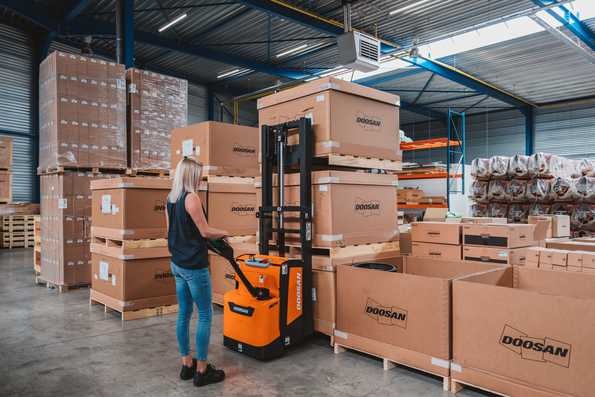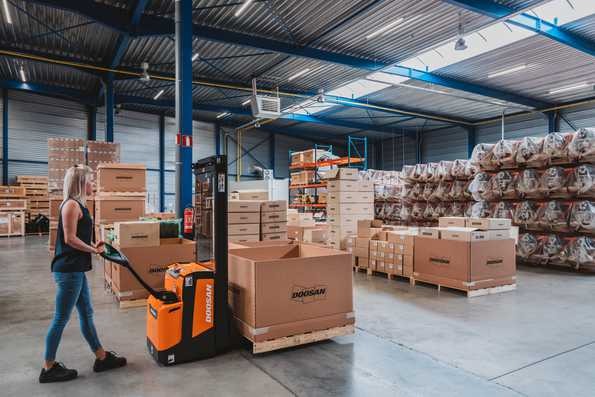 The Doosan range of stacker trucks are available in lift capacities from 1.0 to 2.0 tonnes, with lift heights available up to 5.4 metres.
Exceptional manoeuvrability
The Doosan range of stacker trucks have been designed on a compact chassis; meaning that they can be used in small aisles and confined spaces that cannot be accessed by an electric forklift. By reducing the amount of room required to operate in, this could potentially result in an increase to the amount of storage space available in your operation.
Along with their narrow chassis, Doosan stackers also feature an ergonomically placed tiller arm which can be used by both left and right handed operators for ease of use. However, this is not the only benefit of the tiller arms location. It offers a small turning radius for the stacker itself, meaning that Doosan stacker trucks can transport and unload pallets in very confined areas.
All of the trucks in the Doosan range of stackers have the turtle button feature which slows the trucks travel speed. They also have the facility to engage operation with the trucks tiller arm fully upright; offering high levels of steering sensitivity and control along when in narrow aisles.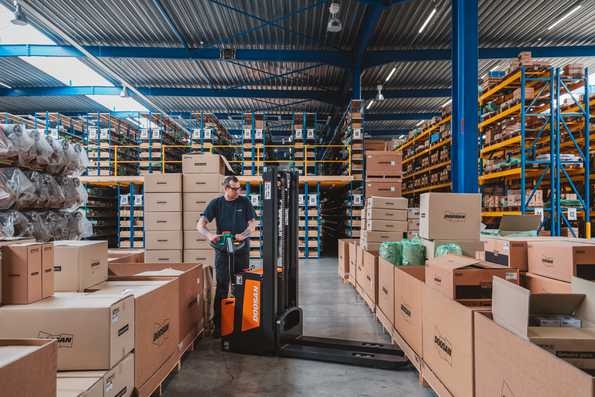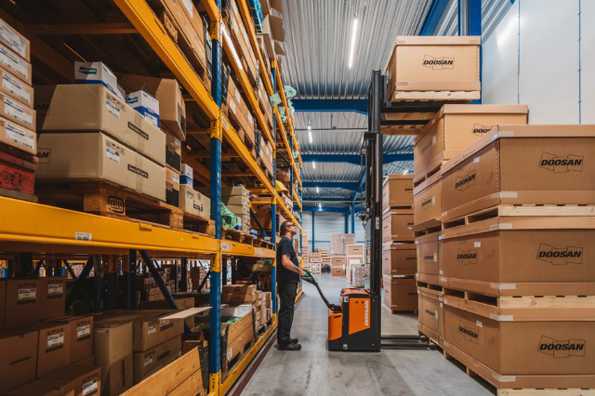 The Doosan range of electric stacker trucks are available in capacities from 1.0 to 2.0 tonnes and feature light duty, heavy duty and double stacking variants.
If you'd like to know more about Doosan stackers, visit our webpage or contact us on 01604 825 600 today.