We seem to be repeating ourselves quite a bit here, but IMHX is drawing ever closer and we want as many of you to visit us as possible!
IMHX 2019 is the talk of the materials handling industry at the moment, and as the UK's premier event in this sector; there is every reason for it to be on everybody's minds. This is the perfect opportunity for visitors to see the latest and greatest that forklift manufacturers have to offer.
Now if that's not reason enough to visit – we're going to try and convince you some more! Here are 3 reasons to visit IMHX 2019.
1. Emerging Technologies
The theme of this years' IMHX is technology and innovation, so you'll be sure to see an abundance of new technologies at IMHX. Over the past few years, we have seen the rise of online shopping and ecommerce; which has resulted in a higher number of product movements in distribution centres and warehouses.
This increase in throughput has resulted in an increased awareness towards productivity and efficiency in order to meet with increased demands on businesses; this focus has been applied by forklift manufacturers too when developing new products and solutions.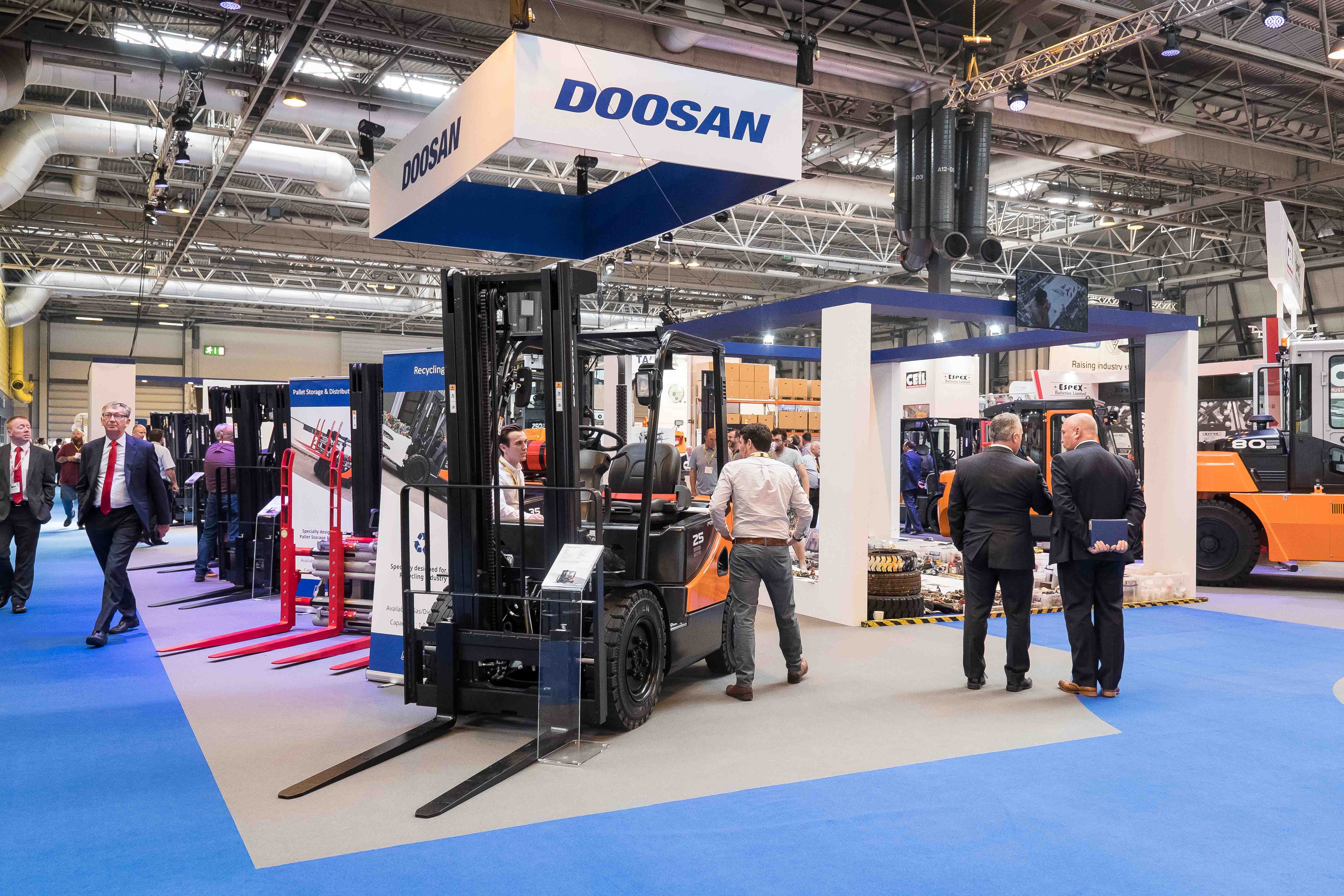 The Doosan stand at IMHX 2016
2. Get Hands On!
Most major forklift manufacturers from across the globe are exhibiting at IMHX to showcase their product range to potential customers; so if you were thinking about updating your forklift truck fleet, IMHX is the place to be!
Along with being able to see the trucks; you'll also have the opportunity to do everything bar drive them! You'll be able to get inside the cab, under the hood, and find out all of the fine details you'll need to make a decision.
3. Free, Impartial Advice
This one may seem like a no-brainer, however IMHX is probably one of the best places to be able to get any advice on issues you have in your operation. You'll be speaking with a number of experts in the materials handling industry whilst you're there; and they will all be on hand to assist you with any queries you may have.
There you go – three reasons why you should visit IMHX 2019! Just in case you've forgotten the dates, it is held at the NEC, Birmingham from 24th – 27th September 2019.
If you are attending IMHX 2019, make sure to visit Doosan on stand 19G80.
You can find out more about our plans for IMHX on our web page, you can even register to visit IMHX for free too!