In our last blog post, we discussed the different types of forklift trucks which are suitable for crop farming. But selecting the right truck for your application is just the start! Once you've chosen a suitable forklift, you then have the inevitable question… to buy or not to buy? In this blog post we'd like to discuss all of the options available to you and their benefits.
The options
Ok, so this is the simple part (it's easy for us to say this). There are three main options available to you when it comes to materials handling equipment, outright purchase, long term rental and short term hire.
As you can probably guess, outright purchase and long term rental are options which are for larger periods of time and short term hire is a more flexible solution. We're going to talk about the differences between them and when to consider each option.
Outright purchase / long term rental
Outright purchase and long term rental are options for farming operations that harvest for large parts of the year. They will be more cost effective than short term hire if you're supporting multiple crop harvests.
So, let's talk about the differences between them. First thing's first, finances. Outright purchase does mean that you will have to outlay a large amount of capital; but it also means that you have full ownership of the truck from that point onwards and it becomes a business asset. When you're using the truck frequently for shorter periods of time, outright purchase could be the option for you.
On the other hand, long term rental means that you won't have to make a large initial outlay; just fixed monthly payments which are easier to manage. Another benefit of long term rental is that they offer the flexibility to change your equipment mid-term if it no longer fits your business needs. We will work with you to fully understand your operation and make your contract tailored to your application.
Don't forget about maintenance too. If you choose to purchase your forklift outright, you have sole responsibility over maintaining it and ensuring it is safe and legal to operate at all times. But we're here to help with that too! Here at Doosan we offer a range of service, maintenance and thorough examination options to keep your trucks up and running.
Long term rental contracts are inclusive of service, maintenance and thorough examination charges, which is an added benefit as you know that all of your operating costs are accounted for in your contracted payments.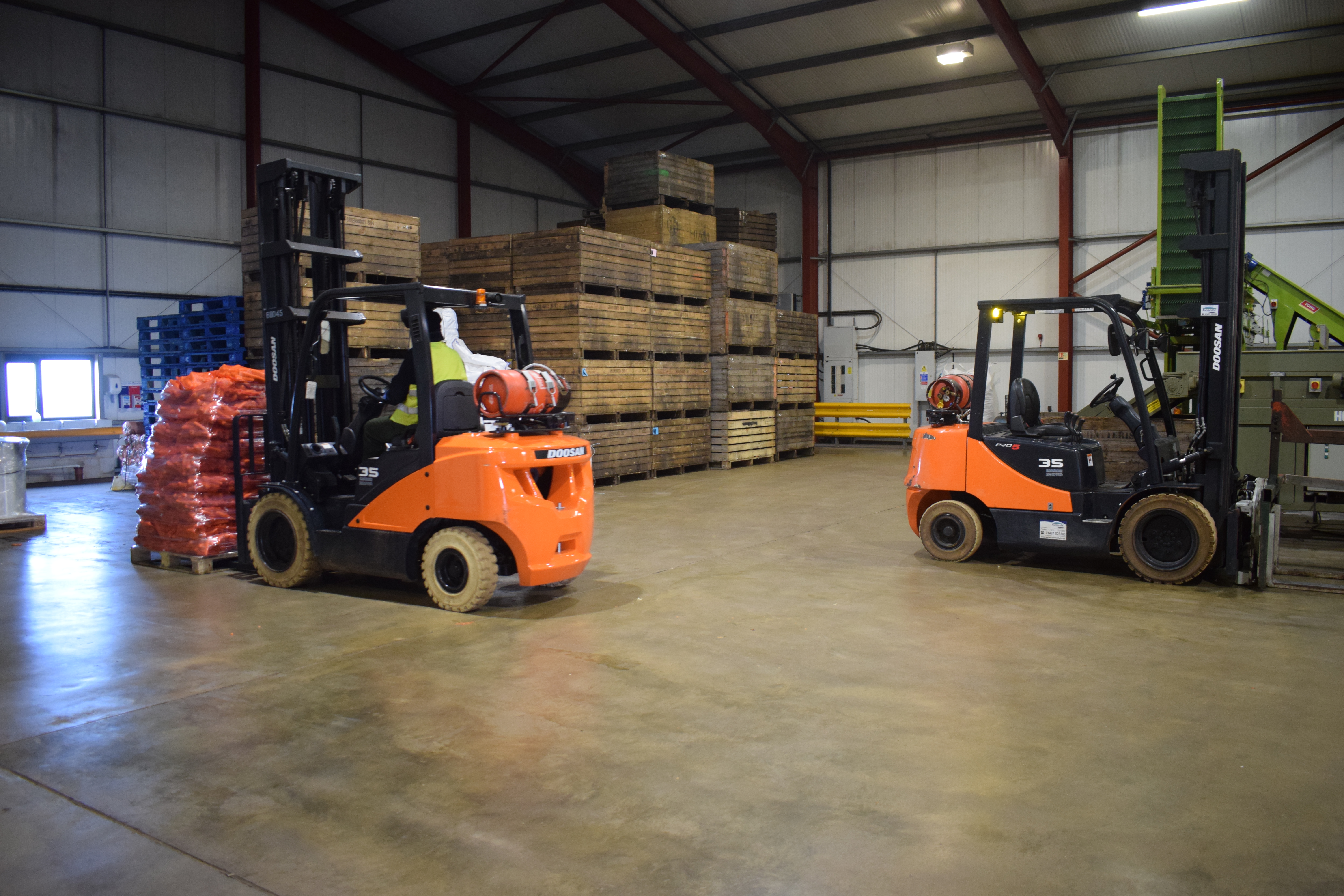 Doosan trucks in action at a carrot farm.
Short term hire
Short term hire is a suitable option for smaller farms where they only require a truck to support occasional peak periods such as harvests. Short term hire makes forklift trucks and other equipment available from as little as one week and for a fixed weekly rate. Like long term rental, this rate also includes all servicing and maintenance costs.
We have a large number of farming specification trucks with 6110mm masts on our short term hire fleet to support your operation throughout peak periods.
If you'd like to know more about our range of forklift trucks suitable for the farming industry you can visit our web page. If you'd like to make a short term hire enquiry you can email shorttermhire@doosan.com or call 0345 650 3030 today.
Want new articles before they get published?
Subscribe to our Awesome Newsletter.