7-Series 2.0 – 3.5 Tonne LPG Forklifts
Robust and reliable gas powered forklifts with capacities from 2.0 – 3.5 tonnes.
The Doosan range of 2.0 – 3.5 tonne gas powered forklifts have been designed to offer simple, powerful performance in a wide range of applications. Featuring high performance, fuel efficient engines; these trucks are designed for improving productivity and safety in your operation.
These trucks feature powerful gas engines which provide high power at low engine speeds, making them suitable for loading and unloading on ramps, where fast lift speeds are required or repetitive use is needed.
Improving productivity and lowering operation costs, these trucks increase operator comfort, feature advanced servicing features and increased performance efficiencies.
These trucks are part of our wider range of Doosan LPG Powered Forklifts available with lift capacities up to 7.0 tonnes.
Safety Light 
The safety light projects a blue light to the ground to alert other workers that a forklift is approaching.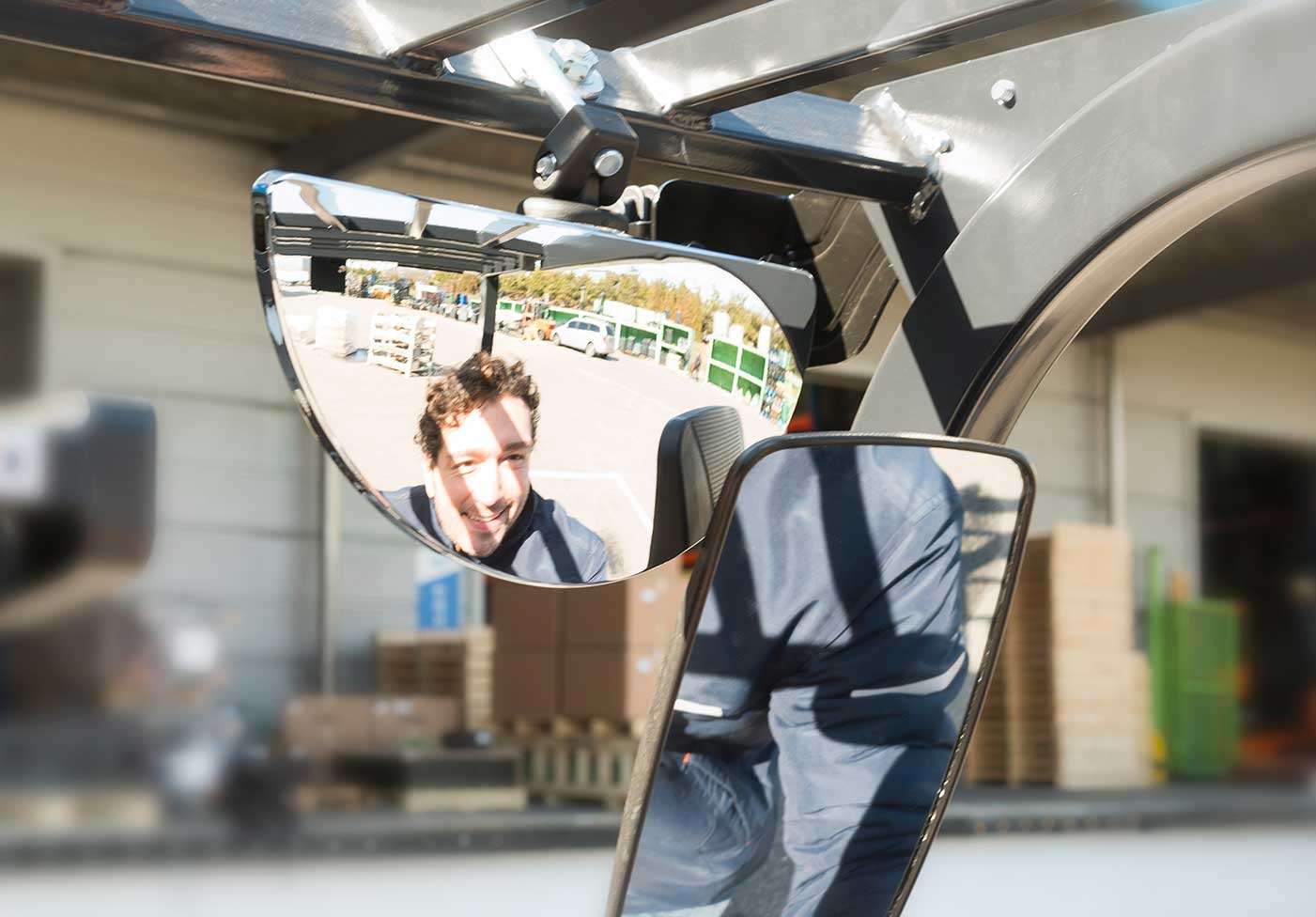 Panoramic Mirror
The panoramic mirror offers additional safety, to reduce accidents and damage to the truck, products or rack system.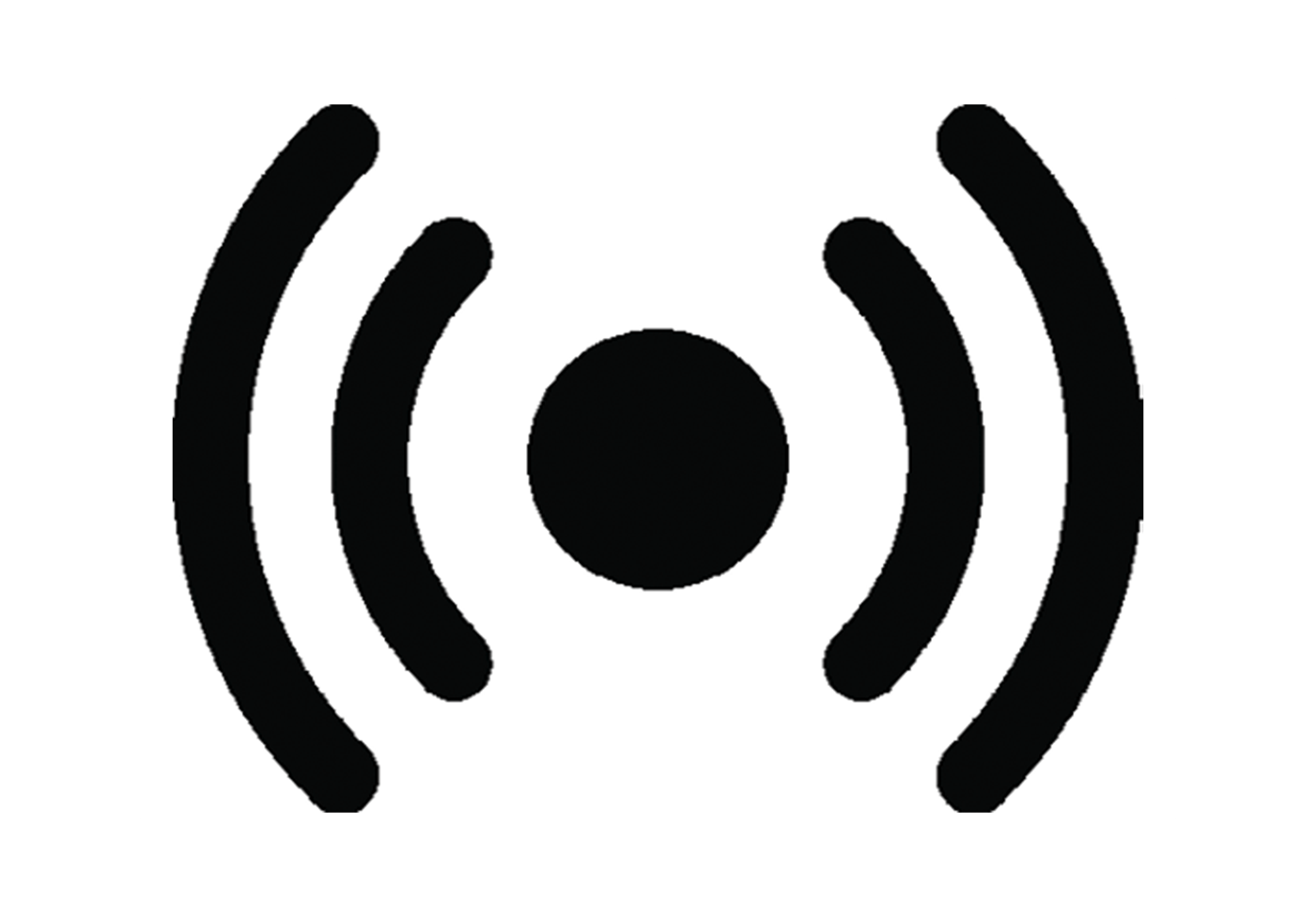 Back-up Alarm
When the operator is driving in reverse, the back up alarm will warn surrounding people. This increases the operator's safety and comfort.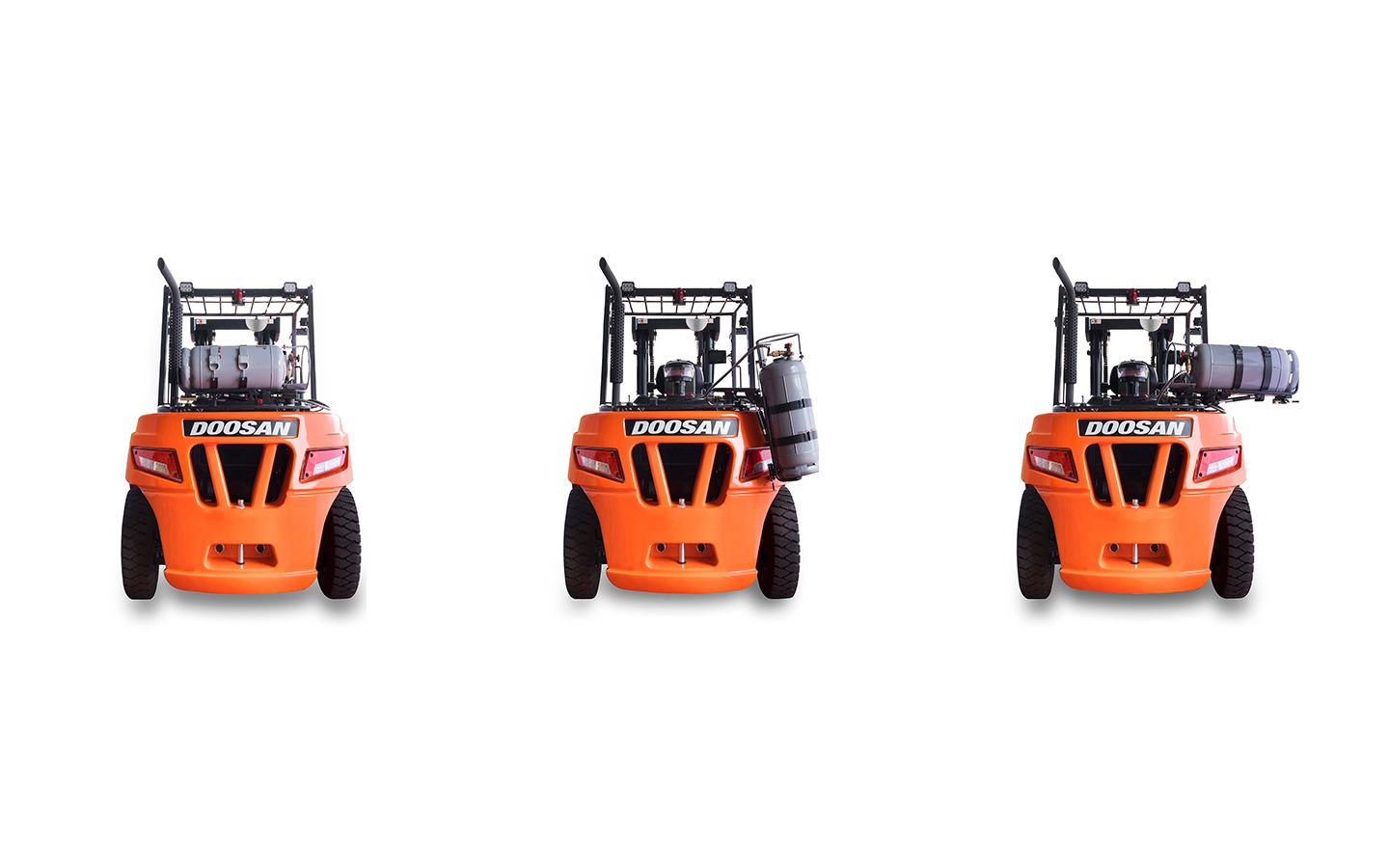 Swing Out & Down Gas Bottle Carrier
Doosan's award-winning swing out & down gas bottle carrier eliminates the need for lifting heavy gas bottles by enabling the bottle to be easily placed onto the carrier in the vertical position – at waist height. It is then hydraulically assisted into position on top of the counterweight – reducing painful back injuries and time off work.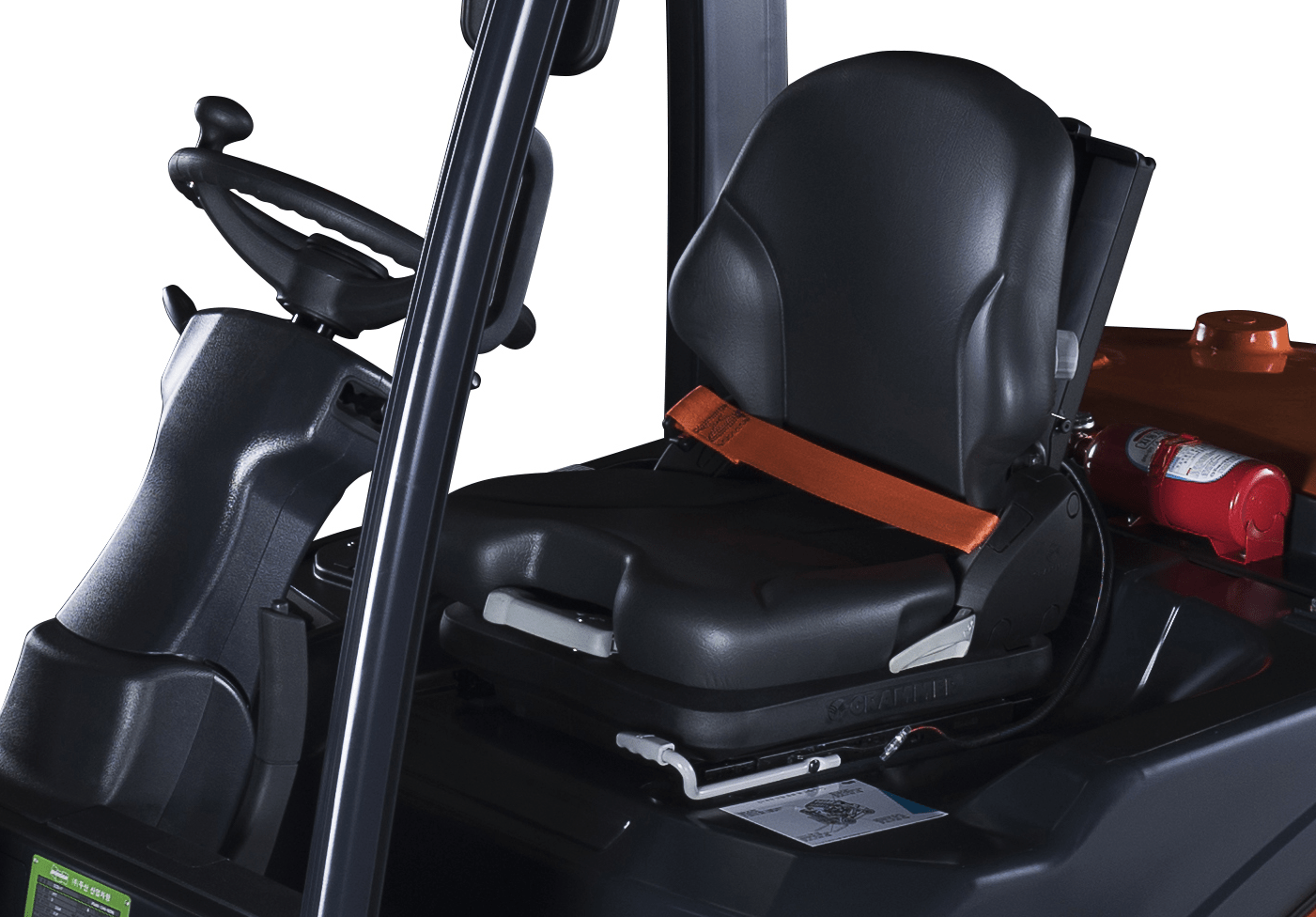 Premium Seat
Designed with a low-profile mechanical suspension that significantly reduces vibrations. It helps the operator stay comfortable, no matter how rough the day gets.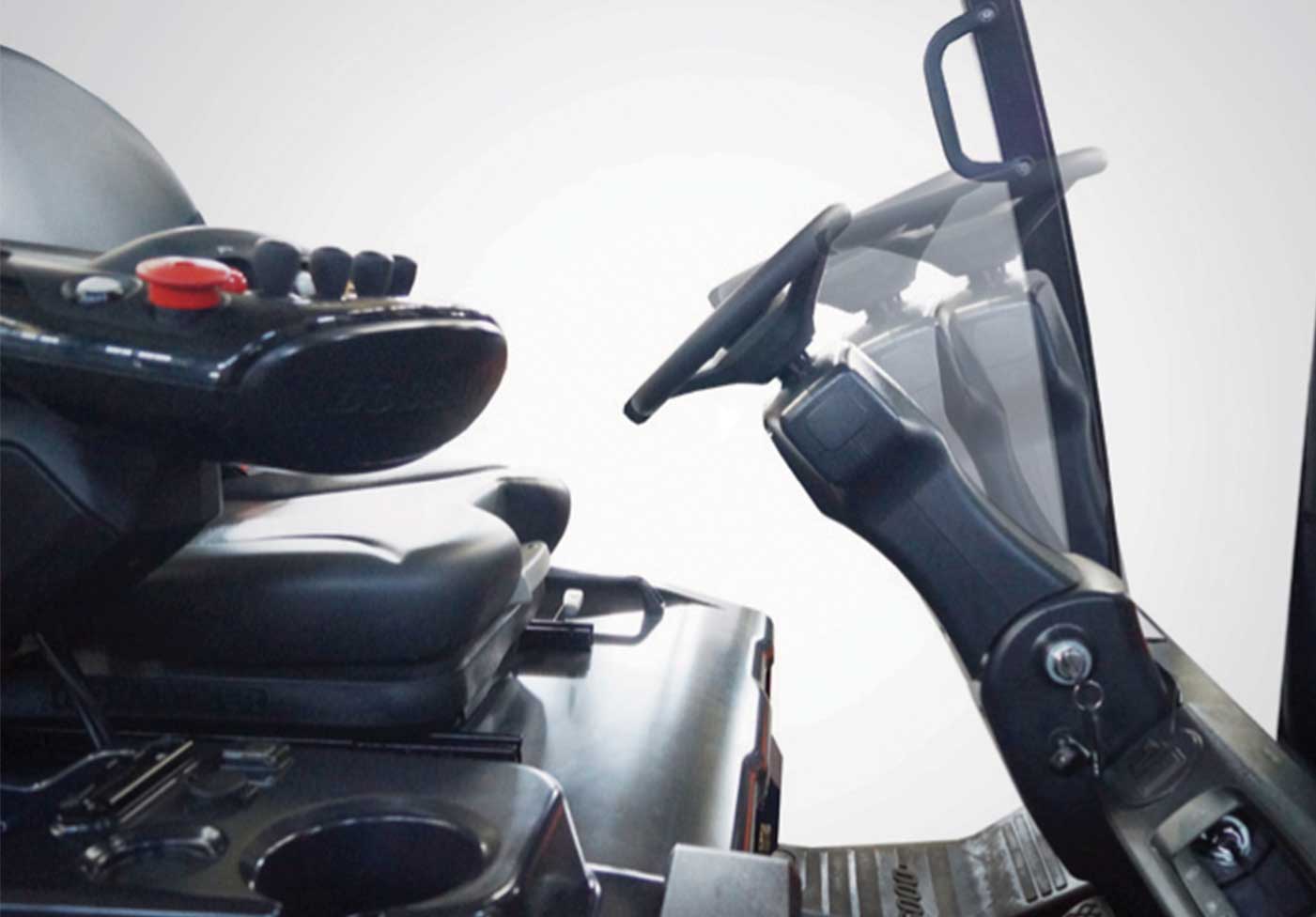 Fully Adjustable
The operator can change the stepless adjustable column and seat to the best position that provides convenience and comfort to fit the individual preferences.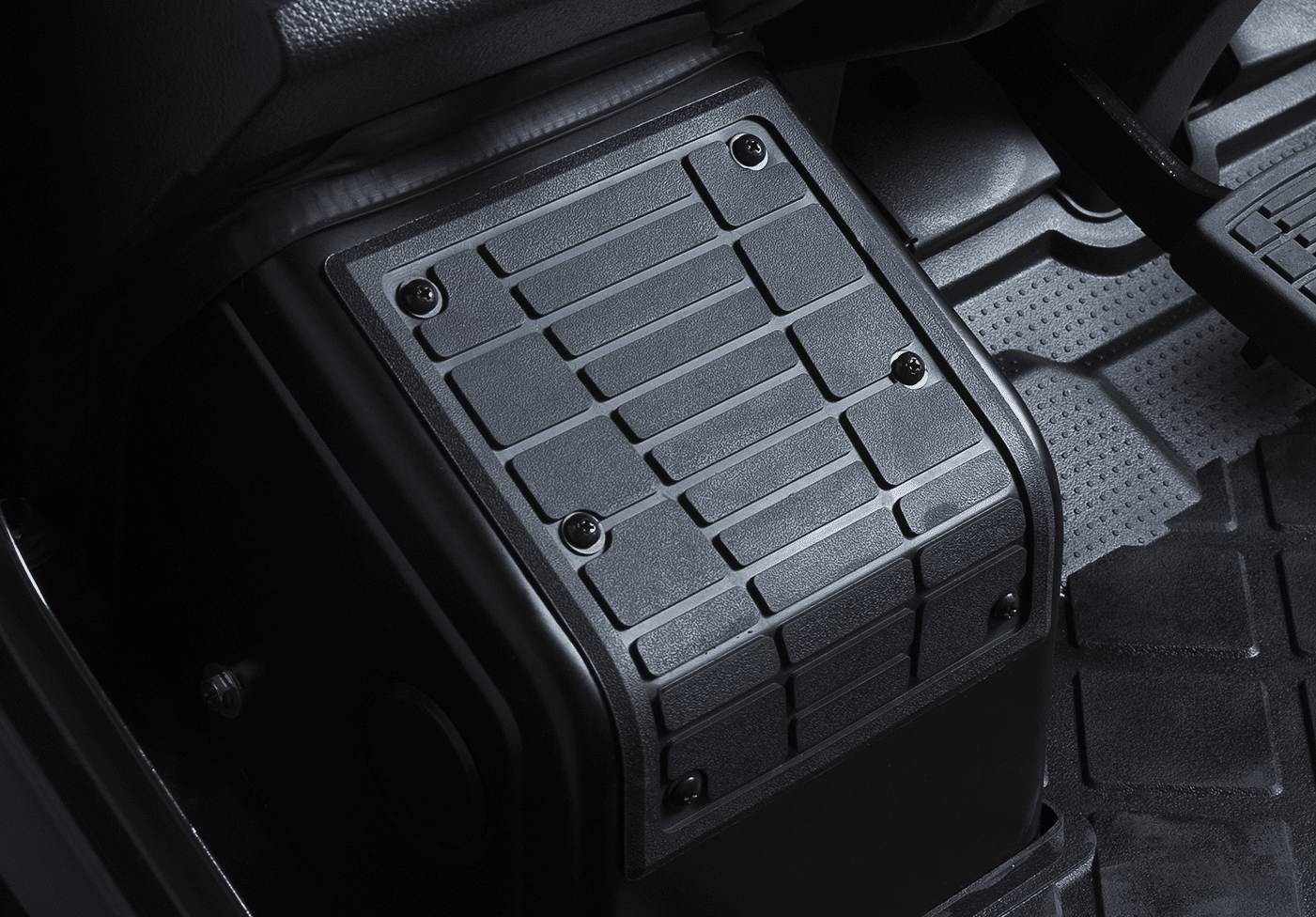 Tilt Cylinder Covers
The Tilt Cylinders are covered neatly, to avoid any hindrance to the operator. Furthermore, the Tilt Cylinder Cover creates additional space at the floor of the operator compartment.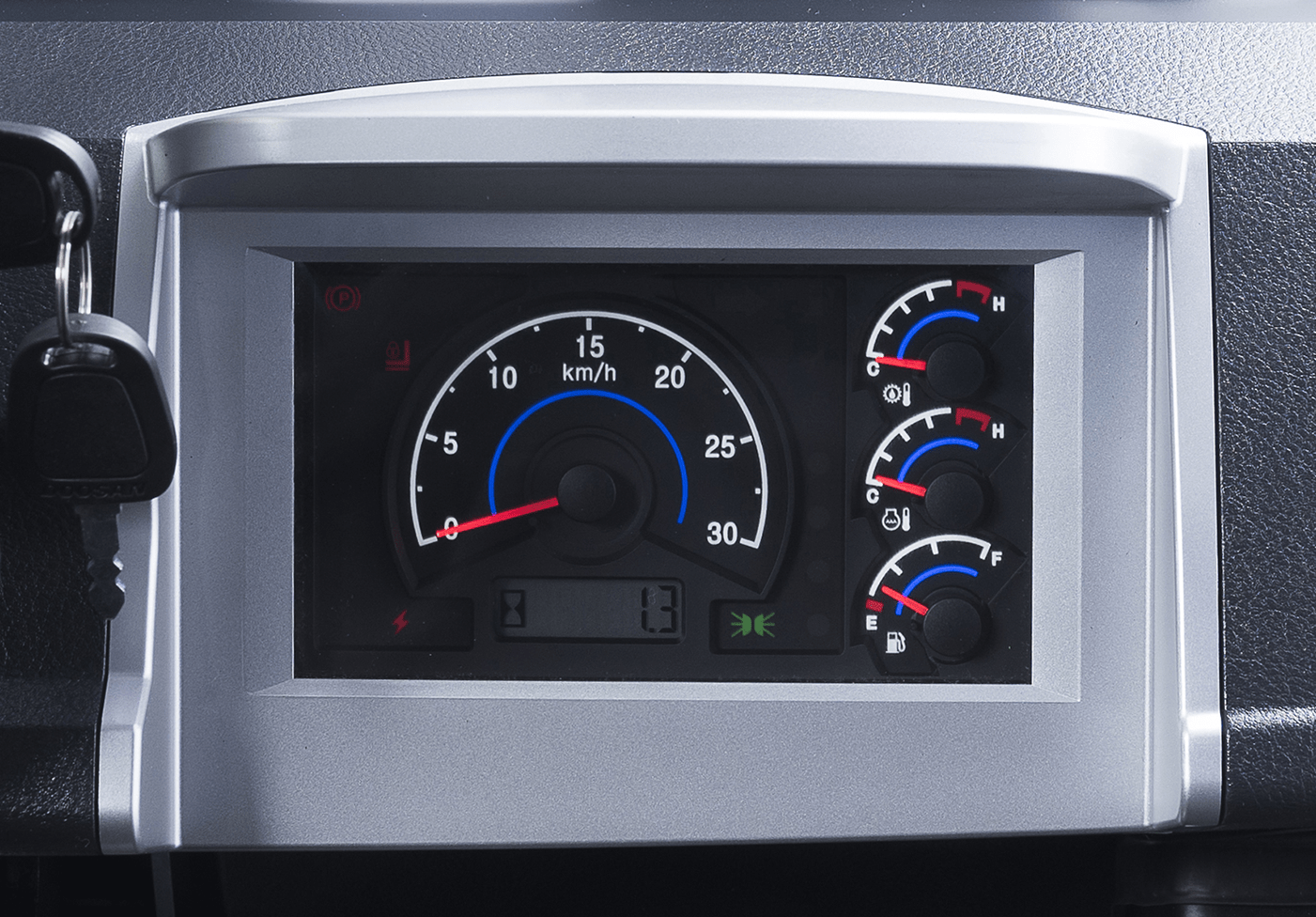 Instrument Panel
The easily readable, integrated instrument panel provides a clear overview of the truck's status. The operator is kept informed about the machine's operating conditions.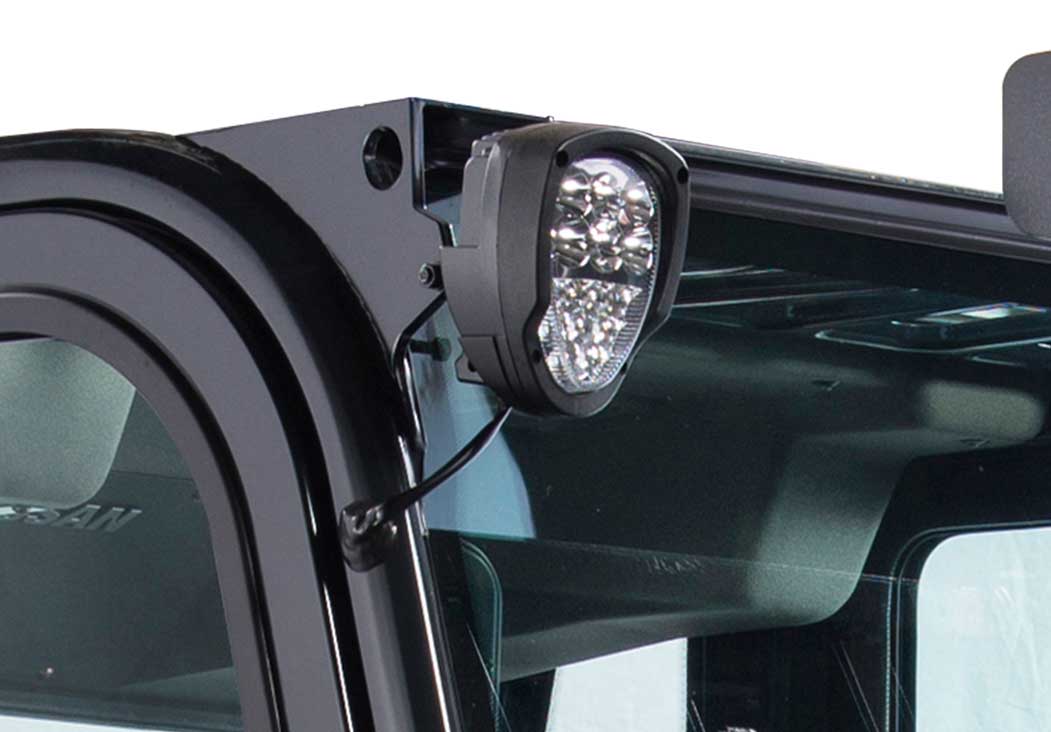 LED Lights
Brighter and longer lasting than traditional sealed beams or halogen lights.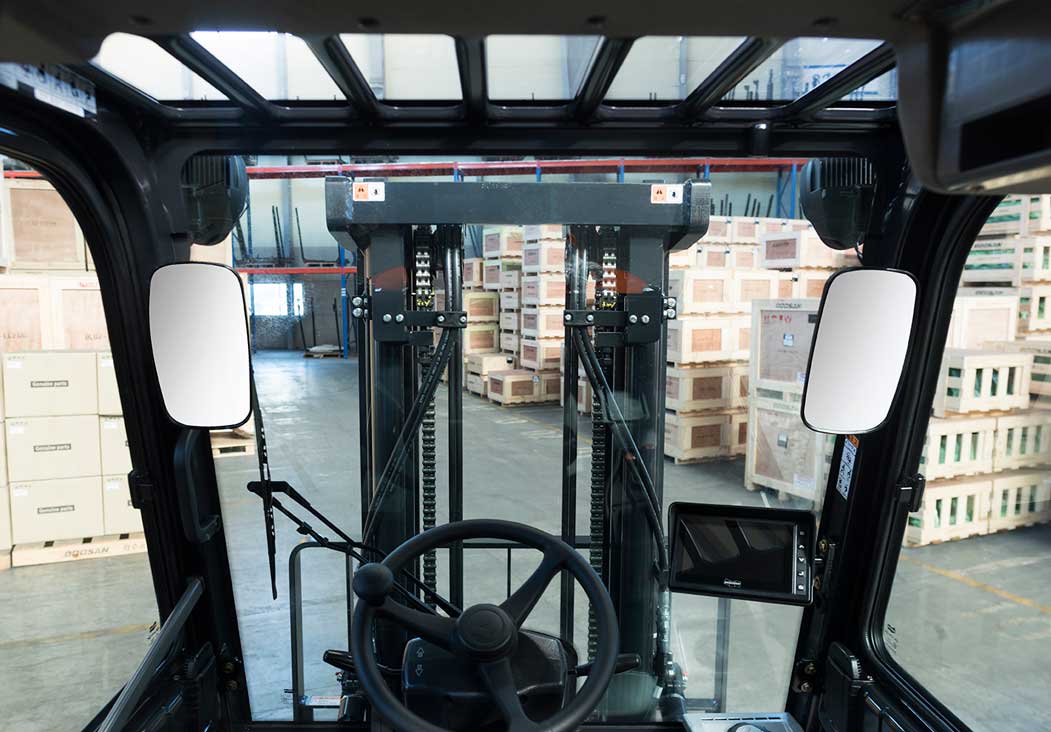 Mast Visibility
The neatly arranged hydraulic hoses and chains enhance wide front visibility.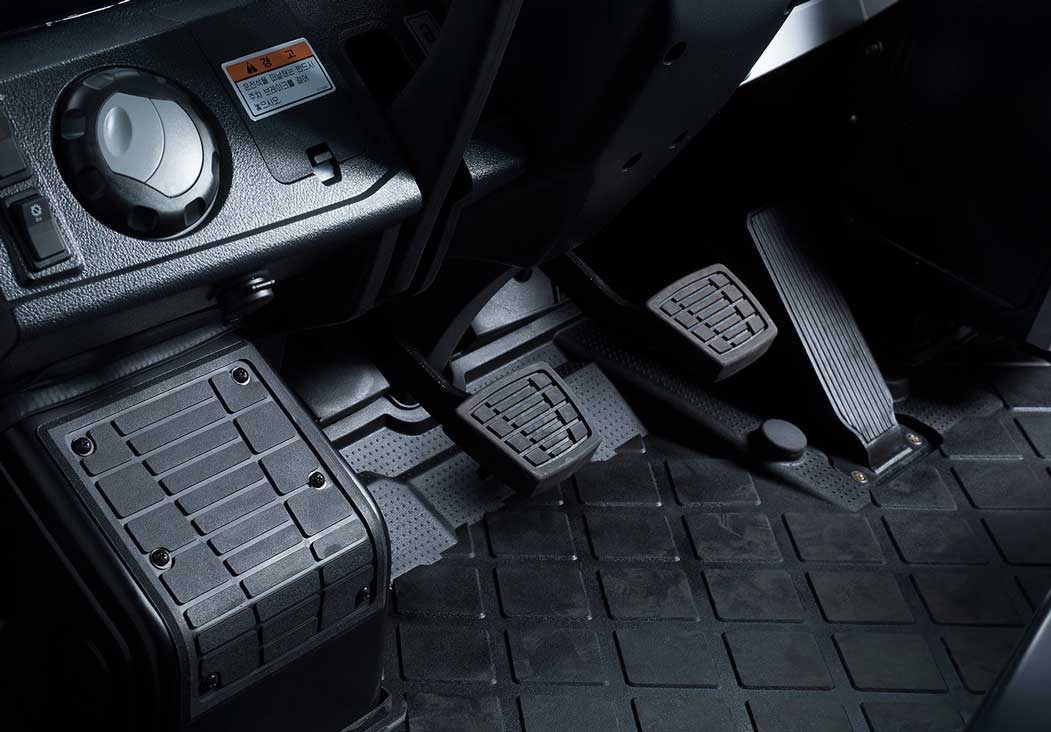 Pedal Location
Easy for the operator to switch between pedals.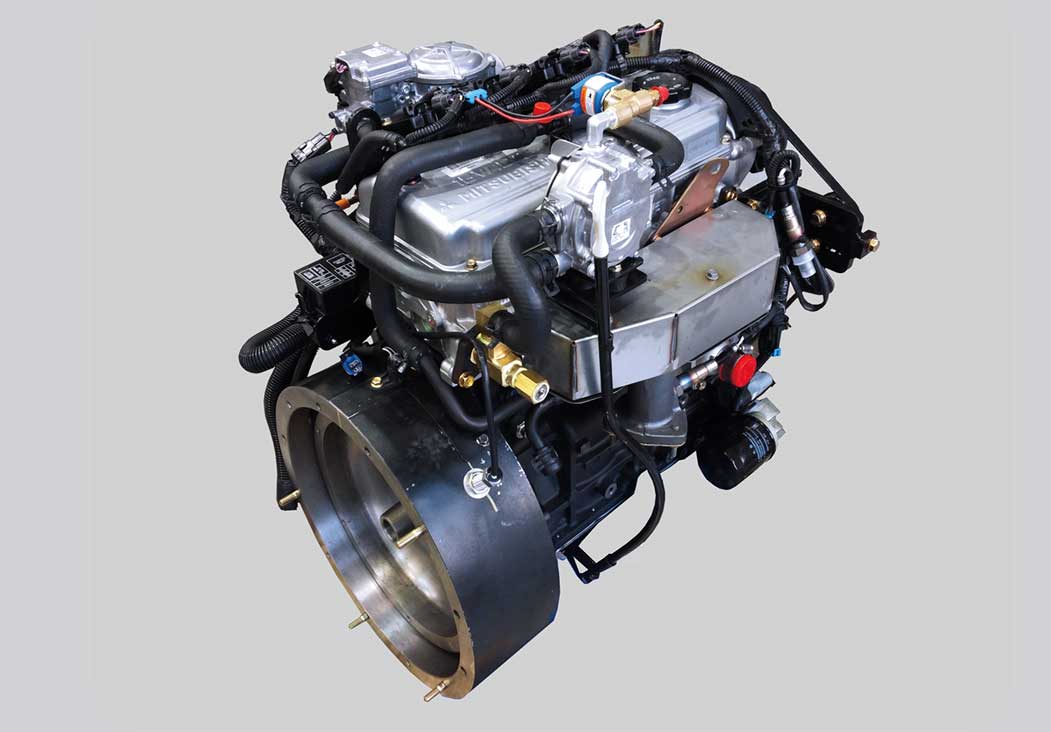 Fuel Efficient Engines
The MMC engine provides powerful performance, while being fuel efficient.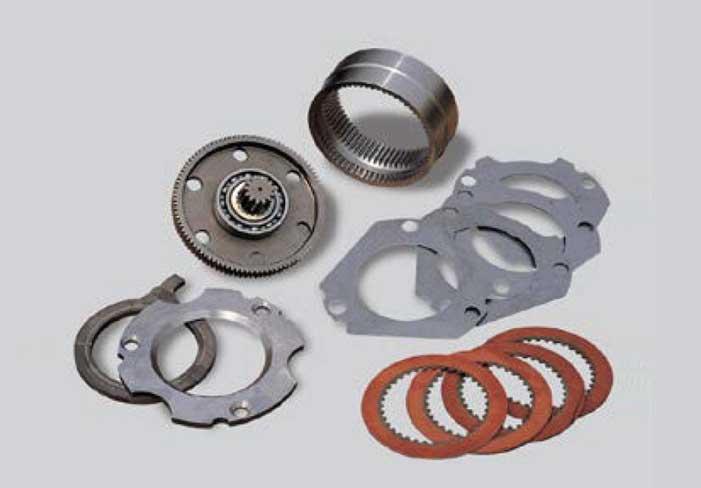 Oil-Cooled Disc Brakes
The oil-cooled disc brake system is totally enclosed, for maximum protection against contamination. This maintenance free system ensures maximum uptime, less damage, and zero cost for you.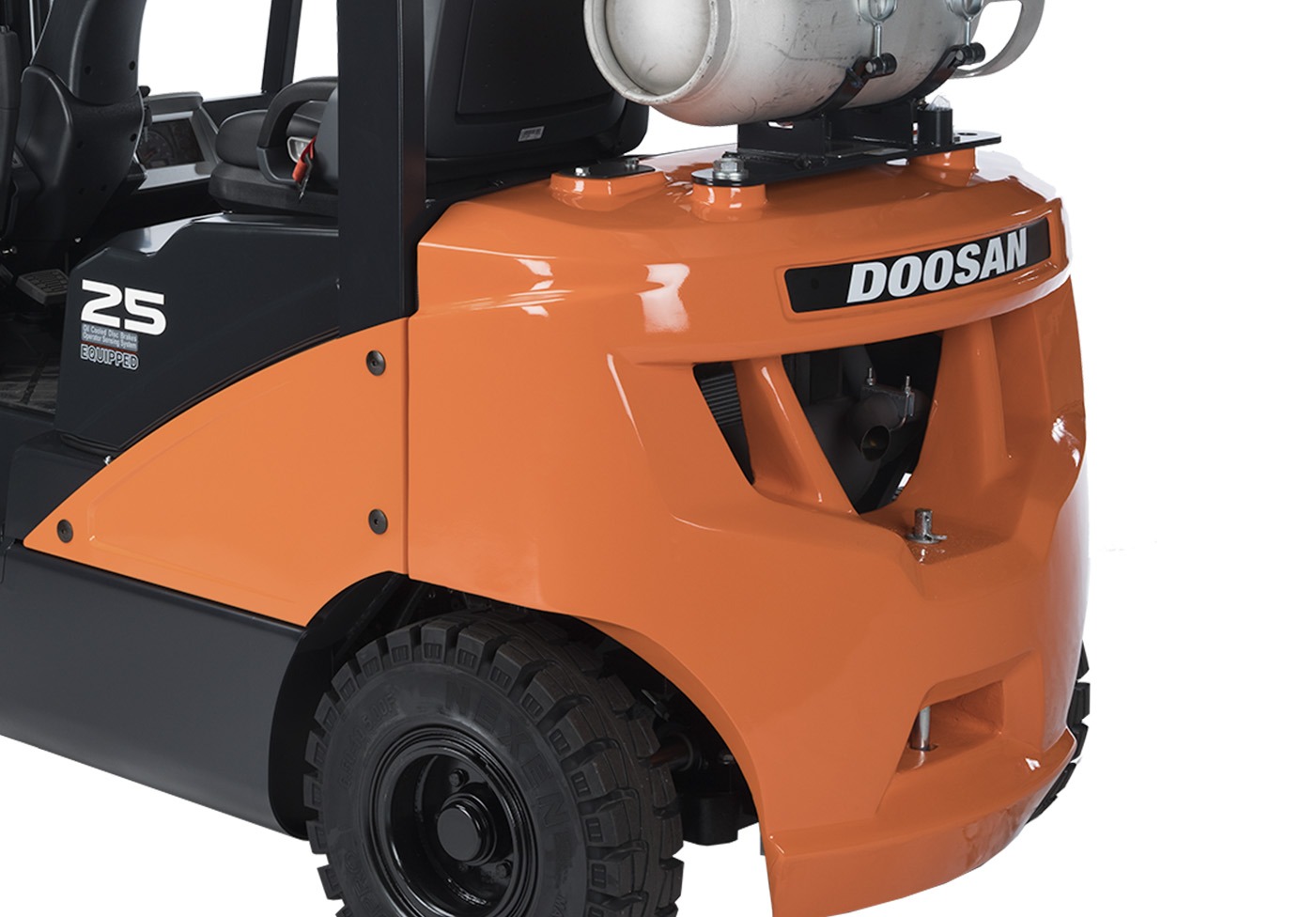 Enhanced Cooling System
The combination of a large capacity radiator and optimised airflow in the counterweight design enhances reliability and durability of the truck and increases up-time in heavy duty applications.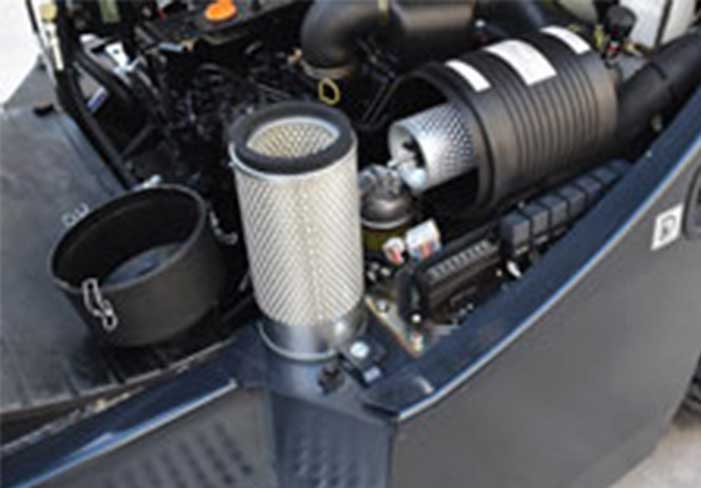 New Air Cleaner
The increased capacity of the Dual Element Air Filters with integrated Mass Air Flow sensor prevents that too much dirt enters the engine, which can shorten the life of the engine drastically.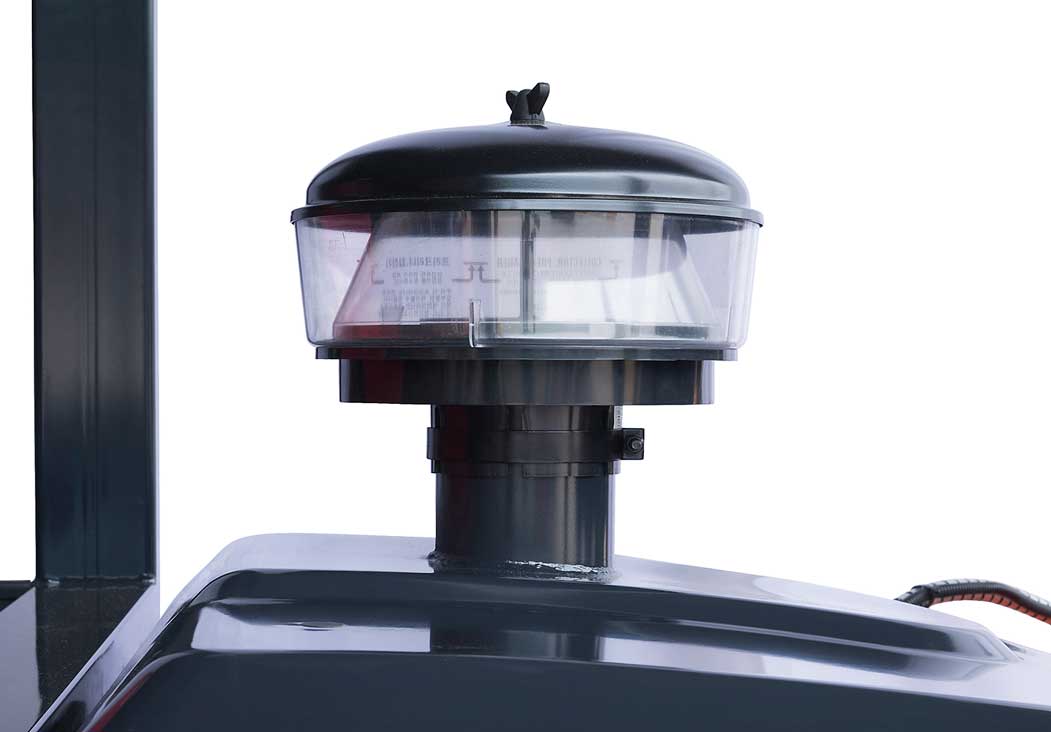 Pre-Cleaner
The biggest pieces of dirt are filtered out by the pre-cleaner, which makes it easier for the dual element air filter to filter out the smaller bits. The pre-cleaner lengthens the lifetime of the air filter.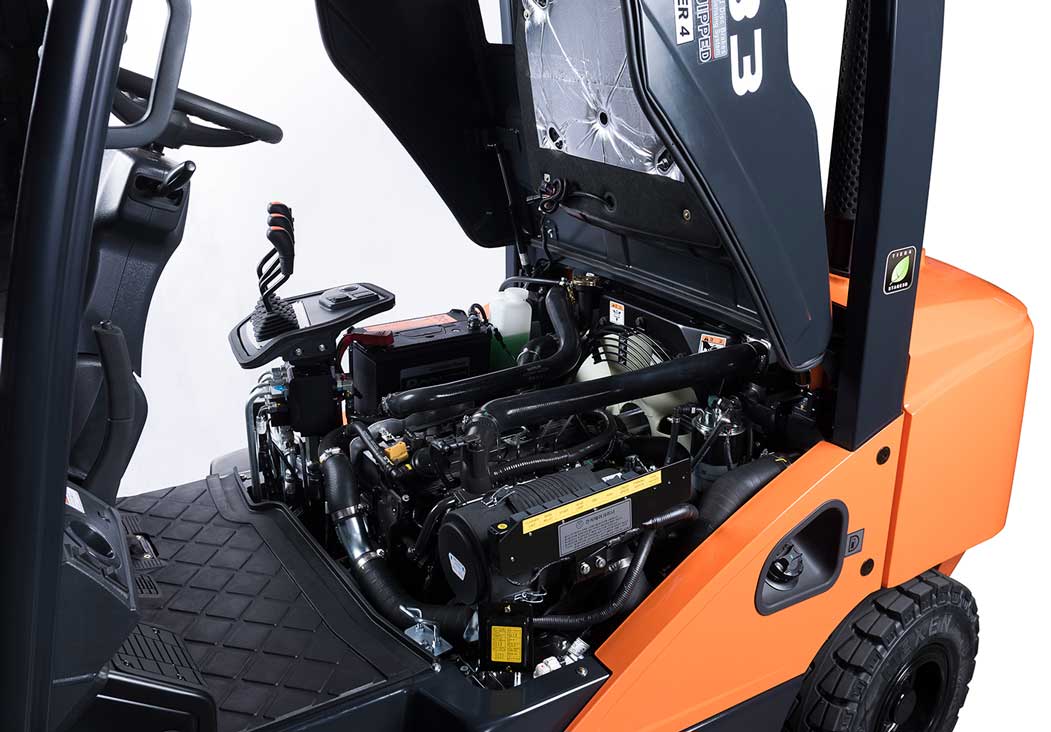 Wide Hood Open Range
All the components are easy to access with the easy to open hood. The angle of the open hood is very wide, guaranteeing maximum uptime.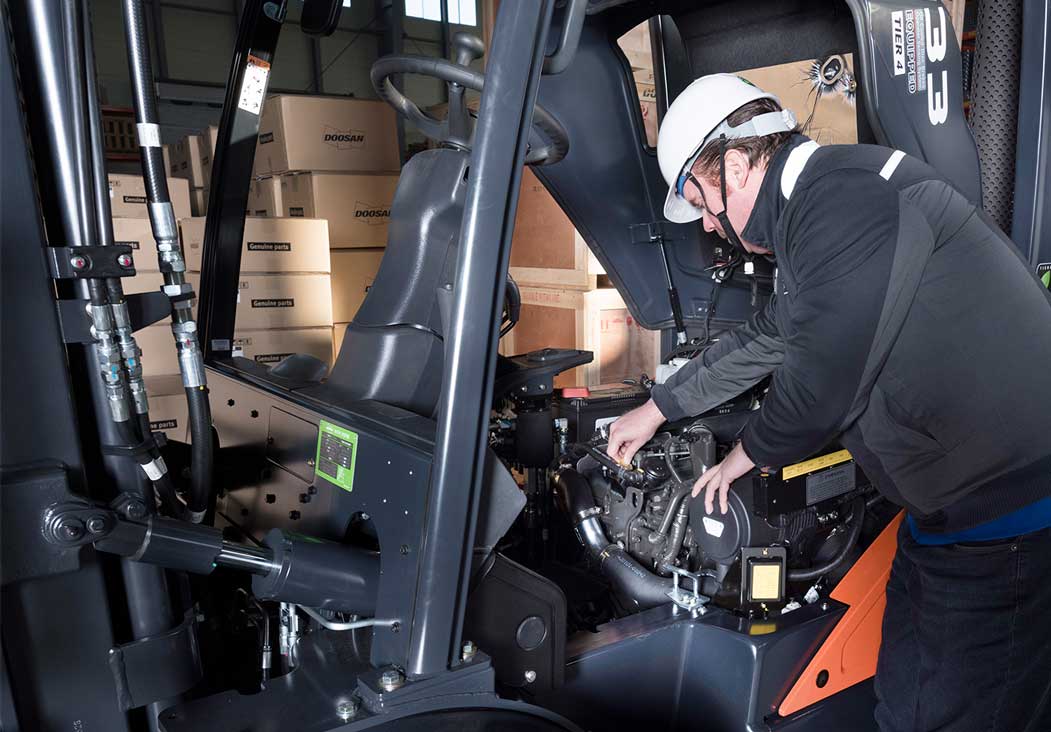 Easy To Service
Service components have been placed on easy-to-reach locations, in a way that the forklift can be serviced in a minimum of time.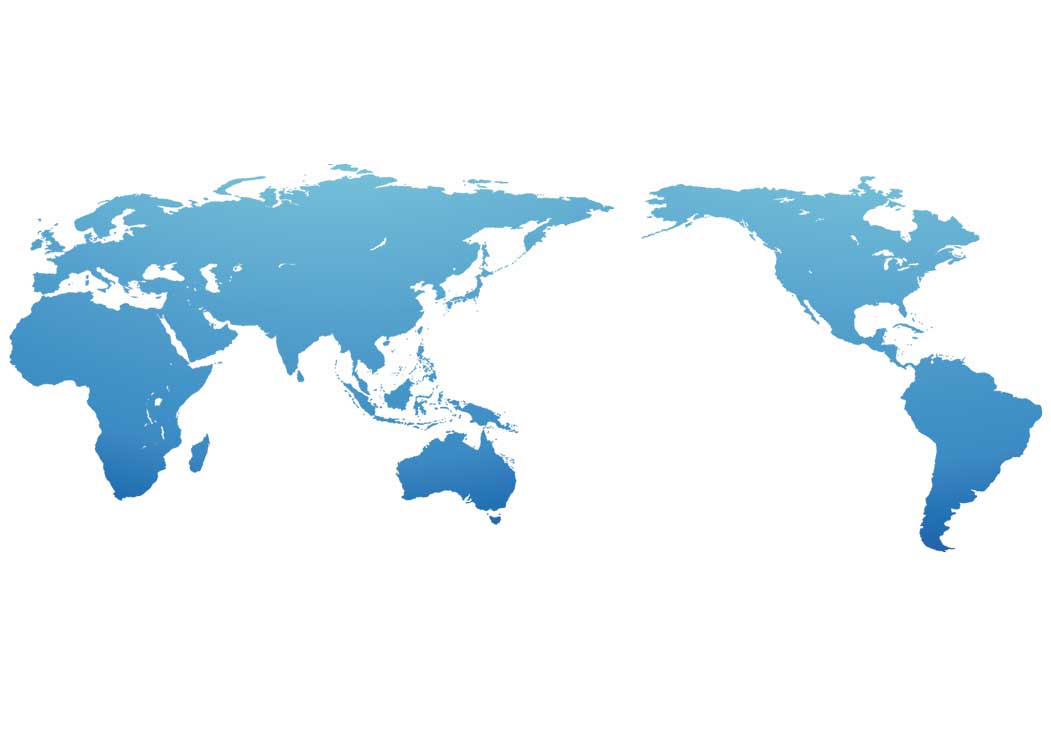 Worldwide Service Network
Doosan provides high-quality support, relying on our extensive dealer network. Highly-skilled professionals are always ready to help you.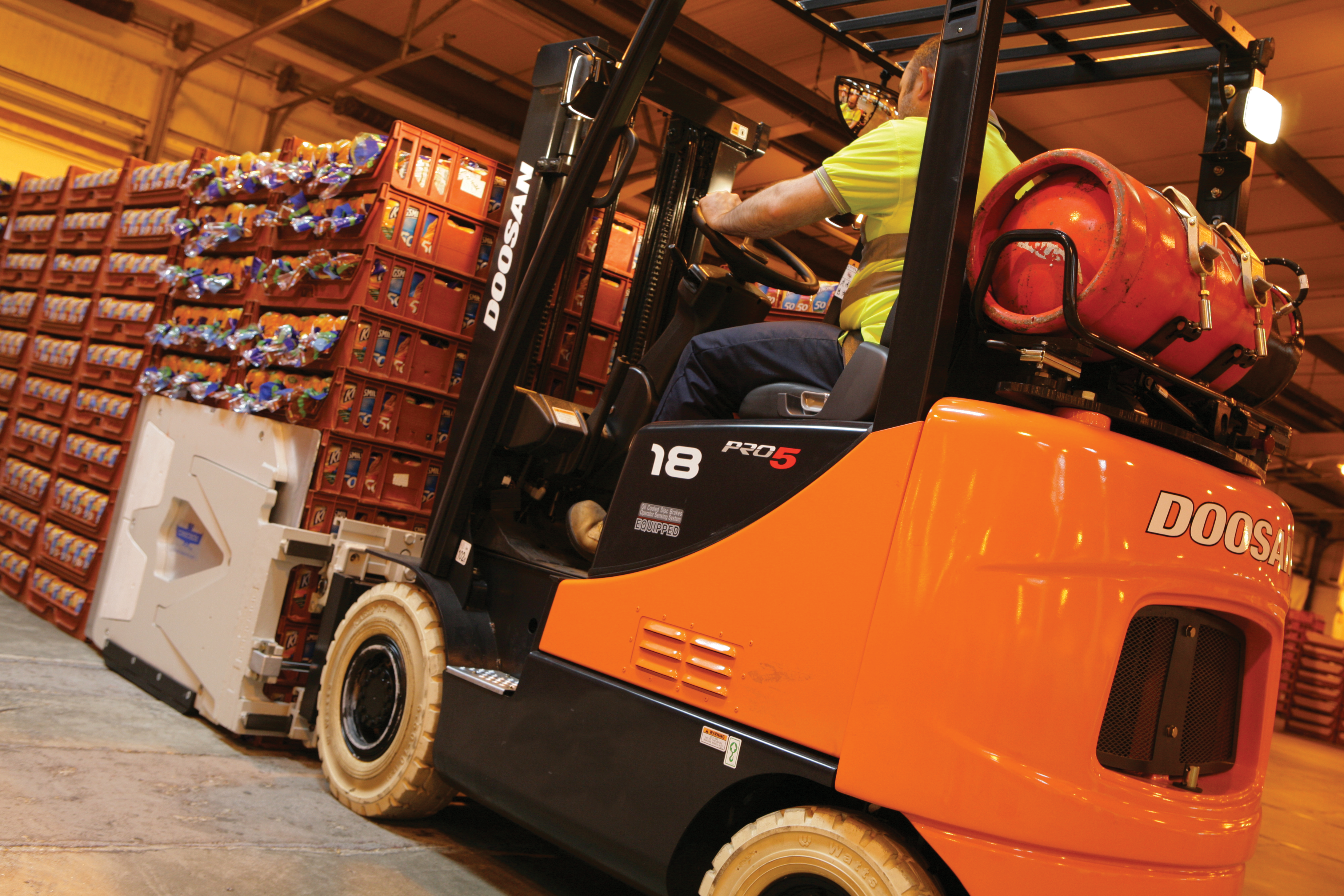 1.5 – 2.0 Tonne LPG Forklifts
Compact yet robust LPG forklifts with capacities from 1.5 – 2.0 tonnes.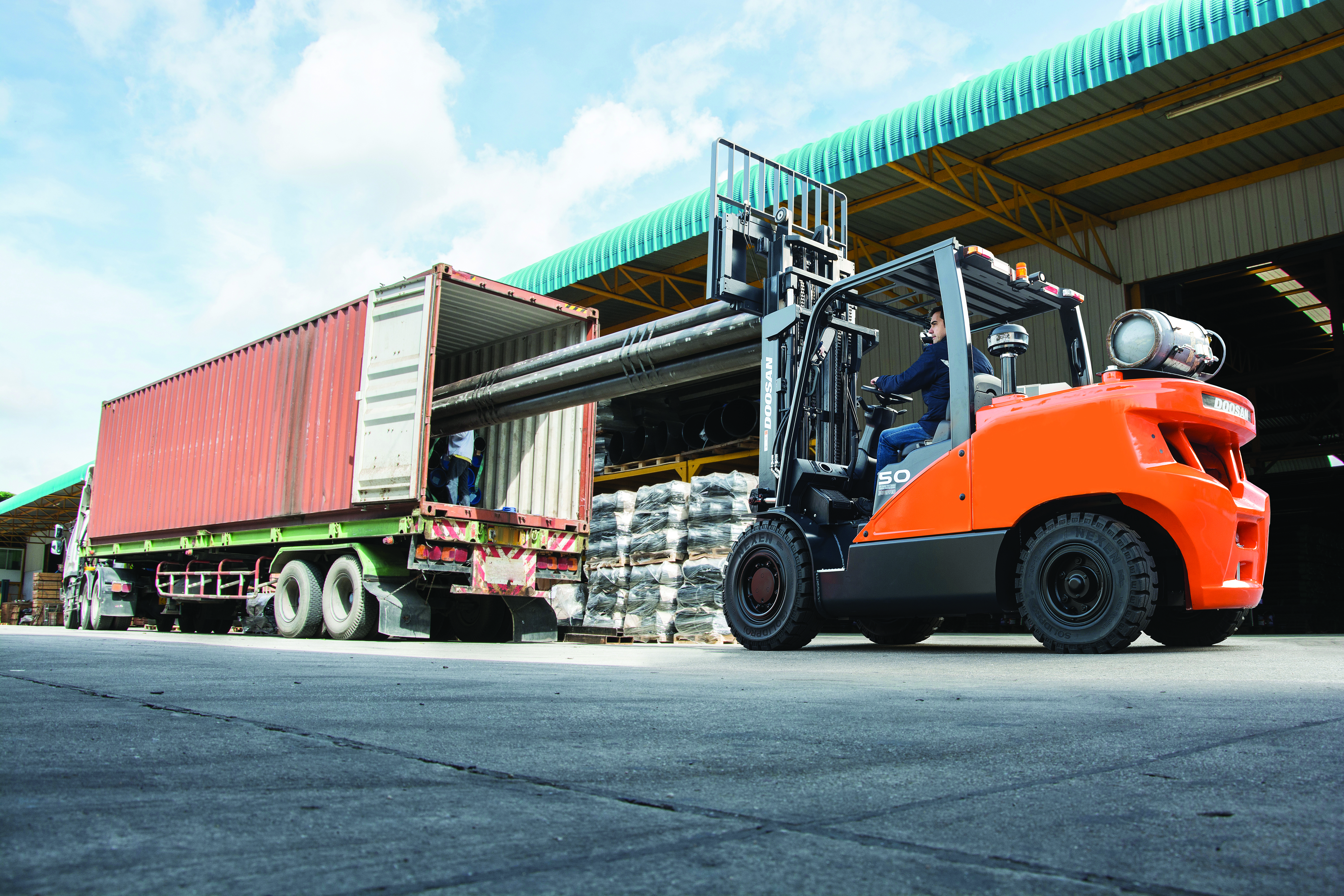 3.5 – 5.5 Tonne LPG Forklifts
Simple, powerful performance from Doosan gas powered forklifts with capacities from 3.5 – 5.5 tonnes.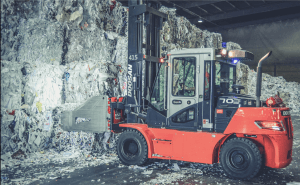 6.0 – 7.0 Tonne LPG Forklifts
Robust and reliable gas powered forklifts with capacities from 6.0 – 7.0 tonnes.