9-Series 3.5 – 5.5 Tonne Diesel Forklifts
Robust and reliable engine powered forklifts with capacities from 3.5 – 5.5 tonnes.
The Doosan range of 9-Series 3.5 – 5.5 tonne diesel powered forklifts have been designed to offer simple, powerful performance in a wide range of applications. Featuring high performance Euro Stage V fuel efficient engines; these trucks are designed for improving productivity and safety in your operation.
 These trucks are part of our wider range of Doosan Diesel Powered Forklifts available with lift capacities up to 25.0 tonnes. You can find out more about these trucks here.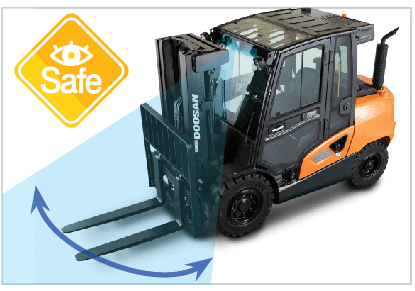 Improved Visibility
The 9-Series have even better visibility for the operator to work safely and comfortably. The large rounded glass and cowl design provide better front and upper visibility. For even better front visibility, you can opt for the FFT wide view mast.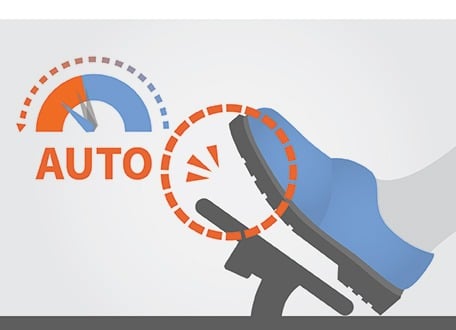 Automatic Deceleration
If you are unable to step on the acceleration pedal while driving, it automatically decelerates quickly to the minimum speed.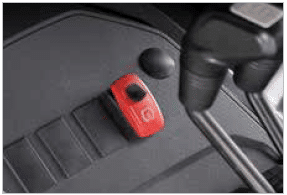 Electronic Parking Brake
The parking brake helps prevent safety accidents. When you stop working and get off the truck, the parking brake is automatically activated.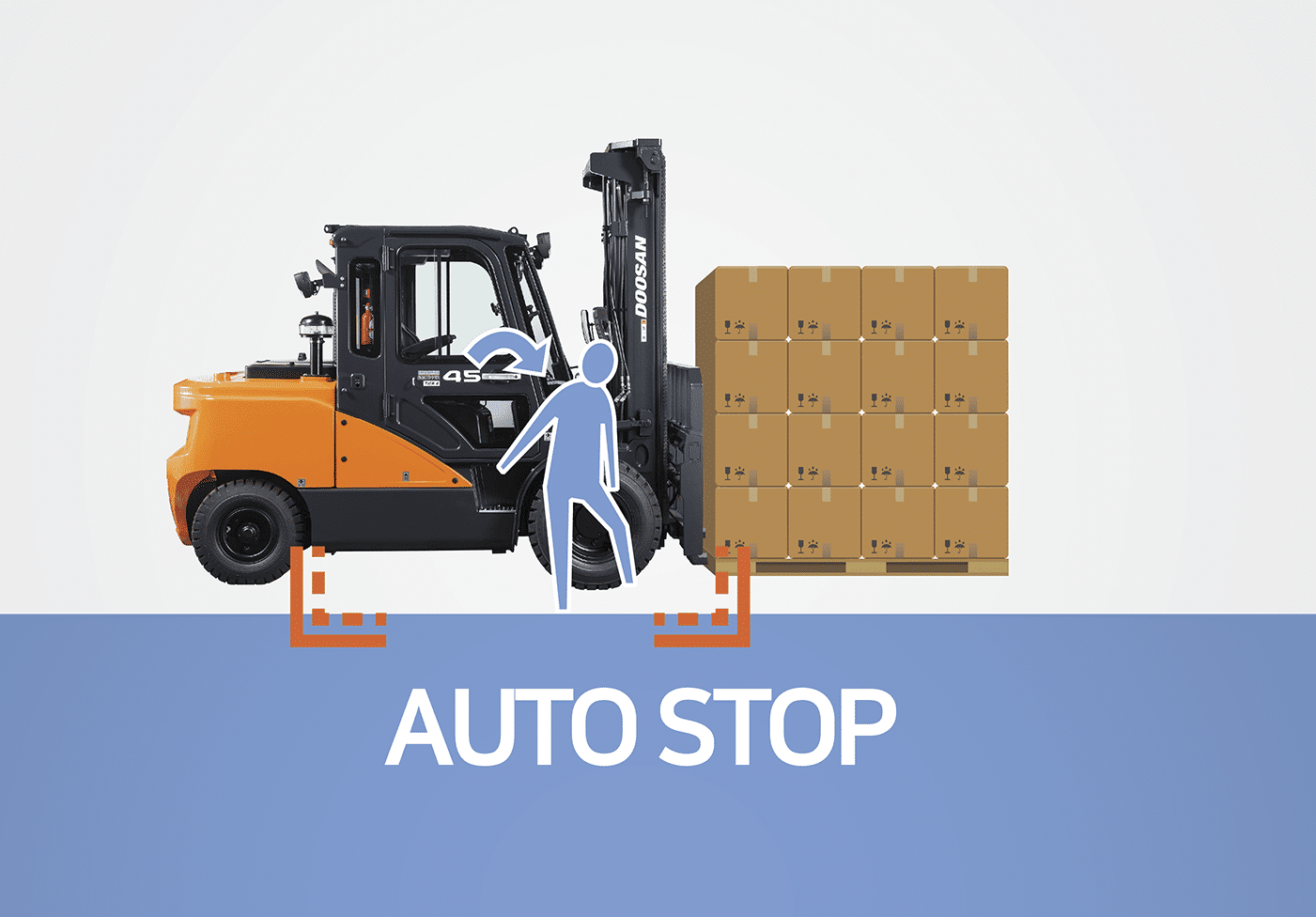 Operating Sensing System
Whenever the operator leaves the seat, the truck travel and mast lifting functions will stop. This system avoids any unintended forklift movements when the operator is not seated.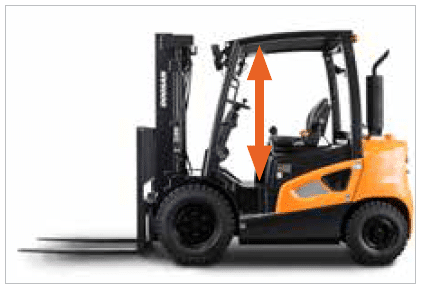 Additional Headroom
The floor plate is lowered, which increases the torso clearance (+26mm). The operator has more space above the head.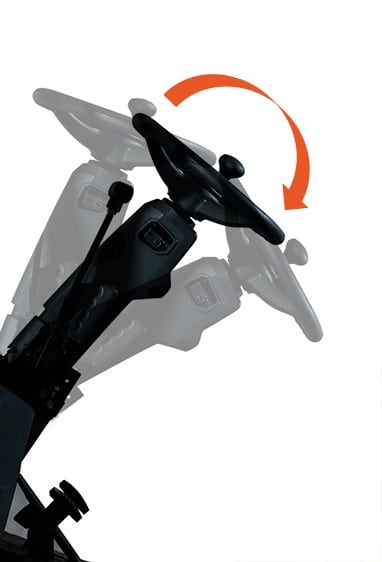 Adjustable Steering Column
The stepless steering column can be adjusted depending on the operator's driving posture, takes up less space and makes it easy for the operator to get in/out of the truck. The compact steering wheel makes driving the forklift more comfortable.
Spacious Legroom
The knee clearance is widened and the tilt cylinder is removed from the floor plate, creating more leg room.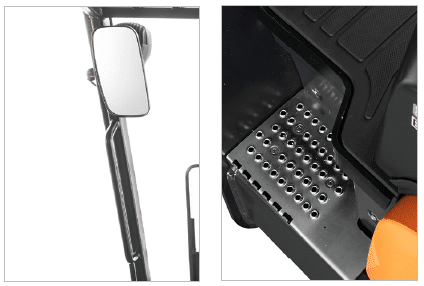 Easy Entry Grab Bar and Anti Slip Step Plate
Enables easy entry and exit. The wide anti slip step plate keeps the operator safe in all weather conditions.
Productivity & Reliability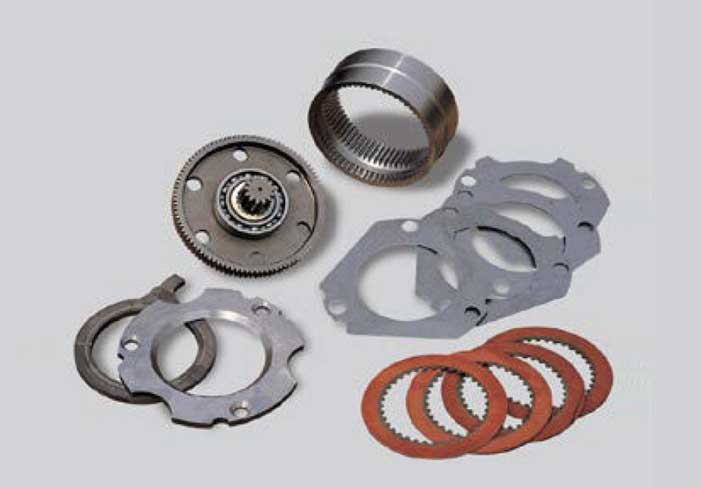 Oil Cooled Disc Brakes
The oil-cooled disc brake system is totally enclosed, for maximum protection against contamination.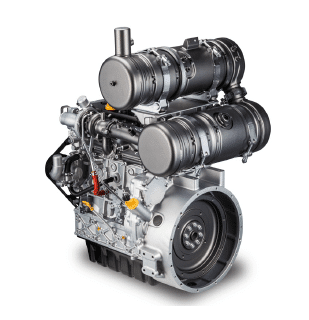 Euro Stage V Compliant Fuel Efficient Engine
The G2 Doosan-built diesel engine provides high torque at low RPM and is specially designed for industrial vehicles. It effectively improves forklift acceleration, drive and climb performance. It meets Euro Stage V with a DPF.
Multi Torque Mode
Doosan offers 3 performance engine maps. The 9-Series gives you the opportunity to select the mode that suits your working environment the best.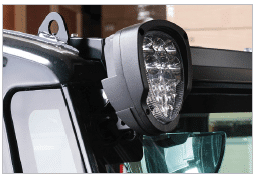 LED Lights
Brighter and last longer than traditional sealed beams or halogen lights.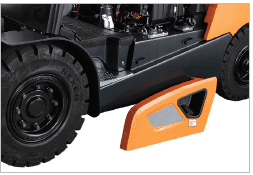 Tool-Less Removal
The floor plate and side panel can be easily detached without tools which makes inspection easier.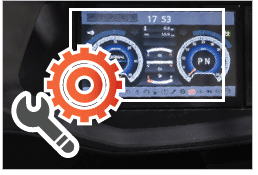 Service Notification
Truck breakdown and consumable replacement cycles are notified on the display. You can easily get the service information.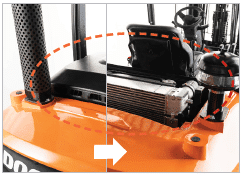 Radiator Check
The cover on the counterweight is easy to attach and detach, making it easy to check the radiator.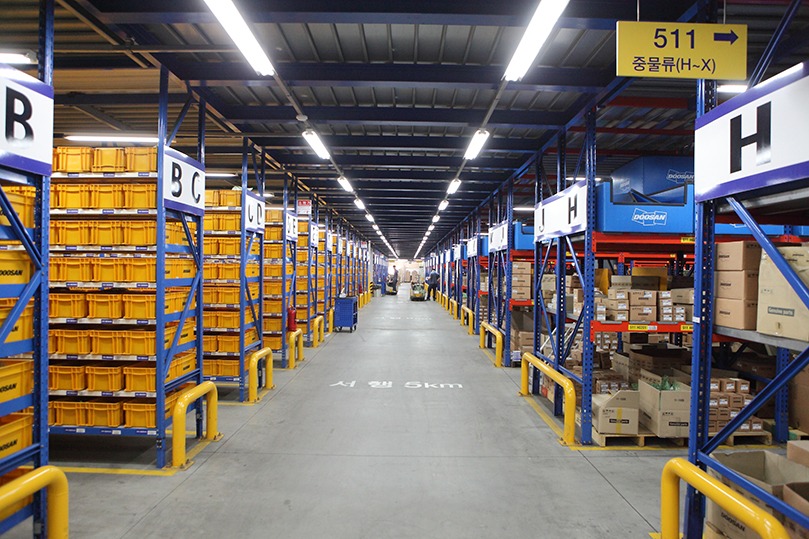 Doosan Genuine Parts
The parts warehouse supplies high quality Doosan parts to your local dealer.
D40SC-9
D45SC-9
D50SC-9
D55SC-9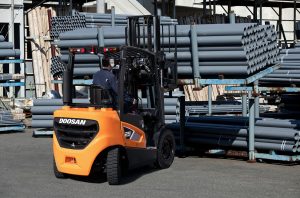 2.0 - 3.5 Tonne Diesel Forklifts
Powerful, fuel efficient diesel forklifts with capacities from 2.0 – 3.5 tonnes.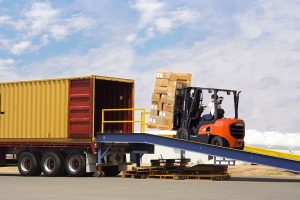 NX Plus 2.0 - 3.5 Tonne Diesel Forklifts
Experience the fully enhanced value of the NX Plus Series in capacities of 2.0 – 3.5 tonne.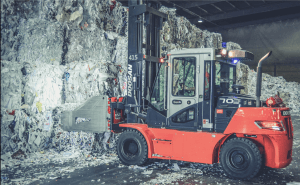 6.0 – 9.0 Tonne Diesel Forklifts
Robust and reliable diesel powered forklifts with capacities from 6.0 – 9.0 tonnes.