9-Series 2.0 – 3.5 Tonne Diesel Forklifts
Robust and reliable diesel powered forklifts with capacities from 2.0 – 3.5 tonnes.
The Doosan range of 2.0 – 3.5 tonne diesel powered forklifts have been designed to offer simple, powerful performance in a wide range of applications. Featuring high performance, fuel efficient engines; these trucks are designed for improving productivity and safety in your operation.
These trucks feature powerful diesel engines which provide high power at low engine speeds, making them suitable for loading and unloading on ramps, where fast lift speeds are required or repetitive use is needed.
Improving productivity and lowering operation costs, these trucks increase operator comfort, feature advanced servicing features and increased performance efficiencies.
These trucks are part of our wider range of Doosan Diesel Powered Forklifts available with lift capacities up to 25.0 tonnes. You can find out more about these trucks here.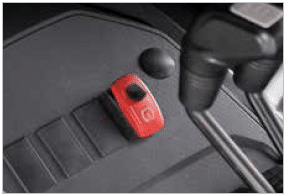 Electronic Parking Brake
The parking brake helps preventing safety accidents. When you stop working and get off the truck, the parking brake is automatically
activated.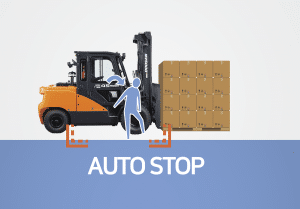 Operator Sensing System
Whenever the operator leaves the seat, the truck travel and mast lifting functions will stop.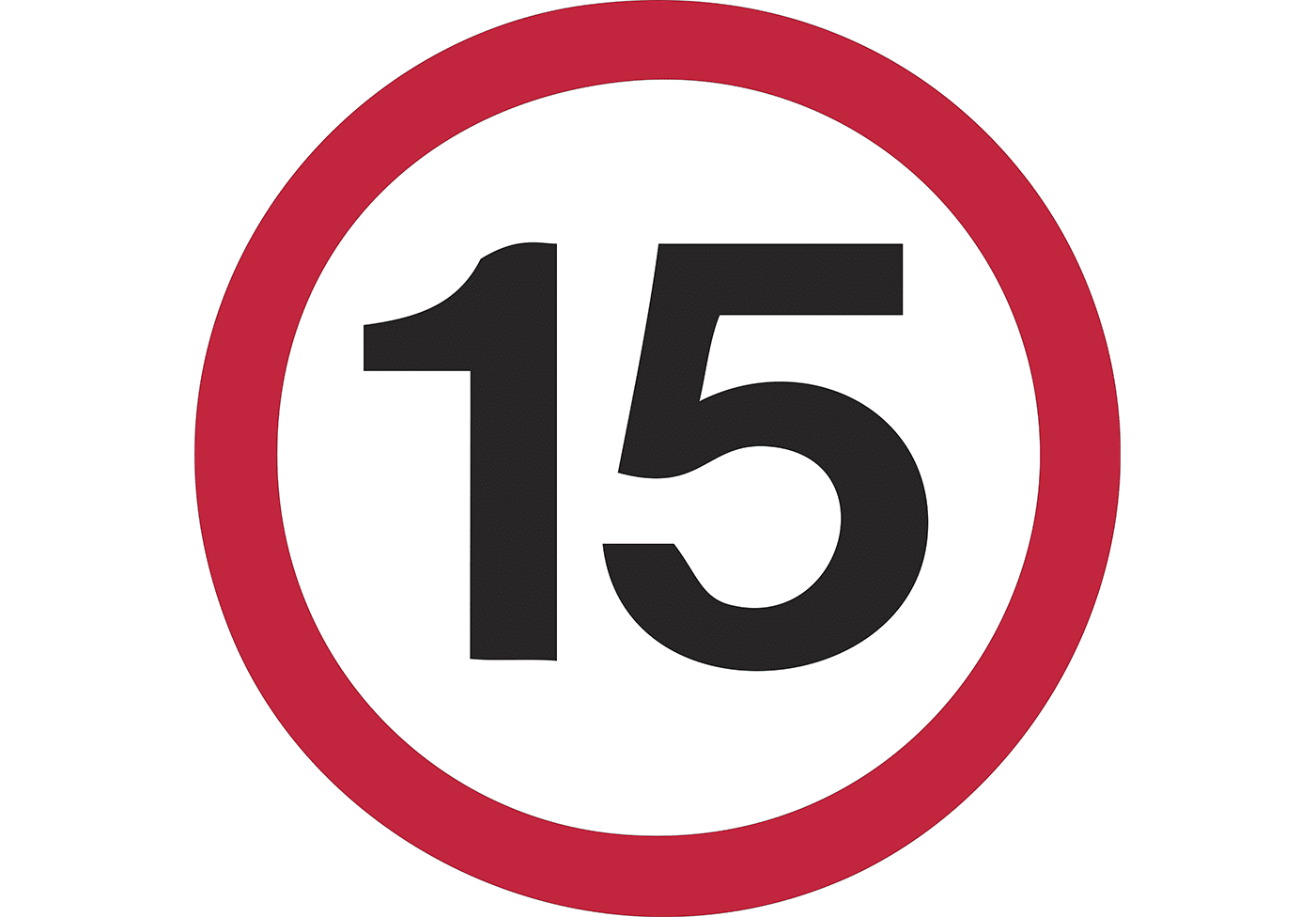 Ground Speed Control
It is possible to set a speed limit, a different limit can be set up for forward and reverse.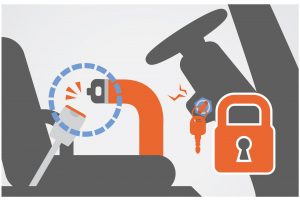 Seat Belt Sequence Interlock
The seat belt needs to be fastenedwhen the operator is seated in order to operate the truck.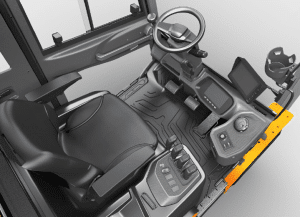 Spacious leg room
The knee clearance is widened and the tilt cylinder is removed from the floor plate, giving plenty of legroom.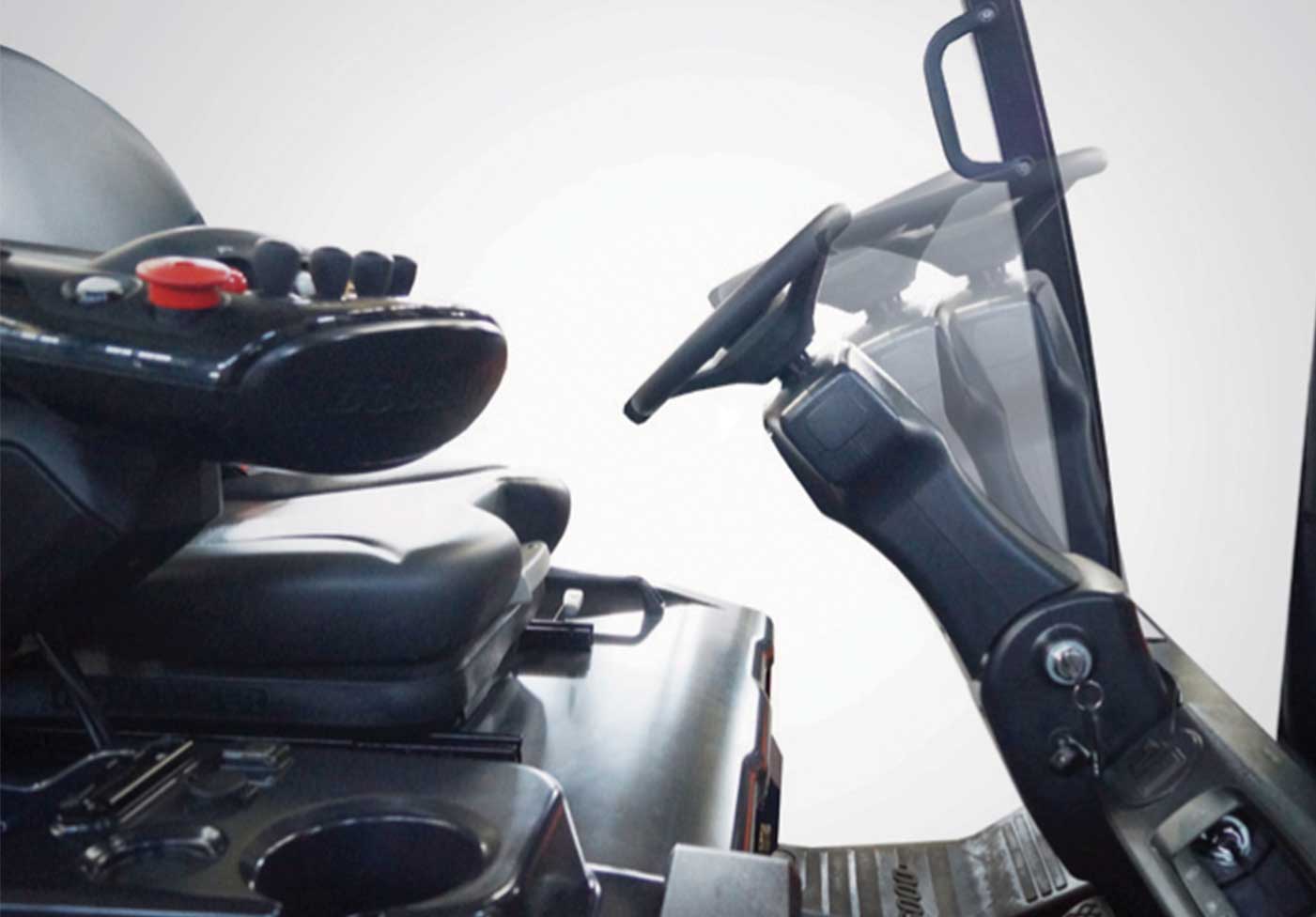 Fully Adjustable Steering Column
The telescopic steering column can be adjusted depending on the operator's driving posture, takes up less space and makes it easy for the operator to get in/out of the truck. The compact steering wheel makes driving the forklift more comfortable.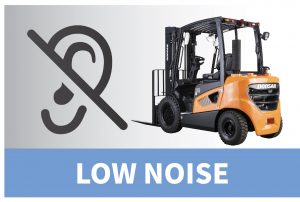 Low Noise Level
The low noise level of 75dB allows the operator to concentrate better and hear more surrounding noise.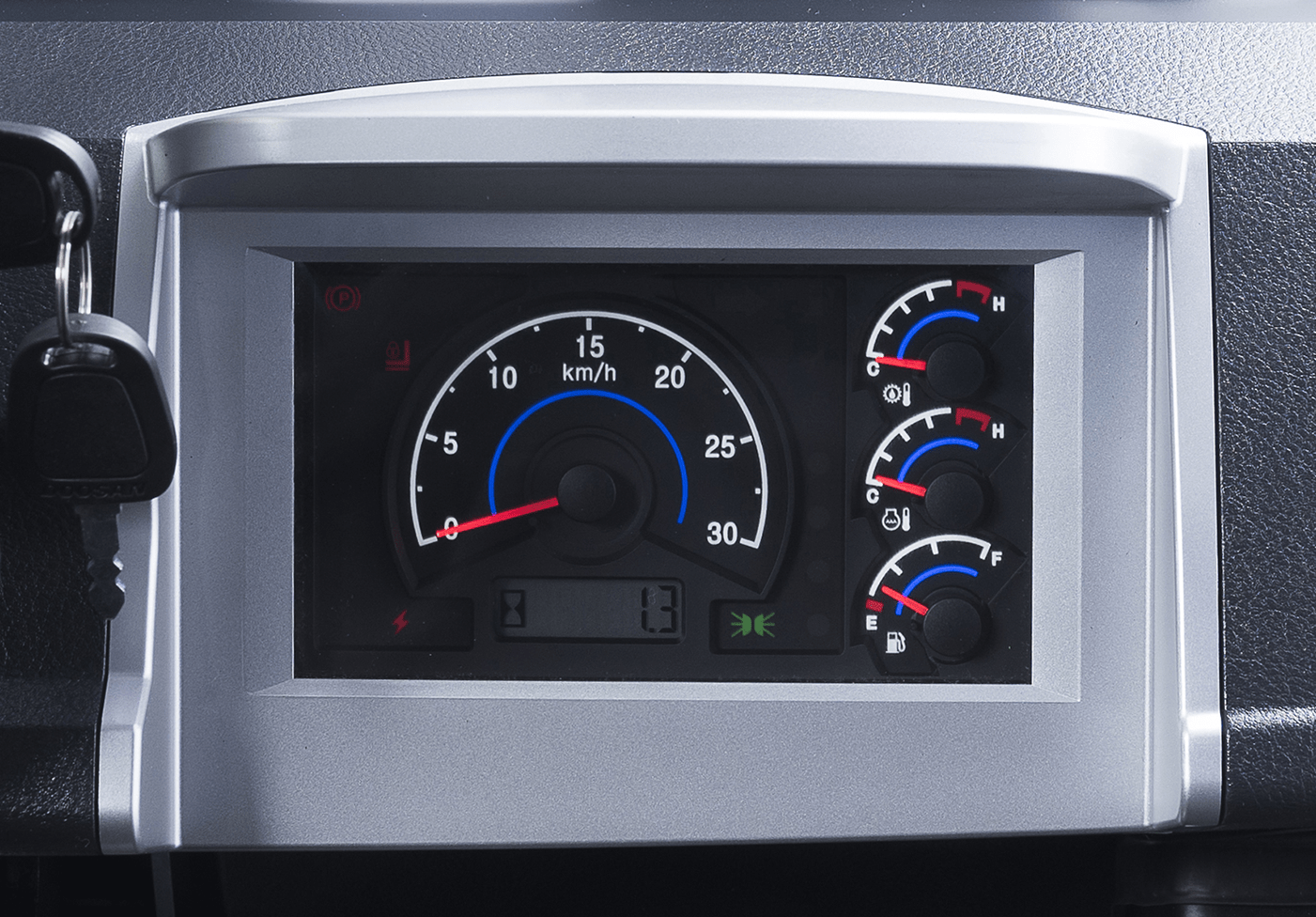 Instrument Panel
5-inch is standard, 7-inch is optional. The bright and clear panel is very visible outdoors and keeps the operator informed about the conditions of the machine.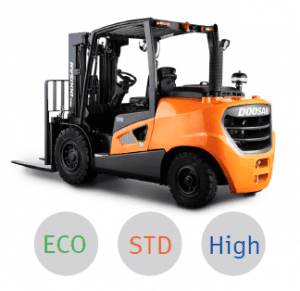 Multi-Torque Mode
Doosan offers 3 performance engine maps. The 9-Series gives you the opportunity to select the mode to suits your working environment the best.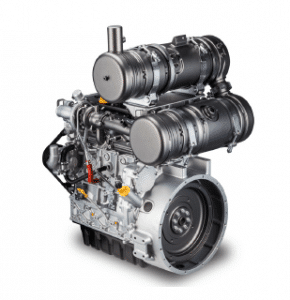 Fuel Efficient Engine
This G2 Doosan-built diesel engine provides high-torque at low RPM and is specially designed for industrial vehicles. It effectively improves forklift acceleration, drive and climb performance.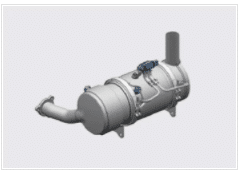 Doosan Particulate Filter
In order to comply with Euro Stage V, it was necessary to equip our forklifts with a Diesel Particulate filter. Doosan believes it is important to ensure maximum uptime of your truck, so we have made sure that service is reduced to a minimum. Regeneration is automatic.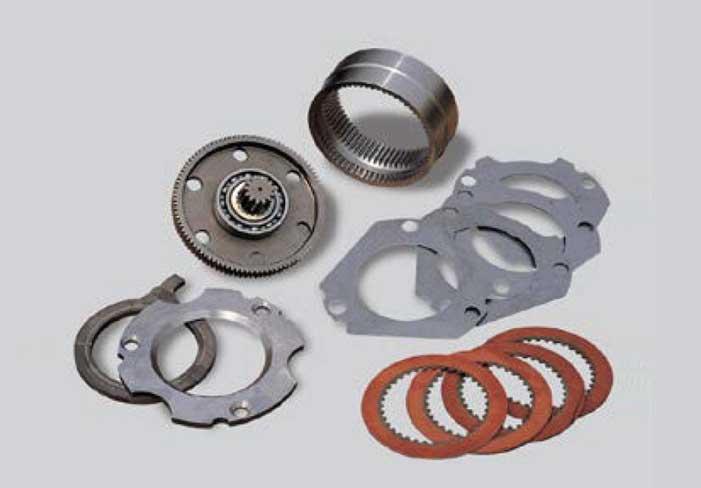 Oil-Cooled Disc Brakes
The oil-cooled disc brake system is totally enclosed, for maximum protection against contamination. This maintenance free system ensures maximum uptime, less damage, and zero cost for you.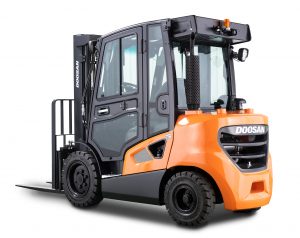 Full Floating Cabin
The full floating full cabin reduces noise and vibration to a minimum. The 9-Series forklifts are very reliable and long lasting.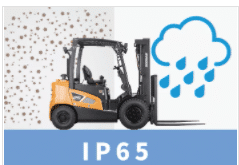 IP65 Connector
The connector is rated IP65: the quality of the electronic components has been improved and reliability has been increased. This results in maximum truck availability and reduced service costs.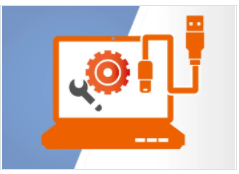 Easy Diagnosis
Diagnosing the condition of the truck can be done with just a cable and a laptop, so that your service technician can act appropriately and service your truck as quickly as possible.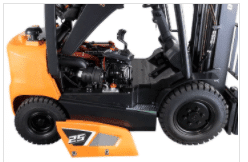 Toolless Removal
The floor plate and side panel can be easily removed without tools, which facilitates inspection and reduces service costs.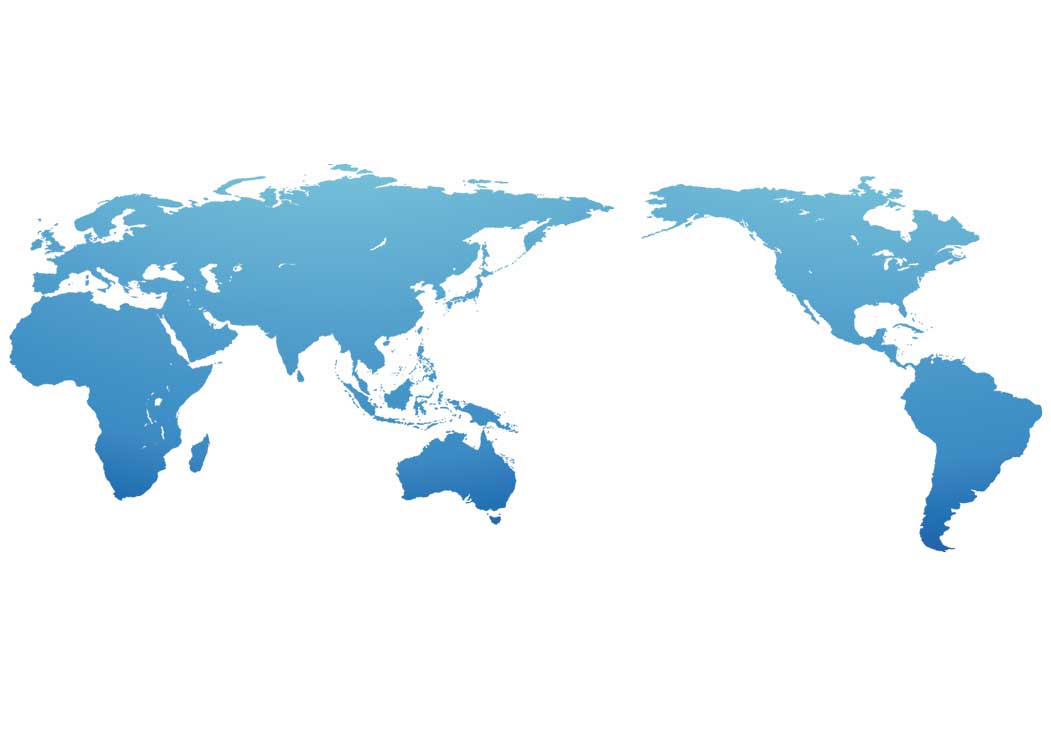 Worldwide Service Network
Doosan provides high-quality support, relying on our extensive dealer network. Highly-skilled professionals are always ready to help you.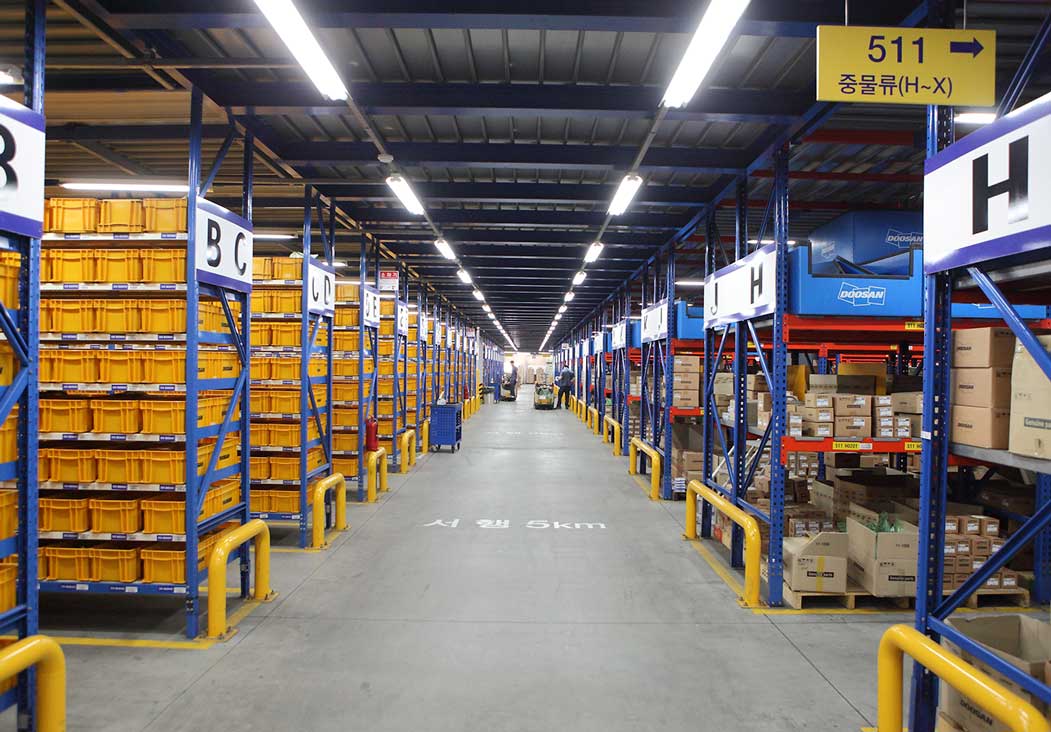 Doosan Genuine Parts
The parts warehouse, supplies high quality Doosan parts to your local dealer. Doosan Genuine Parts perfectly fit your truck.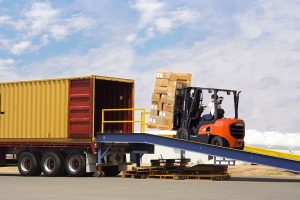 NX Plus 2.0 – 3.5 Tonne Diesel Forklifts
Experience the fully enhanced value of the NX Plus Series in capacities of 2.0 – 3.5 tonne.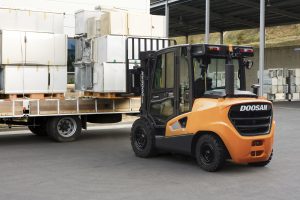 3.5 – 5.5 Tonne Diesel Forklifts
Simple, powerful performance from Doosan diesel powered forklifts with capacities from 3.5 – 5.5 tonnes.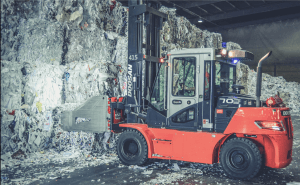 6.0 – 9.0 Tonne Diesel Forklifts
Robust and reliable diesel powered forklifts with capacities from 6.0 – 9.0 tonnes.